Have you ever had it? I'm sure we all have at some point. I wasn't sure what to write about today since I haven't had much time to put any thought into my posts for the week, so I figured I'd just have a little brain dump. Give you a peak into my crazy, constantly working mind.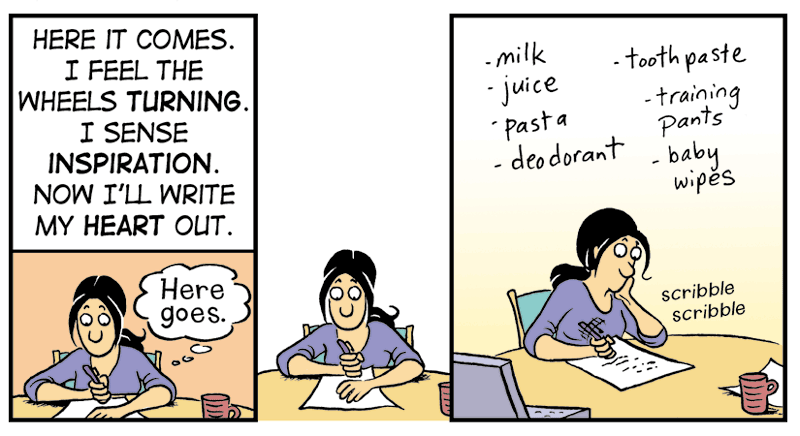 This week has been tough for me. I feel like we've gotten back into our crazy busy schedule and there's no time to get it all done. Not unless I don't want to sleep. 🙂
And with that lack of time comes a lack of things for me to blog about. No time for new recipes, house projects, exercise, even cleaning and organizing. I just can't seem to find the time.
I wish Little A were better at playing on her own. I'm on the minute I get home from work. The girl doesn't let me sit for a second to gather my thoughts and relax. And it's been exhausting. I always find myself putting the TV on more when Huebie's gone. Mostly because I can just sit and relax, catch up on some blog reading, or Facebook, Instagram, cuddle time even. Just sit and not think too much. I wish I were able to use some of that time to do things around the house, but girlfriend hates having me out of her sight. I guess that comes with the age. Please tell me it will get easier as she gets older?
I've been feeling a little down about my hubby getting all of these opportunities with his job. He's in St. Louis this week getting all trained up on being a manager. Meeting new people, growing his career. I'm of course happy for him, he's worked so hard over these last few years this is definitely an earned opportunity, but part of me wishes I was doing that. This is where I get torn between family and career. One day I think I want to stay at home with Little A, the next I consider going back to work full time. I've definitely put my career on hold to be able to spend more time with our daughter and I don't regret that decision at all. I do at times, though, find myself a bit resentful of Huebie and all the things he's doing and opportunities he's getting while I can't even get 5 minutes to pee without a little girl coming in crying, "No Mama you don't have to potty!" I know he doesn't always enjoy being away from us, but at least he gets a bit of a break from the craziness of our 2 year old. I think part of the reason I have these feelings is because I don't have any time to do what I want to do. I want to spend time working on our house, cooking, baking. And I just don't get the time for it. If I had time for myself and the things I really want to do I would probably feel a bit better about it. I really need to find a way to fix that.
Speaking of our 2 year old, the terrible 2's are definitely in full effect. Girlfriend has got an attitude on her let me tell you. "No Mama! I don't want to do that!" "No, Mama. I want to keep fussing!" That's my favorite one. "Stop crying sweetie. No Mama I want to cry!" Oh Lord help me. And just her level of neediness! Like I said above, I can't do anything without her yelling for me, wanting me to hold her, crying. Ugh.
And her constantly telling me no, she doesn't have to potty. Only to get her in there and she of course does. Why does it always have to be a struggle?
I think this speaks nicely to my sweet little 2 year old. 🙂
I'm soooo close to having our dining room done. I need to finish painting the trim in the coved ceiling and changing out our new light fixture, but it's so close! I'm getting a little concerned that my list of goals may not be super attainable for me this year due to our lack of time. It's taken over a month to finish the darn dining room. And it requires the least amount of painting of any room in our house! But it sure does look good. I'll post pictures when it's all finished.
I'm thinking I really need to go see a dermatologist. I have only ever gone when I was in college and my skin was a hot mess. I know, so bad that I don't go often. But my lines and wrinkles are really bothering me, and I should probably just get a skin check. I'll add that to the list of things I need to do. 🙂
I've also been thinking a lot about what my readers want to see from me. What interests you about my blog? What do you like that I write about the most? Is there any one thing you prefer to read, or are you just happy to follow along with it all? Let me know because I really want to make this a place everyone enjoys coming to.
That's probably enough for you for today. That's about half of the thoughts going on in my mind while I wrote this. Now, if only I could translate those thoughts into some more productive posts…..