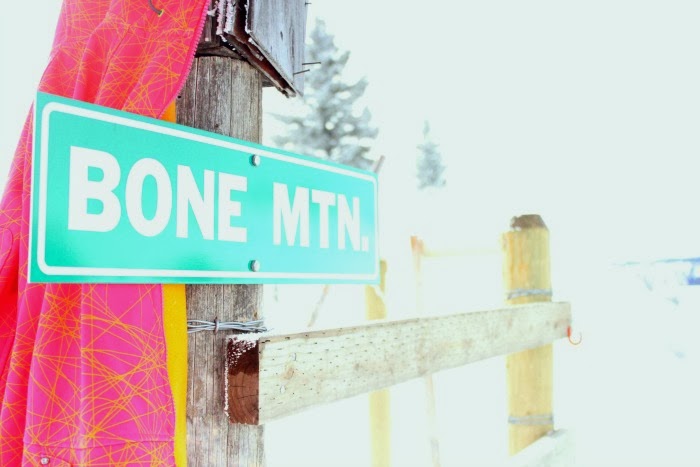 How was everyone's weekend? We spent a long weekend up at my in-laws cabin. It's in North Central Washington, up by the Canadian border. It's about 25 miles from a small town of about 1,600 people, and 10ish miles from the nearest ghost town, population 9. It really is God's country.
You are definitely off the grid when you're up there, and I love it. No cell reception, no TV. Totally disconnected. Well, we do get a Canadian talk radio station.
Every year we have an annual family sledding trip, Bone Bowl.
Lots of family and friends come up from all over. We even have family that flies in just for this weekend. It's a tradition. Bone Mountain is our sledding hill. Animal bones were found there years ago, hence the name.
There are lots of places to sled, tube and snowshoe. We make some specific sled and tube runs that we use frequently. The snow was about knee deep this weekend. Not the best, but enough to still be fun.
You can sort of see people at the top of the hill in the distance. Like I said, God's country. The property is surrounded by beautiful hills, old barns and outbuildings. And Canada. You literally can see Canada from the house.
We always stop at the grocery store about an hour and a half away from the cabin to get groceries. It's the closest large town (4,800 people) with a decent grocery store. The Omak Stampeed takes place there every summer. Little A was practicing for her future in the stampeed.
We spent a little time in the snow on our first full day. Little A LOVES the snow. She doesn't like wearing gloves, but loves the snow.

Pure joy on that face.
There isn't a TV there, so we bring our portable DVD player with us for emergencies. She always wants to play with grandma, and sometimes grandma needs a little break.
We ended up at the clinic in town on Friday.
Baby girl had red bumps all over her bum, hands and feet. Found out she had Hand, Foot and Mouth. I guess nothing you can do for it; just let it run it's course. Luckily it't not really bothering her, just icky looking. I have no idea how she gets these things. She doesn't go to daycare, but I guess just going to story time and Little Gym she's exposed.
More folks showed up the 2nd night, so our 3rd day we were decked out in Valentine's Day swag. Little A loves herself a tiara. Even with her snow gear.
We unfortunately had to leave on Saturday afternoon to come home. Huebie left yesterday morning for a business trip.
We didn't even make it out of the driveway before she was asleep. Sledding is very tiring.
I'm glad we left when we did. It was a slow drive the entire way home. Lots of snow on the plateau, and the passes were crazy. It was dark when we got to Snoqualmie Pass and the snow was blowing right at us. We could barely see anything. On Tiger Mountain, the last pass before home, there was a tree down across the highway. Luckily they had cut it on our side by the time we got there. The folks on the other side weren't so lucky.
It's a long trip for us, but I love it up there. We're heading back in a few weeks with some friends, and will have an extra day to spend. Looking forward to another relaxing weekend off the grid.
Your turn. Do you like going off the grid every now and then?
How was your weekend? Anything exciting happen?