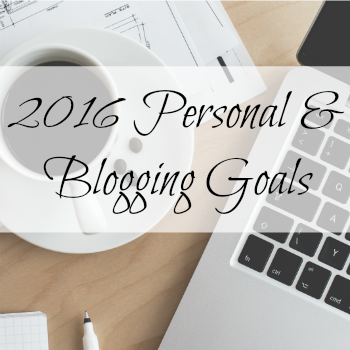 Happy New Year's Eve! We are heading home today from Colorado and I'm really looking forward to being home, even if just for a short while. K and I ended up getting sick on the trip; me worse than him. It was really a bummer because I wasn't able to ski at the place I was most excited about: Breckenridge. But Little A and I still had fun getting manicures while the guys skied. Next trip: Sun Valley, Jackson Hole and Alta/Snowbird!
In 2014 I set a ton of goals for myself, and accomplished almost all of them. In 2015 I set no major goals for myself except to enjoy life and grow my essential oils business. I accomplished both of those goals as well! You can read about my goals for both years in this post.
For 2016 I want to set a few personal and a few blogging goals. I think having goals is motivating and inspires me to work hard to be my best self. I've shared about my love of SMART goals and steps to achieving your goals previously. Just writing my goals down keeps me accountable and makes me want to succeed. Plus, if I publicly set my goals for y'all, I'll be more likely to stick with them.
I like my goals to be specific, with multiple steps to reach them. I'm not going to write out each step but I'll share the goal, then I plan to check in here throughout the year on my progress.
Lose the baby weight. I know I'm still pregnant, but once baby boy is out, I'll be getting back into my normal workout routine as well as my normal eating pattern and foods. While I'm trying to enjoy this pregnancy more than the last, I still do not truly like being pregnant. A lot of it has to do with my body image and how I feel about myself, and even though I know the weight is temporary, I still struggle with looking at myself in the mirror. I like being in shape and fit and I'm really looking forward to HIIT workouts and running again.
Tackle being a mom of 2 with an open mind and lots of grace. Honestly, I'm freaking terrified for baby boy to be here. I struggle enough with Little A; add a newborn to the mix and I'm sure I'm going to be a hot mess half the time. BUT, I'm going to give myself some grace and understand that it will take some time getting used to the whole "mother of 2" gig.
Focus on 2 social media platforms to grow. I haven't fully decided on which 2 yet, but I'm leaning toward Instagram and Pinterest. I've never put in any sort of effort to growing my social media following, but this year that changes! I have a few ideas of what I want to do, so I just need to get them down on paper and make a plan for each platform and set my target goal.
Invest in my blog's success. I have done a few free webinars previously on getting your blog noticed and gaining followers and such, but I either 1) haven't had the time to put what I learned into place or 2) I didn't learn anything new. In 2016 I want to invest in at least 1 blogging course. I looked for blog conferences in the Seattle area but didn't find any. I'll still be keeping my eye out for any coming later in the year.
Grow my influencer network. I currently work with Social Fabric primarily, but want to expand to other influencer networks. I know that I need to grow my following and page views for this, so I'm looking into who I'm interested in working with and gathering requirements for each network. Let me know your favorites to work with!
I think that's a decent amount of goals for me to have for the year. Especially with a newborn. I'm really looking forward to all that 2016 has to bring!
Cheers and Happy New Year my friends! See you back here next week!