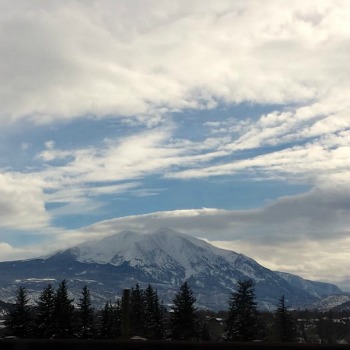 Happy New Year!!! Can you believe we're officially into 2016?! We spent the first weekend of the year purging, getting all the Christmas decorations down and rearranging the bonus/play room to make room for my office in there so we can start on the nursery! Super excited to get that project going.
If you follow me on Instagram or Snapchat, you saw that last week we took a ski trip down to Colorado. This was our first time outside of the Denver airport and I have to say I cannot wait to go back. Just the scenery was amazing!
When we arrived in Denver it was 19 degrees, and we had to wait outside for our rental car. Luckily the hubs is good at negotiating and we ended up with a Mercedes GL450 as our rental. Why thank you Avis, don't mind if I do. Problem is, now we want one.
Because we were there to ski, we spent the whole trip in the Rocky Mountains. You guys. We have mountains in Seattle. 2 mountain ranges actually. But nothing can compare to the Rockies. They were unbelievable! I couldn't take my eyes off all the scenery the entire car ride from the airport. Just absolutely breathtaking! We drove over some passes and were just in the mountains the entire time. You would look around the next bend and there would be this amazing mountain peak. It is one of the most beautiful places I've ever been.
We spent our first 2 nights in the Aspen area. Luckily we were driving the Mercedes so we fit right in because let me tell ya, they fancy there!
Our first full day got off to a bit of a rocky start. Little A puked all over the car. Like lost her entire breakfast. We had no napkins, nothing to clean it up with and we were in the middle of nowhere. Luckily the hubs rocks and literally gave the shirt off his back to clean her up temporarily until we got to Snowmass and were able to go to the market for cleaning supplies. Then he cleaned the whole car while she sat on my lap naked until we got her snowsuit on.
She's a total champ and felt much better after that. Puke and rally I suppose!
Snowmass ended up being the only mountain Little A and I skied on during the trip. More on that later. But look at her all ready to go with daddy! She did awesome! The runs there are massive and so wide! It was about 7 degrees when we started and ended up around 14 or so for the high thanks to the sun. Bluebird ski days are the best!
The 2nd day we headed to Aspen. There are 3 different mountains at Aspen to choose from, and of course the guys chose Aspen mountain, which has only blue and black diamond runs; no greens for baby girl and I. So we spent our time walking, and driving, around town.
Aspen has a really cute downtown. The whole area is very walkable and we enjoyed looking at all the shops. Even if most of them were designer and way out of my budget.
They also had an outdoor fire pit so we grabbed a pastry and sat around the fire for a bit, warming ourselves up. It was about 10-13 degrees this day. I'll just say, the entire trip it never got above 19 degrees and got down to -14 on most nights. Frigid folks, very, very frigid.
We grabbed lunch at one of the oldest restaurants in Aspen, Little Annie's (I highly recommend for good home cooking), then were tired of the cold so we got in the car to drive around and look at the houses. My mom was a real estate agent when I was very young, so growing up we always went for drives to just look at houses. I hated it as a kid, but now it's one of my favorite things to do when I have extra time in a new city. Many of the homes in Aspen are historic little bungalows. Super cute!
Our final 3 days were spent in Breckenridge, which was probably my favorite town of the whole trip, and also the coldest.
Main street runs the length of town and has hundreds of cute little shops and restaurants. We didn't get there until late the first evening, so we unpacked and tried to thaw as best we could.
The second day we had some obligations in the afternoon, so we spent the morning walking around downtown check out all the shops. K had come down with a cold by this point and I was starting to feel not so great, plus it was about 10 degrees outside, so our outing wasn't very long.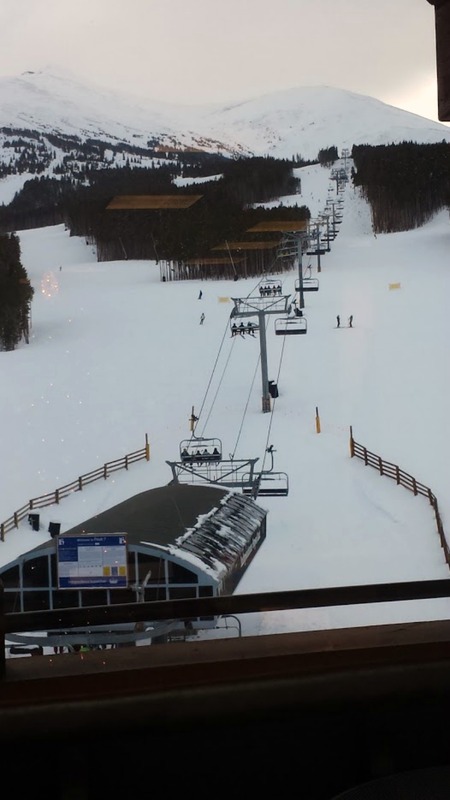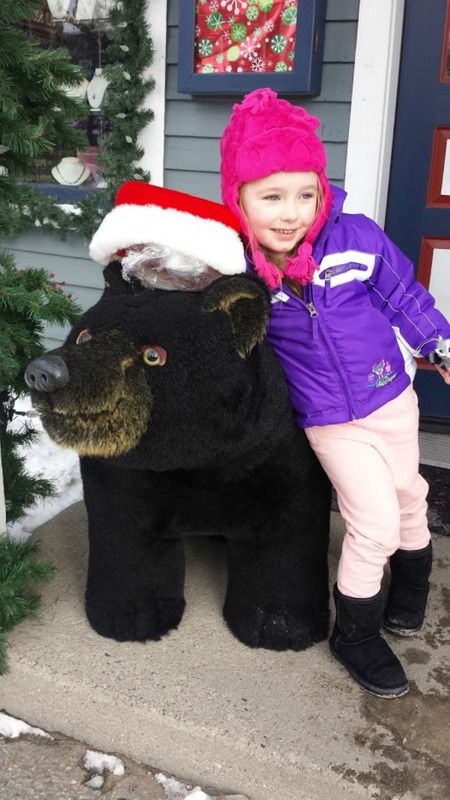 Little A made a new friend she wanted to bring home, but unfortunately he wouldn't fit in our luggage.
We always try to do VRBOs when we go on vacations like this so we can save a bit on food by not eating out as much. But our favorite restaurant in Breckenridge was by far Angel's Hollow. The food was ridiculously good (I had fish tacos and K had beef stroganoff, both amazing) and we spent the whole time chatting with the owner, who was bartending. He was so nice to Little A, gave her her first Shirley Temple (with about a dozen cherries) and just shot the shit with us. The place was packed but it didn't feel like it. If you ever make it there I highly recommend.
Our last full day in Breckenridge I woke up feeling like crap. Lift tickets are not cheap in this area, so I decided to skip skiing and Little A and I had pastries, then got manicures while the guys skied. I was really bummed at first because there are a lot of really great green runs on Breck, but I'm actually glad we ended up not skiing that day. It clouded over and started to snow late in the morning and was 7 degrees on the mountain with a massive windchill, making it below zero. I would have been miserable. Plus the week between Christmas and New Years is their busiest week of the year, so it was really crowded. The guys were done by mid-afternoon. If you ever go to Breckenridge, do not go the week after Christmas. Way too crowded for us.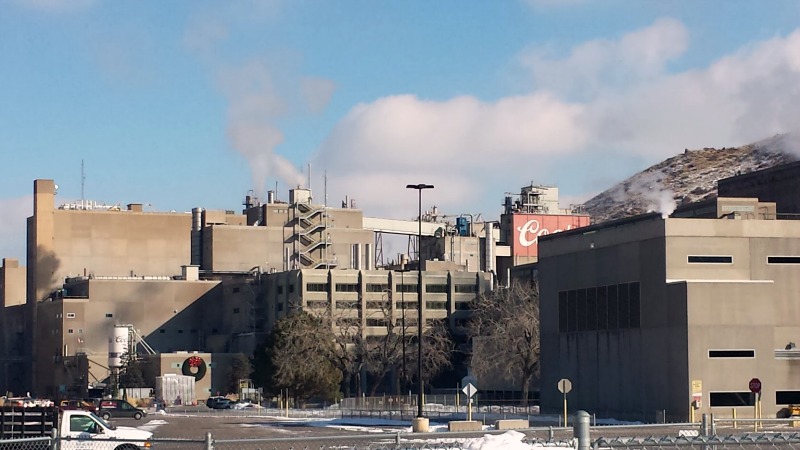 On our last day our flight didn't leave until the evening, so we headed toward Denver to try to take the Coors Brewery tour in Golden. Unfortunately it was closed, it being New Year's Eve and all. I've never seen two more depressed grown men in my life. But it was still cool to see the brewery, which was massive!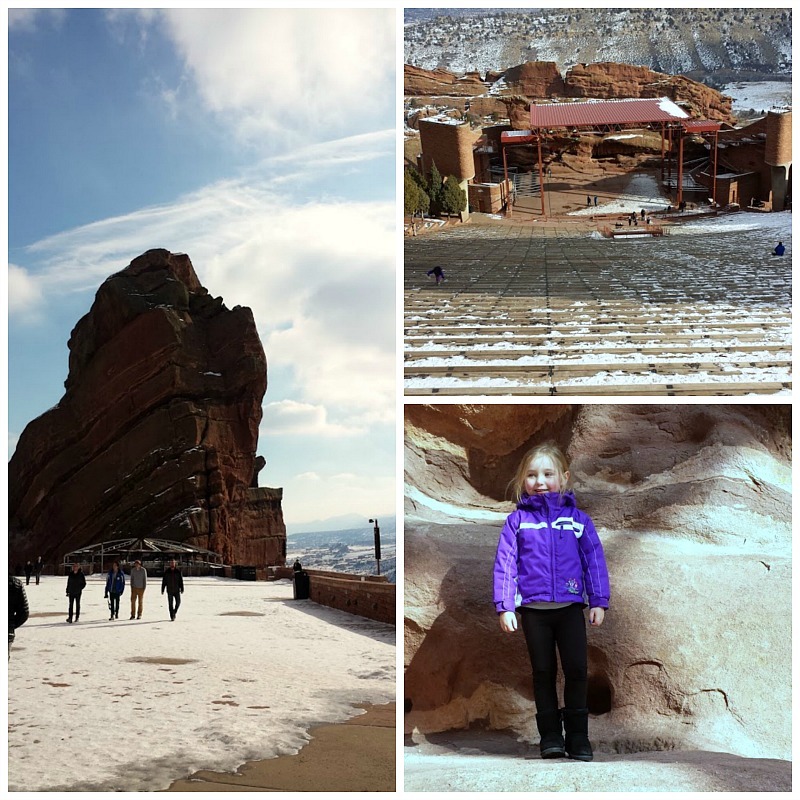 Instead we ended up heading out to Red Rocks Amphitheater. It was totally worth the drive and so gorgeous! It's amazing to see the rock formations and wonder how they used to look millions of years ago. It is a really beautiful place to visit and there were a surprisingly large number of people using the area for workouts. It was not warm outside people! And let me tell ya, those seats are steep! Walking down them in the snow and ice was a feat in and of itself!
In all we really enjoyed Colorado and look forward to going back some day. We've actually talked about moving there in the past, but I'm not sure if I would be able to take that cold of weather for the entire winter. We are definitely snow people, but it is hard to be outside for very long when it's that cold. Also, the altitude can be rough. In Breckenridge especially, we were at around 9,600 feet and you can really feel the elevation after a while (especially being pregnant). I'd love to see Coloradoo in the summer though because I know there is just as much to do as there is in the winter.
Have a great Monday love bugs!