Well hello Friday! So glad it's the weekend and the weather in Seattle is going to be awesome. We're actually heading across the mountains to our favorite place, Chelan, for a wine club party. Should be a good time!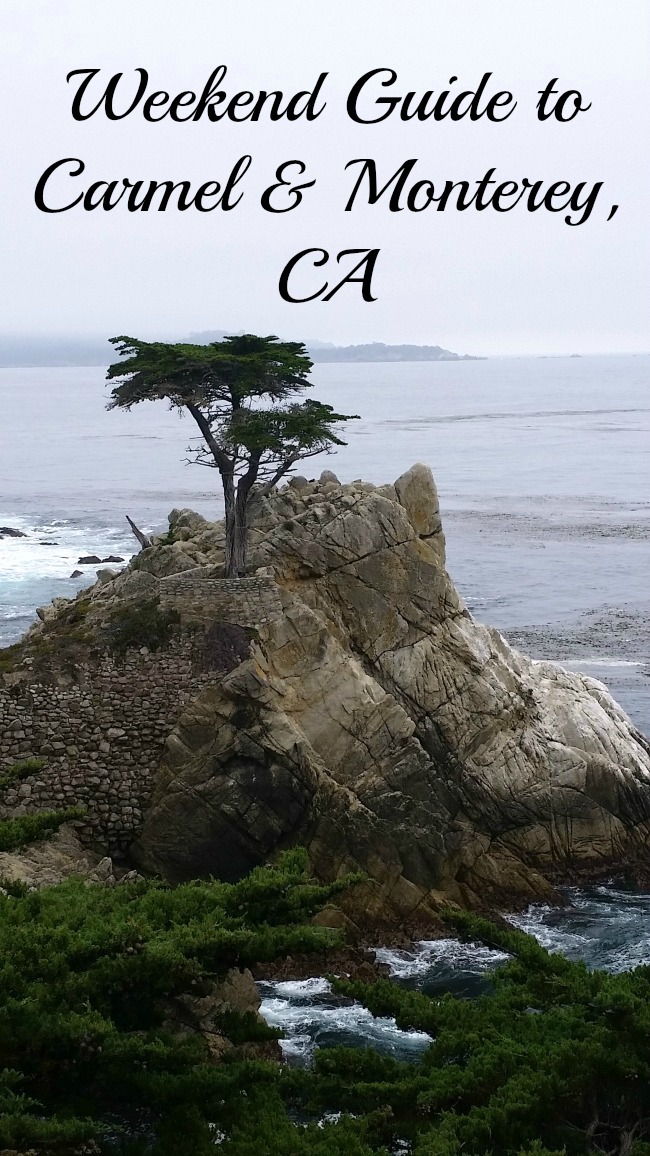 I was originally breaking this post up into 2 categories: food and activities. But then I thought about it. And a weekend guide to Carmel & Monterey just seemed to fit better. If you have 3 days you can see a lot, and eat a lot, in these 2 cities by the sea.
If you're unsure about how much time you would need to visit this area, I'd allow yourself 3-4 days. 1-1 1/2 days in Monterey, and 2 days for Carmel and Carmel Valley, if you have time. Carmel Valley is about 13 miles inland from Carmel, so they have warmer weather. And some great wine tasting. You could also add on Big Sur for a quick day trip down the coast.
Carmel
Carmel-by-the-sea is one of my favorite towns in the US. It's main square is quite literally one square mile, so it is a very walk-able place to visit. Clint Eastwood was the mayor in the late 80s and the town has only 1 chain restaurant (Il Fornaio). There are little courtyards around every corner, and more shops than you can visit in 2 days. It's known for it's many restaurants and diverse cuisine, but what I didn't know until we started doing more research before the trip was that it boasts quite the wine scene.
If you have 2 days:
Get a wine walk passport from the visitors center. It's $65 for 9 tastings from the 14 tasting rooms to choose from. The passport doesn't expire, so if you don't make it to all 9, you can save it for your next visit!
Pino Noir and Chardonnay are big in this region, so pretty much all the wineries we visited had them on their tasting flight. I recommend Shale Canyon, Scheid (they pour big tastings) and Silvestri. Everyone is so friendly and they can recommend other wineries for you to try as well. Another bonus of the wine walk is that you can get stickers from some of the tasting rooms which allow you to bring a bottle of their wine into qualifying restaurants and not pay a corkage fee (which can be over $25).
Spend a day just touring the town and visiting the beach. There are over 40 art galleries in the one square mile town, and the diversity of art is fantastic.
There are little courtyards around every corner. It's so fun to poke around and see what's hidden back there!
You can walk down to the main beach and watch surfers try to catch some waves, take a picnic, and get a gorgeous view of Pebble Beach.
I recommend packing a light rain coat and warm sweater as the weather can be unpredictable, especially out on the water.
Take the 17 mile drive through the Del Monte Forest and Pebble Beach. This drive takes you along the coast with some beautiful scenery and landmarks.
The tree in the background and in the cover photo is called the Lone Cypress. It's one of California's best known landmarks and it has sat out on that rock by itself for over 250 years. It's also the symbol of Pebble Beach.
17 mile drive is also one of the best areas for seal and seal lion viewing (the best viewing areas to see the animals are closed April-June for pupping season, but you will still see some out on the rocks at other stops on the drive). If you like golf courses and big houses, you will definitely want to do this drive. And I don't even mean big houses, more like villas. It's $10 (cash only) and well worth it. If you like to stop at the sights expect to take about an hour and a half to do the drive. Bring a picnic and stop at Spanish Bay to take in the gorgeous ocean and view of the Inn & Links at Spanish Bay.
The drive is also the only way to get to Pebble Beach, which you can stop at and walk around the grounds of the Lodge and shops they have next door.
And you never know, you may end up with a seagull on your car that won't get off, even when you start driving.
Restaurants: I honestly don't know if you could eat everywhere you want to in just 2 or 3 days in Carmel. There is SO MUCH good food!
We didn't have any specific restaurants we wanted to try before we got there. I find it best to get recommendations from locals. So that's just what we did.
The one place everyone recommended was La Bicyclette. It's a little French-Italian cafe/bakery that is always jam packed. And now we know why. Try the margherita pizza. It's perfection.
We also ate at Little Napoli, which is actually right across the street from La Bicyclette. It is the perfect traditional Italian restaurant, with one of the best lasagnas I think I've ever had.
Of course being by the sea we had to get sushi. Hanagasa is off the beaten path, tucked away on a far corner of the town square. And it is good. We of course got recommendations from the chef and it did not disappoint.
If you're willing to drive a few minutes, I highly recommend Lafayette Bakery. It's about 4 or 5 miles down the road from downtown Carmel and 100% worth the trip. We went Friday afternoon, then back Saturday morning for breakfast. The French bakery is run by the Vial family, who are from Paris. True French baking!
We could have used another day for just eating. When you're planning, keep in mind that Carmel is a bit on the spendy side for food, so you'll pay around $40 for lunch for 2 and around $60+ (on the low end) for dinner.
Other top recommended restaurants to try are La Balena, Dametra, Affina, Mundaka and Cantinetta Luca and AW Schucks oyster bar.
Carmel Valley
If you want to get away from downtown Carmel for a little while, head out to Carmel Valley. A 13 mile drive from downtown Carmel, it's a drastic change in temperature to say the least. The day we went there it was 75 in the valley and 55-ish in downtown Carmel.
If you like to hike, head to Garland Ranch Regional Park. Lots of trails with great views of the valley.
They also have some great wine tasting in the valley.
Talbott Vineyards is probably the best known for us who aren't locals. Talbott also makes high end ties that sell at stores like Nordstrom.
They also had the most fun tasting room. The owner collects vintage motorcycles and has over 90 bikes. A lot of them are on display in the tasting room.
Chock Rock was another favorite in the valley. They are a small vineyard only plants about 7 acres right now, mostly Pinot Noir.
Monterey
Monterey is a charming little town that has a lot of outdoor activities and great sights.
If you are considering going to the Aquarium, come prepared to spend a lot of money, and a half day there. It's $40 per person to get in, but I'm told it's one of the best aquariums in the US.
Cannery Row is a fun place to stroll and visit some shops, as well as enjoy a local beer at the Cannery Row Brewing Company.
Visit Lover's Point and Point Pinos Lighthouse.
Going up in the lighthouse was awesome. Luckily it was mostly women and small men that kept the lighthouses back in the day. K would never last there.
There is a great trail that goes along the water that is perfect for a morning jog, and a great way to take in some beautiful views of the water.
Restaurants: If you go to Monterey, everyone will tell you to go to Fisherman's Wharf. Every restaurant on the wharf has someone outside the doors giving samples of chowder, sharing the specials of the day, and beckoning you to come into their restaurant and eat. It's actually quite entertaining, and a great way to try some different chowders.
Sandbar Grill
But we heard the Sandbar Grill had a fun atmosphere, so we ventured there. It's on the commercial wharf, by LouLou's (which we also enjoyed. More about that later). Seriously you guys, the fish was amazing. I had the special and K had the fish and chips. It was all delicious and so fresh!
LouLou's
The #1 place that was recommended to us in Monterey was LouLou's. It was featured on Diners, Drive Ins and Dives, and Guy Fieri cooked with Lou Lou herself. We of course had to try the abalone sliders, which is what they made on the show. And their clam chowder really is the best in Monterey. The calamari was perfect.
Like the Sandbar Grill, LouLou's is on the commercial wharf, which most of the other restaurants don't want you to know about. 🙂 It is a tiny place, and they are super laid back. The wait staff was so friendly and they just flipped the open sign to closed because it seemed like a good time to close. The waiter looked at one of the cooks, kind of did a side shrug, and turned the sign to close. Love laid back places like that. Definitely a must eat at while you're visiting.
Monterey Crepe Company
Breakfast options seemed limited in Monterey, except for crepes. If you learn one thing about me from this post, know that I LOVE crepes. I learned to make them in 4th grade and made them every weekend when I was a kid. So anytime there's a place to get crepes, you better believe I'll be there welcoming them into my belly with open arms. And the Monterey Crepe Company did not disappoint. It's in downtown Monterey on Alvarado Street, really close to the water. The staff was super friendly and they weren't very busy, which was nice. There's another crepe company on Fisherman's wharf but they only take cash if you decide to go that route. Try the King Zakaria (strawberry, banana Nutella & whipped cream) and the House Special (smoked turkey, cheese and 2 eggs). Absolutely divine.
Other recommendations from locals: Il Vecchio, Montrio, Restaurant 1833 and Sardine Factory. So many great restaurants that it's hard to choose just a few places to eat.
We would have liked to have had a 4th day to head out to Big Sur, but 3 days is really the perfect amount of time for a quick trip to the northern California coast.
I hope everyone has a fantastic weekend!