These tips will have your metabolism revving in no time!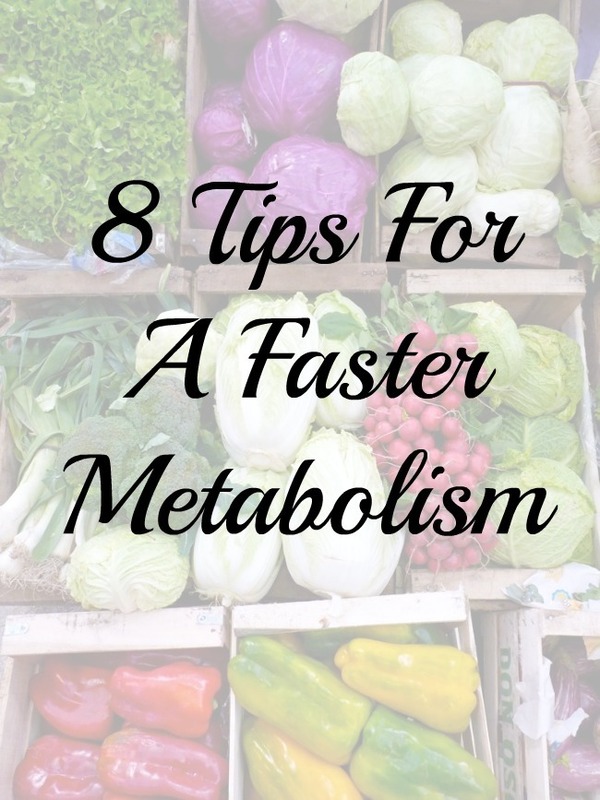 I'm sure I'm not alone when I say I want a faster metabolism. Growing up, I wasn't the "skinny" girl, but I could eat pretty much anything I wanted and not get fat. And I did not always eat so well. Candy bars, Diet Coke, fast food. Yes I ate healthy food as well, but I still ate way more junk than I should have. I played sports and was really active, so that helped as well.
Today, well, today is very different. My post baby metabolism has slowed to a crawl it seems and I actually have to work hard to stay fit and not put on weight. Hard work, what a concept right?! HA!
But there are some simple ways to keep your metabolism functioning properly. If you didn't already know, lean body mass will increase your metabolism. More muscle equals more calories burned. More fat equals less calories burned.
Here are a few simple ways to a faster metabolism.
1. Eat breakfast! I know some folks say they aren't "breakfast people," but it really is the most important meal of the day. Your body has fasted overnight and needs nutrition to start functioning properly and get your blood sugar levels up. People who eat breakfast are generally leaner than those who skip it. Your metabolism slows when you don't eat.
2. Avoid sugar. Duh, right? Yes sugar may give you a quick boost of energy, but it really does a number on your metabolism, can clog your arteries and increases your blood sugar levels, which could lead to type 2 diabetes.
3. Get some sleep! I can't stress sleep enough! I previously shared in this post that lack of sleep can lead to overeating and a slower metabolism. I was shocked how many people didn't realize that lack of sleep can lead to weight gain, especially around your mid section. According to Web MD, people who sleep less than 6 hours a night are 30% more likely to become obese than those who slept 7-9 hours. Go to sleep 15 minutes earlier each night, until you find your sweet spot.
4. Eat small meals during the day. This one is debatable, but I am of the mentality that eating a small meal every 2.5-3 hours (or 3 meals and 2 snacks a day) keeps your eating on track and your blood sugar from dropping. It also keeps you from binge eating at each meal. I know when I don't eat for 5 or 6 hours, I tend to eat more during my next meal, and reach for unhealthy foods because I'm famished. If you do eat smaller meals throughout the day, make sure they are still full of healthy, nutrient dense foods, like these 15 superfoods.
5. Don't skip meals. At least not on a consistent basis. Yes our lives get busy, we get stuck in long meetings, or running around with our kiddos, but consistently skipping meals can be detrimental to your metabolism. When you skip a meal, your body thinks it's not going to get any nourishment, so it goes into survival mode, your metabolism slows and your body starts storing fat away. You also don't get the proper vitamins and minerals your body needs when you skip meals.
6. Drink more water. Our bodies need water to survive. When you exercise and break a sweat, your body releases toxins that need to be flushed out with water. If you're body doesn't have enough water, your systems slow down, including your metabolism.
7. Stop stressing! Stress is soooo detrimental to our bodies. From lack of sleep and depression to heart attacks and high blood pressure, stress can do a number on us. Your body produces extra blood sugar consistently, which can lead to type 2 diabetes. Cortisol can also increase the amount of fat your body holds onto. It can upset your digestive system, and lead to stomach aches and ulcers.
8. Fuel up with healthy foods. Eating a well balanced diet rich in lean protein, veggies, carbs (good carbs, like fruit) and healthy fats will keep your metabolism performing in tip top shape. Make sure your diet is rich in these foods.
[Tweet "8 tips for a faster metabolism!"]
What tips do you have for keeping your metabolism in tip top shape?