You can't go to Sonoma without trying some amazing food. We were fortunate enough to have 3 full days there, so we had a lot of opportunities to eat. And eat we did. 🙂
the red grape
When we arrived on Thursday afternoon we were famished. Pizza is quick and easy so we decided to try one of many recommended places to eat, the red grape. It's just off the southwest corner of the square, so really easy to find.
Super hungry man right there. He may look content, but inside he's saying "You better bring my pizza or else."
The restaurant had a laid back atmosphere and their menu was really good. Lots of options.
We decided to share a pizza, and it was the perfect size for lunch. If we'd have gone for dinner we would probably have gotten a salad as well.
That's a perfect pizza right there. We've really been into thin crust lately (saving on the carbs). I love a bright pizza! We got the works pizza, but the Pears and Gorgonzola pizza sounds delicious too. Really you can't go wrong here.
There was nothing left by the time we were done. It was amazing.
We would definitely eat here again. And again and again. I love pizza. Have I ever told you it's the one food I could eat every day for the rest of my life? Well it is. There ya go. And I would request it be pizza from the red grape. Yes, it was that good.
the girl and the fig
Since Thursday was our anniversary we decided to go to dinner at the most recommended restaurant, the girl and the fig. It's on the northwest corner of the plaza, so again, easy to find.
The food is French country, with most of the ingredients locally grown and farmed by the staff! I love that! The menu is pretty small, so I was a bit disappointed in the selection, but I love that they put so much heart into the food. You can really taste the difference.
Since so many people recommended the girl and the fig, so we were really excited to go. It was the only reservation I made the whole weekend. It wasn't very busy when we arrived, but we were sat in the very back corner at a table you could barely get to. We were really disappointed, especially since it was our anniversary. Strike one.
I ordered the French lemonade to drink, which was really good and refreshing. Huebie ordered wine, as well as an appetizer of cheese, fruit, meat, nuts and baguette. You won't see a photo of that because the waitress forgot to bring the appetizer. Strike two.
I had the fig and arugula salad, which was amazing and surprisingly filling. I was a little nervous to order this because I'm really not an arugula fan. It always tastes too bitter to me. But the port vinaigrette dressing took the bitterness away. And the toasted pecans gave it a little crunch. Perfect.
Huebie had the king salmon, which had great flavor. The fingerling potatoes were cooked perfectly.
We also splurged and had the strawberry crumble for dessert.
This dessert was so good! Probably our favorite thing of the whole meal. The strawberries tasted fresh and the ice cream was divine! The perfect combination for a dessert.
When the check came the waitress hadn't even given us a discount or anything for forgetting our appetizer. We were really disappointed by that. Strike three.
In all, the food at the girl and the fig was really good. You could taste the freshness, but the service was less than stellar. The restaurant is tiny and they cram as many people in as they can, so it wasn't the intimate atmosphere we'd hoped for. Not sure if we'd go back, but if you're looking for French style food, I'd highly recommend it.
Caffe Citti
Friday while we were out wine tasting up Hwy 12 around Kenwood (about 10 miles north of Sonoma), everyone recommended Cafe Citti. Even though I'm not Italian, pasta sauce (and wine) runs through my veins so I'll take a good old pasta dish any time! Cafe Citti did not disappoint!
It wasn't super busy, which was nice. They have a great outdoor seating area that we took full advantage of. And they have a really good menu which includes sandwiches as well as salads and create your own pasta dishes.
You order when you walk in, then go find your seat. When I ordered the smoked chicken Caesar salad (I know, I didn't get pasta) the chef asked me if I liked garlic. Of course I like garlic! Who doesn't?
Let me tell ya, he wasn't kidding. The smoked chicken was so falvorful, but holy cow there was A LOT of garlic. Like I've never tasted anything like that in my life! My mouth was hot and I could smell myself for hours after. I had to apologize to everyone in hopes they couldn't smell me when I was talking. But it was SO GOOD.
Huebie got the lasagna and it too was really good.
When we told everyone we'd gone there and I got the Caesar salad they all said "Oh you must like garlic." I guess I really do.
Della Santina's
Yes, another Italian restaurant (I told ya, pasta sauce and wine in the veins). We received Della Santina's as another recommended "must eat at" restaurant from some good friends of ours, so we of course had to go. And it was so worth it! Off the northwest side of the plaza it is still really close to the center of town.
It's a small space that's actually mostly outdoors, but it's covered and they created a peaceful setting that doesn't even seem like it's in the middle of town.
It was really busy for lunch on Saturday, but we didn't mind waiting in their little atrium area, where they have history of the restaurant posted. Once we sat down I felt so at home and peaceful. Like I was back in Italy. The owners, the Santina's, are from Lucca, Italy which is just west of Florence toward the coast. Their son Robert runs the front of the restaurant and you can tell he is definitely Italian. He was so nice and welcoming. And the food is true Italian fare.
We got the tortellini and Caesar salad (yes, another Caesar. I just love them! And this one wasn't nearly as garlic-y). That tortellini was to die for! All the food is homemade in house.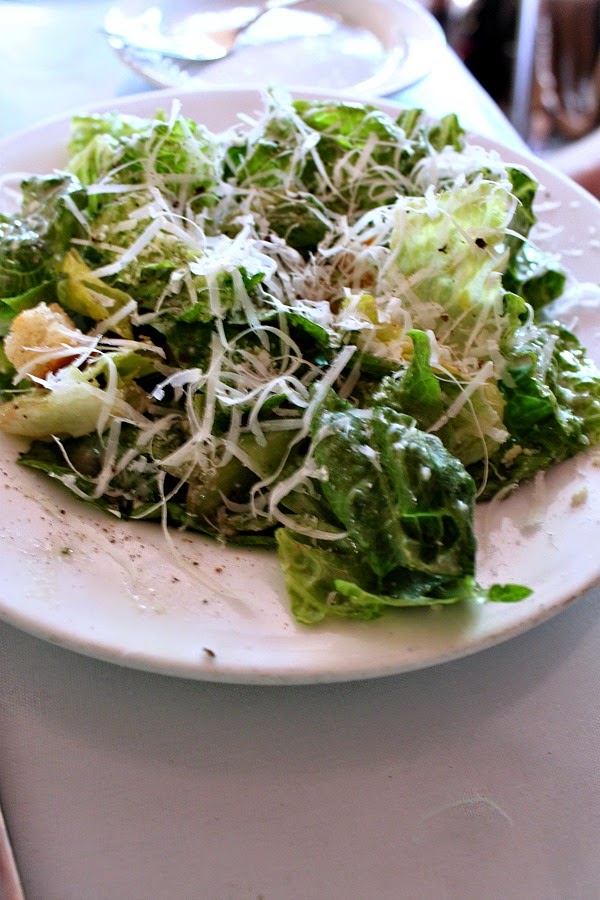 Sorry for the blurry photos. We were so hungry I didn't stop to try to take better ones. 🙂
We of course had to have the Affogato for dessert. Gelato and espresso?! Sign me up! We were both craving an afternoon coffee and this did the trick.
Della Santina's is a definite must visit while you're in Sonoma. The food will have you wanting seconds and atmosphere will make you want to stay for more wine, and then coffee when the food is all gone.
And that's where we ate in Sonoma! I wish we'd had a chance to go to El Dorado Kitchen for lunch. I really wanted to try their Dungeness crab salad or fish and chips. So if you ever go let me know how it is!
Happy Wednesday!