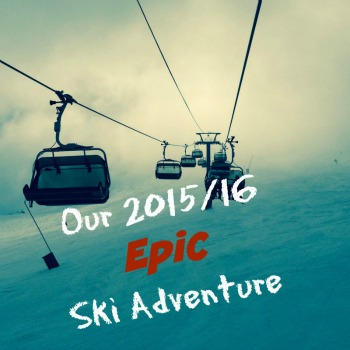 Only 2 more wake ups until Christmas! I'm so glad I have all my shopping done and can enjoy these last few days before Christmas. K and I are up at my favorite mountain skiing today so that I'm ready for all the winter excursions we have planned in the coming months.
Earlier this year, the hubs bought us Mountain Collective passes on a whim. The snow had not been good here the last 2 years so I'd only skied once and he'd only skied a handful of times, if that. The snow is unpredictable so he got the passes so we could actually ski this year if it was another bad year (it's not so far by the way. Tons of snow here).
If you aren't familiar with the Mountain Collective pass, it's basically a pass that gets you 2 ski days at 11 different resorts around the US and Canada, 3 days at Whistler (it's now 2 days. Was 3 when we bought) and 2 days at 3 ski resorts in different countries (Chile, Japan and France). The passes were around $300 (when we bought them; prices change as the year goes on), which is insanely cheap. Our 3 days at Whistler a few weeks ago pretty much paid for our entire pass.
Of course this was all pre-pregnancy and what not. But my plan is to ski a few runs at each resort we visit. If you remember from my week 25 bump date, I mentioned that skiing in Whistler did not go very well. K got me brand new skis this year (they are awesome by the way), so that was my first run on them. Add in the whole pregnancy and being off balance thing, plus being nervous to ski this far into my pregnancy and it made for a hot mess. I'm really hoping that getting to a familiar hill today will give me a chance to assess my pregnancy skiing, try out my new gear and get me prepared for all these amazing resorts we're heading to!
K put a lot of time and effort into planning our different trips (I told him this was his deal, he had to plan it all…..and he did) and I'm pumped to visit some new cities!
Here's the plan:
Trip #1, Whistler. Already done. I wrote about our weekend in Whistler a few weeks ago. Epic snowfall! Whistler is about a 5 hour drive from Seattle so no flights necessary.
Trip #2, 1 week in Colorado. Ski 1 days at Aspen, 1 day at Snowmass and 1 or 2 days at Breckenridge (it's not part of the pass but we already had plans to stay there). It's only about a 2 1/2 hour drive between the 2 areas so there aren't any wasted days really. We fly in and out of Denver for this trip.
Trip #3, 10 days in 3 states. Fly into Sun Valley, Idaho. Ski 2 days at Sun Valley, drive to Jackson and ski 2 days at Jackson Hole, then head south to Salt Lake City and ski a day at Alta and a day at Snowbird. We fly out of SLC back home. A total whirlwind trip with a good amount of driving. Each resort is about 4 hours from the next so we have travel days in between. I'm really pumped for this trip because I haven't been to Jackson in the winter and I cannot wait to see it with a nice layer of snow. It's such a gorgeous place. Plus I'll only be skiing 1 day at each resort (if at all. I'll be 29-30 weeks at this point) so that gives me time to explore.
Trip #4, weekend in Mammoth and Squaw. Ski 1 day at each resort. This is a guys only trip. I'll be 36 weeks pregnant so there's no way I'll be wanting to ski, let alone be pregnant. Plus Squaw is a more technical mountain and not the place for a 36 week preggo skier. And I'm not a technical skier just yet.
This dude skiing Squaw is though:
Did I mention we'll be taking Little A on all of these trips as well? Yep, we will. She had a blast in Whistler so we're hoping to get her in a few lessons and K will ski with her as well. I'm just hoping she does well for all the driving we have to do on the 10 day trip. We also have 2 of K's friends coming with us, which should make for some interesting and exciting times.
I have gotten asked multiple times about skiing while pregnant. We got this all pre-approved with my OB, who knows me and my history very well. He trusts my judgement and knows I wouldn't push myself if I thought it was dangerous for myself or baby. If you're a skier or snowboarder and you want to continue to partake in wintertime activities during your pregnancy, I highly recommend you talk to your OB first.
If you're an avid skier/snowboarder, I highly recommend the Mountain Collective pass. Passes go on sale again in January. Start planning your 2016/17 ski trips now!
This is not a sponsored post. We just love Mountain Collective and think the pass is an amazing deal (because it is)!
I'll be taking the rest of this week off to celebrate Christmas with my family. Make sure you follow me on Snapchat (atouchofgrace2) because I'll be sharing a ton during our fun adventures (which start very soon).
Merry Christmas my friends! I hope you have a blessed holiday!