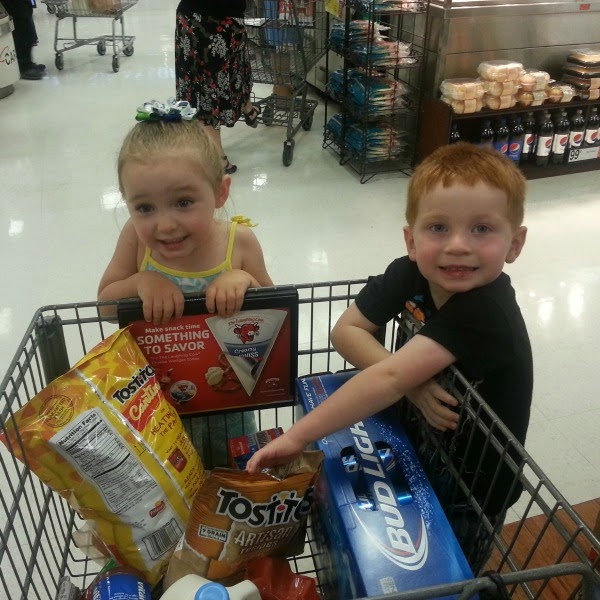 It has been an awesome and eventful few weeks at our house! I am really looking forward to some peace and quiet in the coming weeks. It's also starting to feel like fall around here and I'm loving it!
Day 247: We were down in Phoenix for the Seahawks' first game of the season. We're splitting our season tickets with one of Huebie's friends this year. We are just so busy we never seem to make it to every game. He had this game. And we kicked some Packer booty! These 2 cuties were prepared for the game with all the necessities. 🙂
Day 248: That one time I actually met another blogger. In person. Jessica was sweet as can be and we had a great time chatting. If you missed yesterday's post on our visit you can read it HERE.
Day 249: The kids built a fort in the living room and Little A was enjoying some time in there with the stuffed animals. She likes her quiet time every so often.
Day 250: On our way home! We had a fantastic time in Phoenix, but I was ready to be home. Little A did much better on this plane ride. I think she's getting the hang of it more each time.
Day 251: Monday was my birthday! We celebrated with sushi and Huebie got me a few necklaces. It was a good day.
Day 252: I did some late night blogging and wine drinking. The perfect combo if I do say so myself. 🙂
Day 253: And then this happened yesterday. Holy balls! My baby girl is in preschool! And she did so well for her first time away from family or her nanny. It was so weird to just leave her there with someone we really don't know. She had a few minutes of crying they said, but she snapped out of it pretty quickly. So proud of her. Brings tears to my eyes looking at this photo. She really looks like a little girl, not my baby anymore.
My dad said it perfect when he said, "Wasn't she just born yesterday?!" Yes, it feels like she was. I can't believe she's going to be 3 in a month.
My birthday giveaway ends tonight at midnight so if you haven't entered you can do so HERE! And don't forget it's open to everyone world wide!
Have a great Thursday friends!