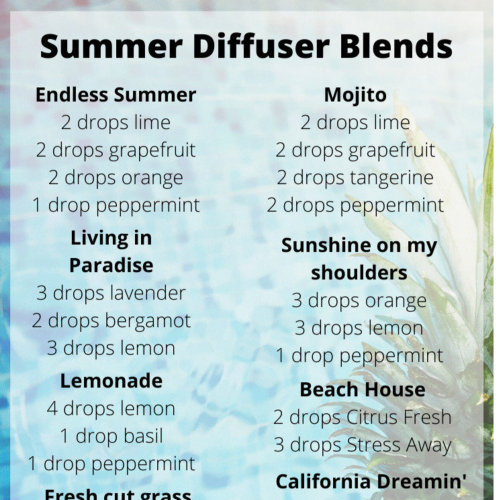 My favorite essential oil summer diffuser blends. These essential oil diffuser blends will have your home smelling fresh and inviting without the toxic chemicals.
"I just love summer, and sun, and all things hot." Name that movie. 🙂 But really, if someone were to ask me what words described summer for me, it would be fresh, clean, breezy, tropical, fresh flowers. So many words evoke summer for me. These summer diffuser blends will make your home smell all of those things.
We should talk about artificial fragrances again. Fragrance, or parfume, can be any one of 3,000 different toxins. Fragrance is in EVERYTHING. Some of the biggest offenders are:
Dryer sheets and laundry detergent
Candles, plug-ins and wax burners
Personal care products (makeup, lotion, shampoo)
Hand soaps
Household cleaners
Pads and tampons
Fragrance Sensitivity
Fragrance sensitivity happens when an individual displays signs of irritation or an allergic reaction due to ingredients in fragrances. Common symptoms of fragrance sensitivity can be categorized into nasal (sneezing, itchy eyes, asthma, headaches) and skin reactions (itching, burning, redness).
Since fragrance is used in so many household items, exposure can be constantly occurring and usually increases when we spend more time indoors (think colder months). What's worse, it's often difficult to identify the source of the allergy since so many complex chemical formulas are used in our everyday products.
Symptoms of Fragrance Sensitivity
The symptoms of fragrance sensitivity can vary. The frequency and level of sensitivity can differ from one person to another. Symptoms can include:
Headaches
Nausea
Skin redness
Skin itching and burning
Watery, itchy and red eyes
Sneezing
Runny nose
Breathing difficulties
Chest tightness
Worsening of asthma symptoms
Fragrance can possibly also be a neurotoxin, causing brain issues. Fortunately, diffusing high quality essential oils, using fragrance free and other natural products can help remove all the symptoms caused by fragrance sensitivity.
Essential Oil Summer Diffuser Blends
These essential oil summer diffuser blends are some of my favorites. Diffusing is the easiest way to use essential oils. Give a few of these a try and let me know what you think.
Endless Summer
2 drops lime
2 drops grapefruit
2 drops orange
1 drop peppermint
Living in Paradise
3 drops lavender
2 drops bergamot
3 drops lemon
California Dreamin'
2 drops Frankincense
2 drops cedarwood
1 drop rosemary
2 drops orange
Fresh cut grass
1 drop balsam fir
1 drop basil
2 dros lemon
Mojito
2 drops lime
2 drops grapefruit
2 drops tangerine
2 drops peppermint
Sunshine on my shoulders
3 drops orange
3 drops lemon
1 drop peppermint
Beach House
2 drops Citrus Fresh
3 drops Stress Away
Lemonade
4 drops lemon
1 drop basil
1 drop peppermint
Tropical Breeze
5 drops bergamot
3 drops grapefruit
2 drops ylang ylang
Garden Flowers
2 drops bergamot
2 drops lemon
2 drops geranium
2 drops lavender
Which ones sound like they may be your favorites? Mine is the simple Beach House combo, and I also love Mojito. 🙂
You can read more of my essential oil posts HERE. If you are wanting to learn more about essential oils, you can get that information HERE.