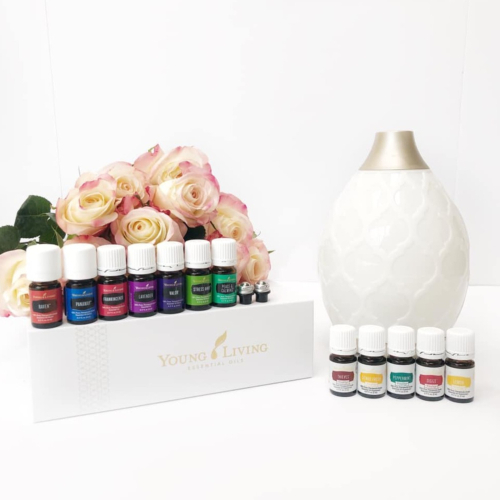 Essential oil premium starter kit diffuser blends from the Young Living premium starter kit that will keep your home smelling amazing all year long.
One request I get from many new Young Living members is recipes for diffuser blends. The easiest way to get started using your essential oils is to diffuse them. When in doubt, diffuse! It's so simple! Diffusing can also be a powerful way to bring happiness, calm or relaxation to a home.
Did you know…
When you inhale essential oils, the effects can be felt within 30 seconds. The nose is the shortest route to the brain. So you inhale the essential oils, and the brain then sends signals via your nerves to where your body needs support; be it pain, anxiety, stress, frustration, etc. Our bodies are pretty damn smart!
Why should I diffuse?
Like I mentioned above, diffusing is one of the easiest ways to use essential oils. Not only does it have amazing benefits, but it the best way to make your home smell amazing without artificial and toxic fragrances.
If you want to learn more about diffusing, read my post on why you should be diffusing essential oils in your home.
Premium starter kit oils
The Young Living premium starter kit (PSK) comes with 12 essential oils! 12! That gives you a lot of options for diffusing! While the PSK comes with both regular and vitality oils (labeled for ingestion), the oils in both bottles are the same. So Thieves in the colored label is the exact same as the Thieves Vitality. The FDA just makes Young Living label them differently. 🙂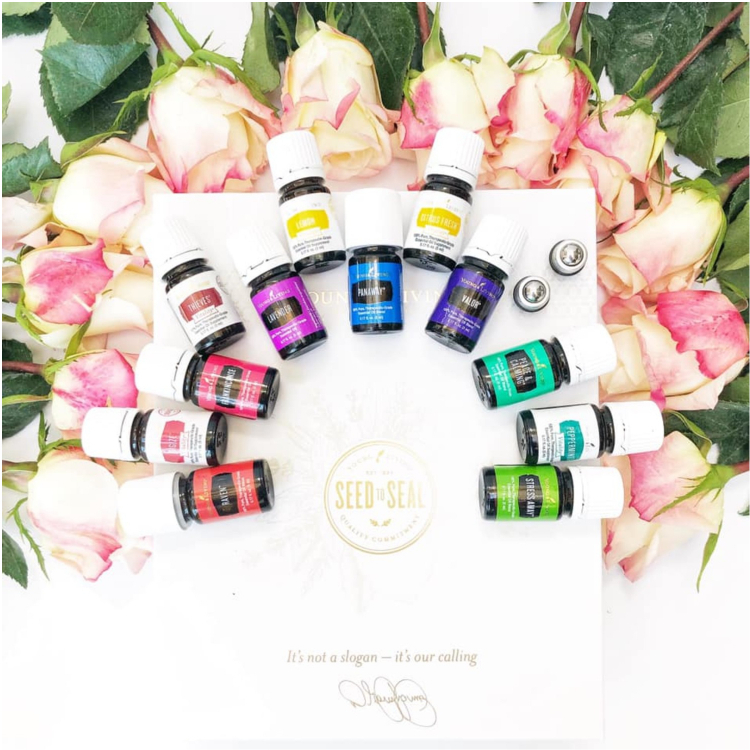 I've been experimenting with different premium starter kit diffuser blends, and these are some of my favorites.
Premium starter kit diffuser blends from Young Living.
Focus
3 drops Frankincense
2 drops Peppermint
2 drops Lemon
Sweet Dreams
3 drops Frankincense
2 drops Lavender
Seasonal Love
3 drops Lemon
3 drops Lavender
3 drops Peppermint
Breathe Easy
3 drops Raven
2 drops Lemon
Odor Eaters
3 drops Thieves
3 drops Lemon
Relax
3 drops Stress Away
2 drops Lavender
Cleaning Lady
3 drops Citrus Fresh
2 drops Lemon
Immunity
3 drops Thieves
3 drops Frankincese
2 drops Lemon
2 drops Peppermint
Confidence Builder
3 drops Valor
Evening Wind Down
3 drops Peace & Calming
2 drops Frankincense
Happy Kids
3 drops Lemon
2 drops Peppermint
2 drops Citrus Fresh
The Young Living premium starter kit gives so many options for diffusing. I love to diffuse oils straight, as well as making diffuser blends like these. It's fun to experiment with the ratios and different combinations to see what you like.
One of the most important things I've learned about essential oils
One super important thing I have learned about essential oils over the years is that what works for one person may not work for someone else. Many people swear by lavender for sleep, but White Angelica (a Young Living blend) works better for my daughter than lavender. Peace & Calming really calms my son down, but it has the opposite effect on my daughter. That's why it's important to do trial and error to see what works best for your loved ones.
So don't get frustrated if an oil that works for one friend doesn't work the same way for you. We all have unique body chemistry.
Here's a great graphic for you to pin and refer back to.
What kind of diffuser should I use?
If you're a Young Living member (which I'm assuming you are if you're reading this), then your premium starter kit came with a diffuser. But you will soon fall in love and know that one diffuser is not enough. While I love the Young Living diffusers (my kids especially love the Feather the Owl diffuser), sometimes we want something a little different. I really love this diffuser from Ansin.
Amazon has hundreds of diffusers to chose from, just make sure it's ultrasonic and cool mist, if it's a diffuser/humidifier combo. And read the reviews. A lot of the cheap ones are cheap for a reason.
What are some of your favorite essential oils to diffuse? Do you have some favorite essential oil diffuser blends? Learn more about essential oils, including some seasonal diffuser blends, HERE.