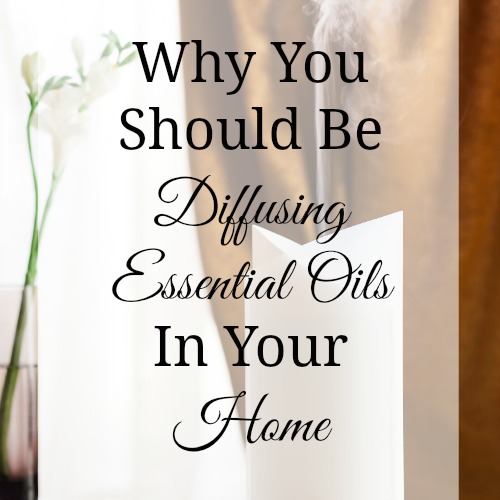 Diffusing essential oils in the home is one of the best ways to utilize their power and gain the plethora of benefits. And they make your house smell amazing!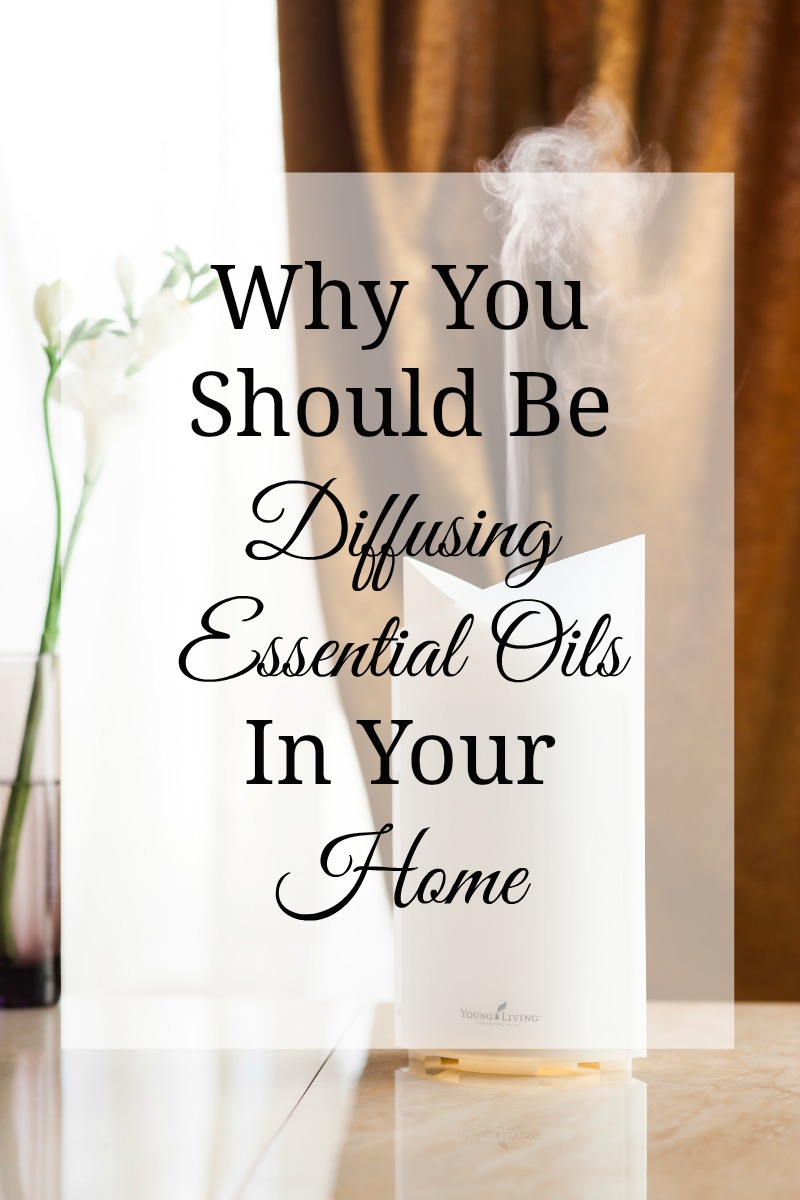 We have four diffusers in our home. Both kids have a diffuser, we have one in our bedroom and there is one in our kitchen/living area. I can't get enough of diffusing essential oils. Not only does it make our home smell great, but we get the benefits of the essential oils throughout our home by using a diffuser.
Diffusing is just one of three ways to utilize essential oils, but it's one of the most widely recognized.
Here are 5 reasons why you should be diffusing essential oils in your home.
Cleanse and purify the air
This is one of the top ways I use my diffuser. Did you know the air inside your home can be 5 to 10 times more toxic than the air outside? That is because we use so many toxic products, and our homes aren't properly ventilated. Especially this time of year with germs everywhere, diffusing Young Living essential oils like Thieves and Purification can help cleanse the air in your home and rid it of toxins and nasty germs that cling to the environment.
Put you in a good mood
We all have those days right? Where we just can't get out of that funk we're in. There are many essential oils that are great for boosting our moods, and diffusing them not only makes your house smell great, but it gives your body the mental mood boost it needs. Diffusing certain oils can also set the "mood" when needed, if you know what I mean. 😉
Diffusing promotes a restful environment
We diffuse essential oils like Lavender, Peace & Calming and Cedarwood in the evenings to help us unwind and get ready for bed. They help promote restful sleep and create a relaxing environment.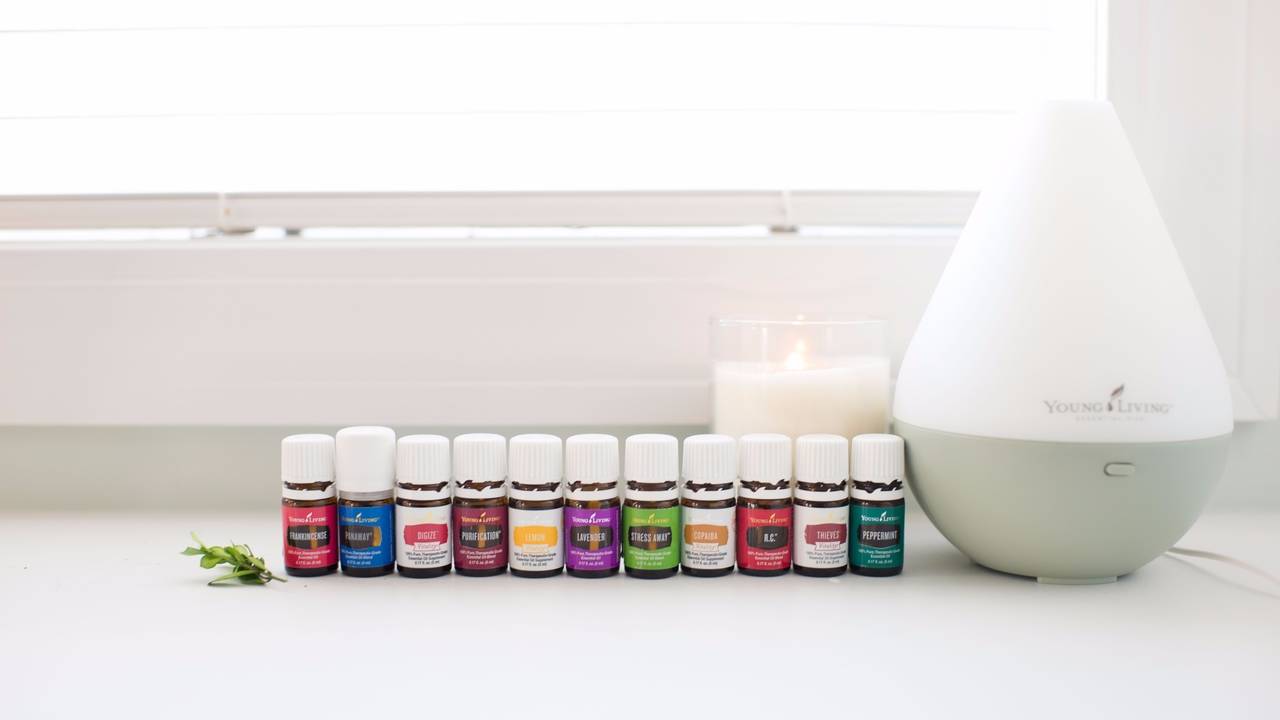 Supports a healthy immune system
One of my favorite ways to use our immune boosting oils is in the diffuser. That way we are getting the benefit of the oils for an extended period of time. Oils like Thieves, R.C., Eucalyptus and Lemon are some of my favorites to support our immune system.
They are a safe alternative to toxic air fresheners
Most store-bought air fresheners (including candles, plugins and sprays) are scented with artificial fragrances, which when inhaled can cause a multitude of issues to our immune system, endocrine system, respiratory system and more. Diffusing essential oils is a safe alternative to toxic air fresheners that are doing more harm to the air inside our homes than good.
Essential oils not only smell amazing, they are a safe natural way to help support your family. Toxins are found in so many store-bought products these days, why not find an alternative to help your family. Diffusing is a great way to get the benefit of essential oils throughout the day.
My favorite diffusers
Affiliate links included.
Okay, so I am pretty picky when it comes to diffusers. They have to work really well, be easy to clean and last for multiple hours. Also, the diffuser you choose should use ultrasonic technology and not heat the essential oils. Some people think cheap diffusers work just fine, but there's definitely a difference in quality when it comes to how well they work and disperse the oils. Like the oils themselves, you get what you pay for when it comes to quality. These are some of my favorites.
What I love about this diffuser, besides the fact that it's really pretty, is the different settings it has. It will last up to 10 hours (depending on the mode you have it set to), and it has a candle flicker setting for all those who love their candles.
These are some of my favorite diffusers. I think we have three of them. Two Jasmine's for the kids' bedrooms and one Julia. I love their sleek, modern look, and the put out a great amount of aroma for a smaller diffuser. Stadler Form also has 50% off sales often on their website, so I always keep a look out for that.
If you want the diffuser of all diffusers, you get an Aria. It is the Rolls Royce of diffusers. It has LED lights, plays different sounds and music, it puts out a ton of oil into the air so it's great for a larger space, and just looks dang pretty.
If you are new to essential oils and aren't ready to invest in a better quality diffuser, I totally get it. This one is a good base model. It works well in smaller rooms, like a bedroom.
Diffusing essential oils in your home is a no brainer for our family. We started our toxin-free journey a few years ago, and even though it's taken some time, tossing all the chemicals has been so worth it. Starting with artificial air fresheners is a great way to slowly ease into removing chemicals from the home.