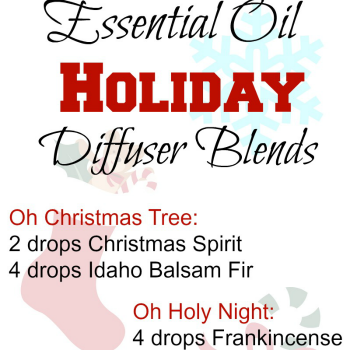 The weather is getting chilly, and the snow is falling in many parts of the country. Although it's still technically fall, it feels like winter. I love this time of year, and I especially love trying new essential oil diffuser blends to get in the Chrismas spirit. I have a diffuser running in my house most hours of the day, which gives me plenty of opportunity to experiment with different blends to see what I really enjoy. And of course, what is being diffused changes for the seasons. In spring and summer I love to diffuse resh scented oils like lemongrass and citrus oils, like lemon, grapefruit and lime. In fall I love cedarwood, orange, and all the spicy oils like cinnamon bark, nutmeg, ginger and clove. And in the winter it's all about the smell of fresh pine trees, Christmas, more spice (hello holiday baking!) and getting in the holiday spirit.
These blends are some of my favorites. And the favorites of many others. From the moment I wake up and turn on my diffuser (*affiliate link), I'm instantly ready to get the holiday party started, or to relax and unwind while sitting in front of the fire with a glass of wine. It all depends on the blend. But no matter which blend you choose, you'll enjoy breathing in the heavenly smells of a non-toxic holiday scent.
Oh Christmas tree: This is a blend that smells amazing to diffuse, but you could also stick both oils on a cotton ball and stick it in your artificial tree. Balsam Fir also has a calming effect. And as my girl would say, "Mama, can you make our house smell like a spicy tree?" Why yes, yes I can, with this combination of oils.
2 drops Christmas Spirit
4 drops Idaho Balsam Fir
Oh Holy Night: Both Frankincense and Myrrh date back to biblical times (yes, biblical times people….essential oils are not something new). After all, these oils were two of the gifts that the Wise Men brought to the baby Jesus at his birth. Both oils are used for relaxation and have grounding properties that help bring a sense of spirituality. (*Both are also amazing to use as part of a healthy skin care routine.)
4 drops Frankincense
2 drops Myrrh
We Wish You A Merry Christmas: Christmas Spirit is one of my favorite oils to use during the holidays. It has such a complex aroma that it's great to diffuse on it's own to really get you in the Christmas Spirit (see what I did there. #imsopunny).
6 drops Christmas Spirit
Santa Baby: Oh Thieves how I love thee. Top 3 oils on my list, for so many reasons that would take an entirely separate post to explain. Thieves has a spicy aroma, and when combined with orange it adds a smooth, spicy scent to your home. And not only does it smell amazing, it helps remove odors from the air. Whenever anyone in our house is feeling sub-par, out comes the Thieves and it is diffused day and night.
3 drops Thieves
3 drops Orange
These essential oil holiday diffuser blends smell amazing!
Click To Tweet
I'll Be Home For Christmas: This is what I have in my diffuser right now. It smells a-mazing! Spicy and sweet and complex, but still all holiday.
3 drops Christmas Spirit
2 drops Thieves
3 drops Orange
1 drop Nutmeg (P.S. you can substitute Nutmeg Vitality for the spice in your baked goods!)
1 drop Cinnamon Bark
Baby It's Cold Outside: Spicy and evergreen scents combine to make a perfect winter's day aroma. The Black Spruce brings a freshness to the spice of the Christmas Spirit and cinnamon. And it works so well! This blend reminds me of pre-artificial tree days, when we'd cut our own tree down. We'd haul it home, cut a few limbs off and the house would smell like the forest. We'd have spiced cider cooking in a pot with cinnamon sticks and the combination would smell like holiday heaven.
3 drops Christmas Spirit
2 drops Northern Lights Black Spruce
1 drop Cinnamon Bark
I think I've had at least 3 or 4 of these combinations going in my diffuser over the last week. And Thieves is an oil that I diffuse year round for all the health benefits it provides. The holidays are in full swing in our house and thanks to these holiday essential oil diffuser blends our house smells like it too.
What is your favorite holiday scent?