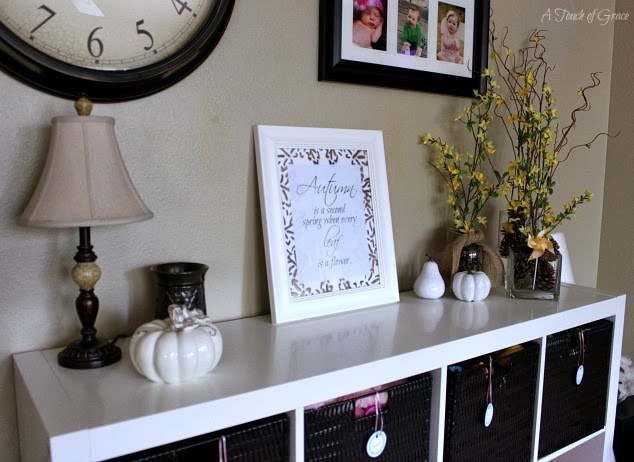 Hi there and welcome to a new week. We had a wonderful weekend celebrating Little A's 2nd birthday. More details to come on that later in the week.
Today I'm here to (finally) share our fall vignette with you all. It's been done for a few weeks now, but I was waiting to get one key piece done before I posted about it.
(Please ignore the yellow pinwheel in the picture. Litte A snuck that in before I noticed and this is the only picture I saved of the whole vignette…ahem).
Moving on….We don't have a mantel over our fireplace. It's more of a cubbie for a TV (y'all know what I'm talking about right?). So instead of trying to style what little space we have in that "cubbie," I decided to create a vignette. Little A's toy storage in the family room is an IKEA expedit and it makes for a great place to do some decorating.
This year I decided to go for a more non-traditional look (as opposed to our very traditional front porch).
I found the ceramic pumpkin at Hobby Lobby and couldn't resist. I decided to go with whites and yellows for my vignette, with a little green and brown thrown in for good measure.

I spray painted the little pumpkins white. I love white pumpkins.
I really loved the yellow branches. Just a few pine cones to fill the vases is all you need.
I got the idea from Sarah for the sign. I love the saying and it incorporated the white and a little glam (with the gold) that I wanted.
You can't see the paint through the white in person but for some reason it's coming through in pictures.
Burlap tied around one of the vases adds just a little rustic touch.
Just a few branches and pumpkins (and a yellow pinwheel of course) can really transform a space don't you think?