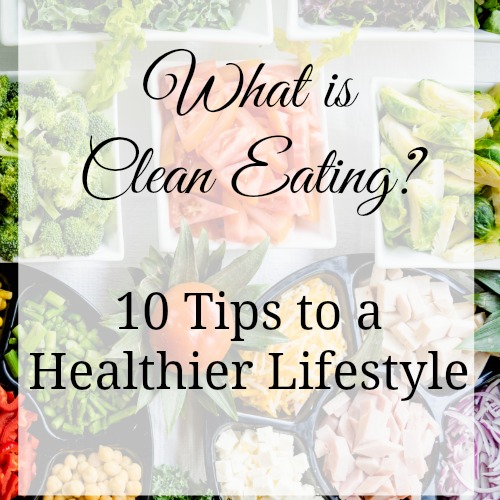 I'm sure most of us have heard the phrase "clean eating," but surprisingly many of us still don't understand exactly what that is! "What is clean eating exactly?" "What foods can I eat?" Or even worse, "What foods can't I eat?" are all common questions I hear from people when I mention that Kellen and I have a mostly clean eating lifestyle.
What is clean eating?
Clean eating is actually a really easy concept to grasp, but a hard one for a lot of us to implement in our daily lives. Clean eating means eating "whole" foods, that are unprocessed, or minimally processed. You want to choose foods in their natural state, or as close to it as possible. Shoot for 5 ingredients or less in any pre-packaged foods. And make sure you know what those ingredients are and you can pronounce them! Avoid color additives and high fructose corn syrup of course.
Why is it so hard for people to eat clean?
Convenience is the biggest factor. Pre-packaged foods make it easy for us to feed our family in 30 minutes or less, for a lower cost. Americans especially lead such busy lives, that we barely have time to spend with our families, let alone try to cook a healthy, whole foods meal for them.
Clean eating is how our bodies are meant to eat. Our digestive system works most efficiently when filled with healthy, whole foods. All the processed, man made additives just gunk up our system, leading us to gain weight, store fat and feel lethargic and just plain icky. No one ever said they felt the best they've ever felt after eating 4 slices of Pizza Hut pizza. No, usually we feel pretty…..ugh.
If you want to eat clean, and really focus on what you put in your body, here are my tips to get you started on a clean eating lifestyle.
1. Avoid processed and/or refined foods as much as possible.
The more ingredients, the worse the food is for you. Processed foods come in some sort of package, and while there are exceptions (canned beans, salad in a bag) you should avoid these foods as much as possible.
2. Avoid the 3 white killers: Flour, salt and sugar.
If you're eliminating pre-packaged foods you'll already be reducing your sodium intake by quite a bit. Steer clear of white flour and sugar as well, which are highly processed and have no nutritional value.
3. Learn to read a label.
Read the ingredients list and if there are more than 4 or 5 ingredients (preferably 1 or 2), or you aren't sure what the ingredients are, put it back on the shelf.
4. Buy the "dirty dozen" organic.
These are the foods that are most susceptible to pesticides. Some people say buy all organic, but that can get expensive! Try to at least buy organic with these 12 foods.
5. Shop the outside of the grocery store!
Did you know that almost all clean, whole foods can be found on the outside part of the grocery store? I'll have another post coming up with grocery shopping tips, but for now just try to stick to the outside of the store and you'll be successful.
6. Clean out your fridge and pantry!
If you're just starting your clean eating journey, this step is crucial. You'll never be successful if you don't get rid of all, or most, of the junk in your kitchen. Get rid of prepackaged foods
7. Limit your alcohol intake.
Try to stick to the recommended 1 drink per day for women, or less. 1, 5 oz. glass of red wine can be good for your heart, but avoid mixed drinks that have a lot of added sugar
8. Increase your veggie intake.
Vegetables are chock full of vitamins, minerals and fiber. All good things for your body. Fresh veggies are the best, but frozen is another good option if fresh veggies are limited in your area. Veggies should be take up the largest percentage of your plate.
And vegetables don't have to be boring! Think onions and peppers in a morning omelette, or carrots with hummus as a snack.
9. Eat grass-fed meat.
Good quality meat is SO IMPORTANT! Conventionally raised meat is full of hormones, antibiotics and fed a diet full of grain (not grass, which is what cows are meant to eat). More grocery stores are starting to carry grass-fed meat, but your best bet is still the butcher or Butcher Box. We have a Butcher Box subscription and really love it. A serving size of meat for most women is 3-4 oz.; about the size of a deck of cards.
10. Cook your own meals.
By cooking your own meals I'm talking about using the whole foods you purchase as you shop the outside of the grocery store to make your own meals. No meals in a box (hello Hamburger Helper) or pre-packaged meals from the freezer section. Get out your skillet and sauce pan and get creative!
Make sure you read my tips on how to grocery shop for clean foods, which includes my list of the best clean eating foods to have in your cart!
I hope this helps answer the question of what is clean eating for you. When you start incorporating this way of eating I promise you will start seeing changes in your health and overall well being.