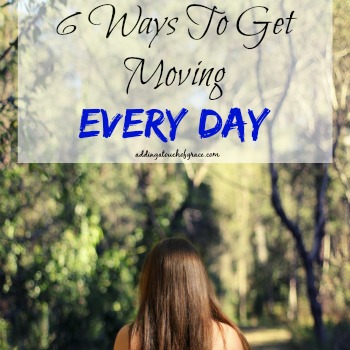 Just getting your body moving ever day is the first step toward a healthy lifestyle. Here's a few simple ideas to incorporate movement into your day.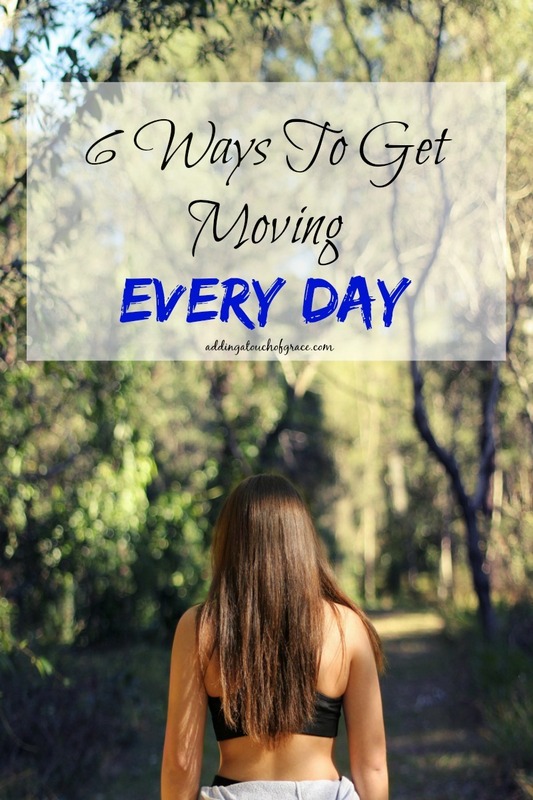 We are all super busy, but taking the time to get our bodies moving every day is important for not only our health, but our mind and spirit as well. I shared some ways you can make working out a habit a few weeks ago. Now that you're getting back into the habit of exercising, here are a few simple ways to stop being sedentary and start moving your body!
Go for a walk // Even if you just go around your neighborhood, getting off the couch can help improve circulation, boost your metabolism and give you some endorphins. I haven't been cleared for exercise from my OB yet, so walking is what I've been doing on most days. If you're just getting started on your fitness journey, walking is a great place to start.
Do exercises during commercials // I love this one! I used to do this all the time when I was short on time for a workout or was unmotivated to go to the gym. Sometimes I'll still do it for some extra calorie burning. Some good options are squats, lunges, push ups, donkey kicks, and planks. It's only 2-3 minutes at a time but after an hour long show you've done over 15 minutes of work.
Here are a few ways to take the excuse out of fitness and get moving.
Click To Tweet
Take a 5 minute walk around your building // When I was working in corporate America, I used to sit all.day.long. Not only is that terrible for your back, but it's just as bad for your metabolism and physical fitness. 3-4 times a day I'd get up from my desk and do a 5-10 minute walk around our building. I'd go up and down the stairs, explore new areas, grab a coffee and even stretch a bit. Anything to get me up from the sitting position. If smokers are entitled to smoke breaks, I think the rest of us are entitled to walking breaks.
Work out in the morning // I know this one can be hard for those of us who go to work super early (I used to start work at 6:00 am) or aren't morning people, but if you start your day a bit later, try to get in a 30 minute workout in the mornings. It will be out of your way and you'll feel so good the rest of the day. I've also noticed that when I workout in the morning I tend to eat better throughout the day.
Workout during your lunch break // We all can use a little break to just unwind, but a few days a week try to do a workout during your lunch hour. This is what my hubby does most days of the week and it works out great. It can be the days you plan on doing less intense workouts so you don't get as sweaty and won't require a shower before heading back to your office.
Be okay with shorter workouts // Even 15 minutes is better than nothing. A lot of people think that if they don't have time for a full 45-60 minute workout, than they might as well skip it. Well don't! Even a few minutes of physical activity is better for your body than sitting sedentary.
Even if you don't do a full workout every day, getting your ass off the couch and at least going for a walk will not only improve your physical fitness, but boost your mood as well. I always feel better after a workout. No one ever regretted exercise, am I right?
What are some ways you get moving every day, especially when you're crunched for time?