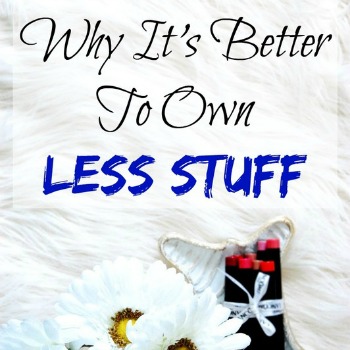 We live in a materialistic world. But here are a few reasons why it's really better to own less stuff.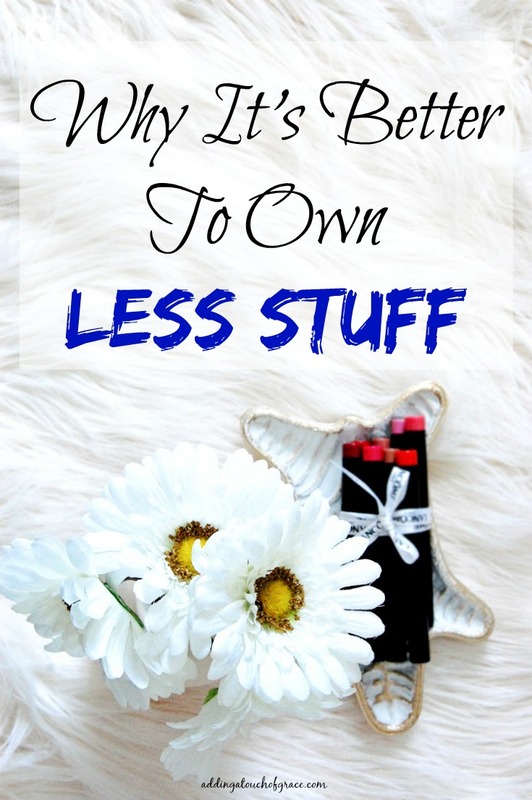 Back in January we started the process of purging our home and got rid of half of our stuff. When we decided to simplify our lives we had one goal in mind: A lifestyle that allows us to focus on making memories and not on material possessions. You see when you have a lot of stuff, your mind gets overwhelmed with all the things you have, and it's not free to focus on what's really important in life: family, friends, memories.
I've learned a lot about myself through this process, and why owning less stuff is way better than having a lot of material possessions.
It's better to own less stuff because it makes you appreciate what you do have. The process of going through and getting rid of things really made me appreciate what I kept. I only kept things that bring me real joy in life, which honestly isn't a lot since memories and time spent with family brings me the most joy.
One issue we'd run into with Little A was we felt like she didn't appreciate what she had. She was always wanting something new. And she had a ton of toys! It was super frustrating for us that she wasn't playing with a lot of what she had, so we got rid of it. In reality she didn't have near the amount of toys that a lot of kids do, but for her we still felt like it was too much. Downsizing her toys has not only helped her appreciate what she has, but she can actually see all her toys now, haha!
When you make the decision to own less stuff you also make the decision to buy less. With that comes savings. You save so much money! I don't know about your family, but my hubby's goal is to retire by 55. That means saving, saving, saving! And don't get me wrong, this isn't easy for me. I love to shop. I used to shop and buy things on a weekly basis (usually things for the home or clothes). Buying things just brings me joy. But now a days I 1) don't have the time and 2) realize that saving instead of buying new things all the time is better for my future.
You're teaching your kids a good life lesson when you own less stuff. Happiness doesn't come from having a bunch of possessions. It comes from memories, time spent with family, activities and adventures. We want our kids to look back on their childhood and remember the things we did, not all the Barbies and Legos they had.
You save time. You won't be spending all your time organizing and tidying up. For me, that's huge. My time is limited (it is for so many of us) and spending time organizing things I rarely, if ever, use is not how I want to be spending it. The less stuff we have the less time we spend cleaning and dusting all of those things.
Owning less stuff is so freeing! K and I say this all the time still: our house feels so much lighter since doing our big purge. It's like a weight has been lifted off our shoulders. Our home was never messy by any means, it was just full of stuff. Less stuff equals a light, airy and happy home.
I don't know about you, but the fewer possessions that I have, the more full I feel. Does that make any sense? To me it does. My heart and mind are now free to be filled with memories, personal development and things that will matter to me most 30 years from now.
How about you? Do you think owning less stuff is better?