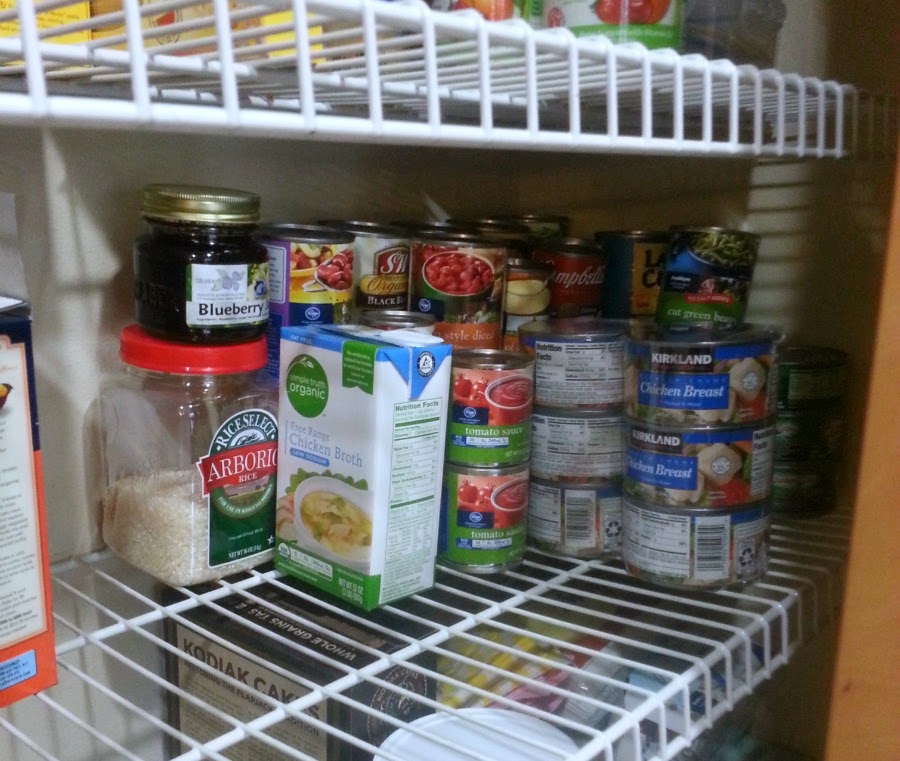 Happy St. Patrick's Day! Not only is this one of my favorite holidays, but it's also my hubby's birthday. Yep, he's a St. Patty's Day baby! Happy birthday my love!
I know it's March, but it still feels like the beginning of the year to me. And I love starting the new year with a clean, organized home. I've been (slowly) making some changes around the house to better organize our lives. They've been small changes, but they make me so happy!
One of the areas that drives me crazy in our home is the pantry. It's a double door pantry that's not very deep, but it's very wide. The thing that makes me the most frustrated about it are the wire shelves. Those shelves make it so hard to keep some items from leaning or tipping over. I would love to replace all the wire shelves with real wood shelving, but that is probably one of the last projects on my list, and we'll likely move before I ever get around to it, so I'm making the best I can out of what I have.
I'd been looking for a can organizer for a sweet forever. I store our canned goods in the back right corner of the pantry, and always have a hard time seeing exactly what I have. I never take the time to really look to see what we have before grocery shopping, so I usually end up buying more black beans or cream of chicken soup (we're stocked up on beans for the next 3-4 months).
Sorry for the grainy photos. This was a last minute project so I used my camera phone.
I hate having to dig around and move everything just to get to one can I need.
I'd heard they had these can organizers at Lowe's, but then when I was at Target the other day I found exactly what I'd been looking for! God bless Target!
I started by removing all the cans from the pantry. It was easiest to move them to the table so I could start fresh.
I grouped the cans by food type on the table before putting them back in the pantry.
Then I started putting the cans onto the shelves in the groups I put them into on the table.
Once I had all the cans back in I could better see everything I had. It took up a bit more space this way, but we have plenty of room in the pantry. I would rather take up a bit more space in order to have the space organized.
I decided to keep the canned chicken and tuna in front of the other cans. We go through them pretty quickly, so keeping them out front makes it easy to grab them in the morning when we're packing our lunches.
Ah. It feels so good to have this little area organized. It puts a smile on my face every time I open the doors and can easily see everything we have.
Have you tackled any small organization projects in your home lately that just make you happy?