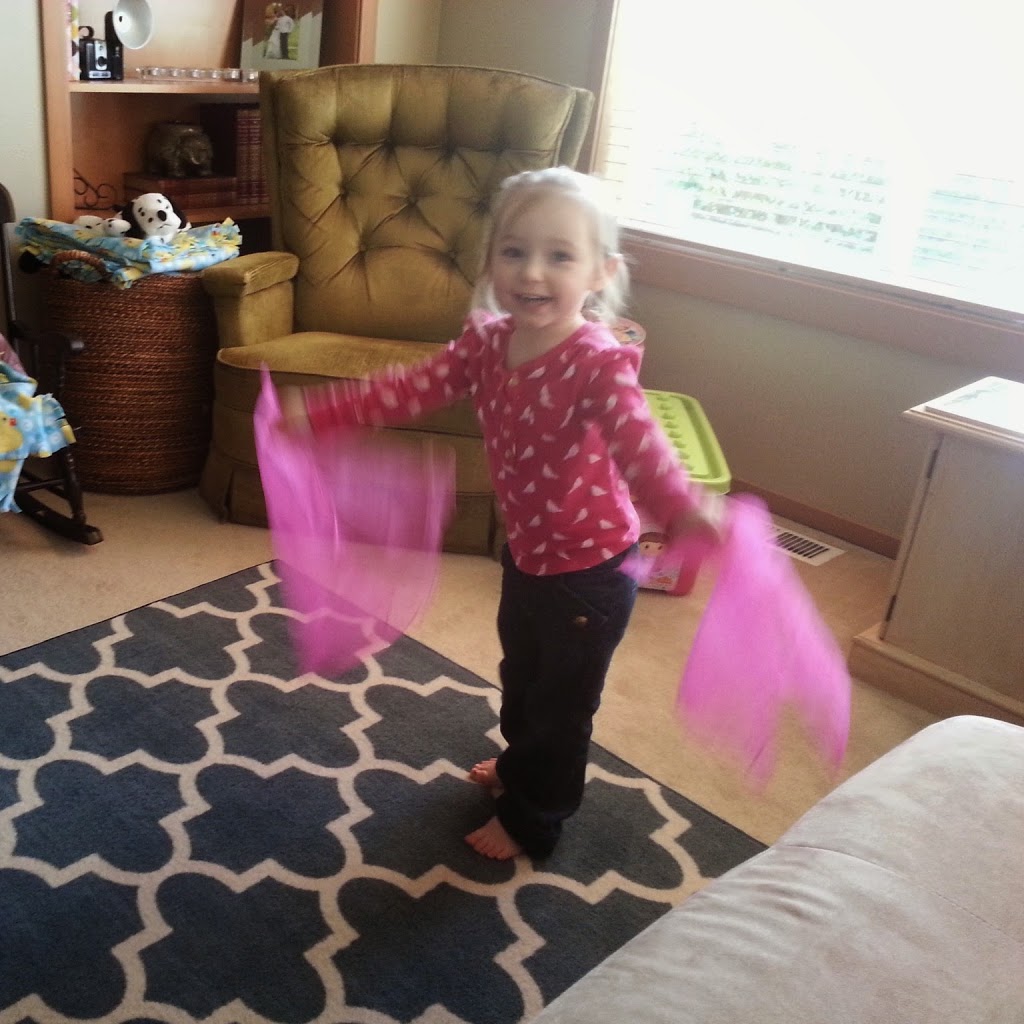 Happy first day of spring! It's a cool 41 degrees here this morning, so it doesn't yet feel like spring. And it probably won't for another month, but I feel like I can get out of my winter boots and put on some wedges if I feel like it. We are on week 11 of this year already! That means we're almost a quarter of the way through our year. Hold the phone! I need to get busy with some of the items on my to do list!
It has been a busy 7 days for us.
Day 72: She was dancing with her "dance scarves." Making circles, twirling. This girl loves to dance. And I love that smile.
Day 73: My in-laws came into town for the weekend and we went to sushi Friday night. I'm so glad we introduced them to one of our favorite foods. They love it now as much as we do! And so does Little A.
Day 74: Little A and Grandma making flowers out of play-doh. She loves her some play-doh.
Day 75: Sunday my MIL and I went to Target and I found this fabulous shelf to organize my canned goods! I'd been looking for something like this for the longest time. You can read more about how I organized this little area in our pantry here.
Day 76: Happy St. Patrick's Day! Frozen came today! The minute she opened the package and saw the movie she wanted to watch it. She gathered the cast of characters (and her duck of course) and sat down to watch the movie.
Side note: I've heard a lot of grumbling around this movie. Some people just don't like it. I think it's adorable and try to remember that it's just a movie. People are all up in arms around the parents dying and the girls being orphaned. It's just a movie people! I think the soundtrack is fantastic (even though I go to bed singing "Let It Go" and "Do You Want to Build a Snowman" every night).
Day 77: Huebie got some $$ from my folks to get some new weight equipment. We're working on building up an at home gym, since it's just more convenient for us to work out at home with our schedules. Little A loves going to Sports Authority. She heads straight for the little weights and starts doing her workout. She was doing an overhead press with squats in this photo. Baby weights for the baby!
Day 78: We went to have our taxes done yesterday. It was helpful, but it was not a pleasant evening. Let's just say I'm wondering what the point in me even working is.
And some other things that happened over the last week.
I started to have some abdominal pain last Wednesday afternoon. I left work early, and tried to rest, but it just got worse as the evening went on. Thursday I ended up at the doctor, had some blood work done and a CT scan on Friday morning.
They found a mass in my lower abdomen. I met with the surgeon on Tuesday and they believe it to be an endometrioma that has grown outside of my uterus around my bladder. I go in next week to meet with my OB about options. As unfortunate as it is, this is the best case scenario of what it could have been. The other options they considered would have been much harder to accept.
Little A was so sweet and cuddled me a whole bunch. That was the one plus about not feeling well. I will take as much cuddling from her as I can get.
Grandma & Grandpa came to Little Gym with us on Saturday morning (I was starting to feel a little better Saturday morning). She spent approximately 3/4 of her time hanging on the bars.
We ran to the mall after Little Gym to pick up a few things. And then she saw the Disneyland sign. Oh no. I think we'll be making a trip to Disney in the next year or so. She was enamored with the castle.
Dinner Sunday night at our favorite pizza place. They make a mini pizza just A's size. So good!
My parents watched Little A on Monday night so Huebie and I could go to a nice dinner for his birthday. We went to Daniel's Broiler (in Bellevue for you locals). It's on the 21st floor of the Hyatt and the view is spectacular.
See what I mean? That's Lake Washington and you can see Seattle in the background. It was a beautiful day.
The food was absolutely amazing. Huebie had a steak and I had the salmon. We shared mac and cheese as a side and these amazing lobster mashed potatoes. Are you kidding me?! Lobster mashed potatoes. I could eat these every day. I love me some mashed potatoes and these are by far the best I've ever had.
We had creme brulee for dessert and they brought us a chocolate lava cake with ice cream for Huebie's birthday as well. I forgot to take a picture (sorry) but they were both divine. I may have left there feeling a bit sick from all the food.
We had the best view in the restaurant.
How has your week been so far? Any exciting plans for the weekend?