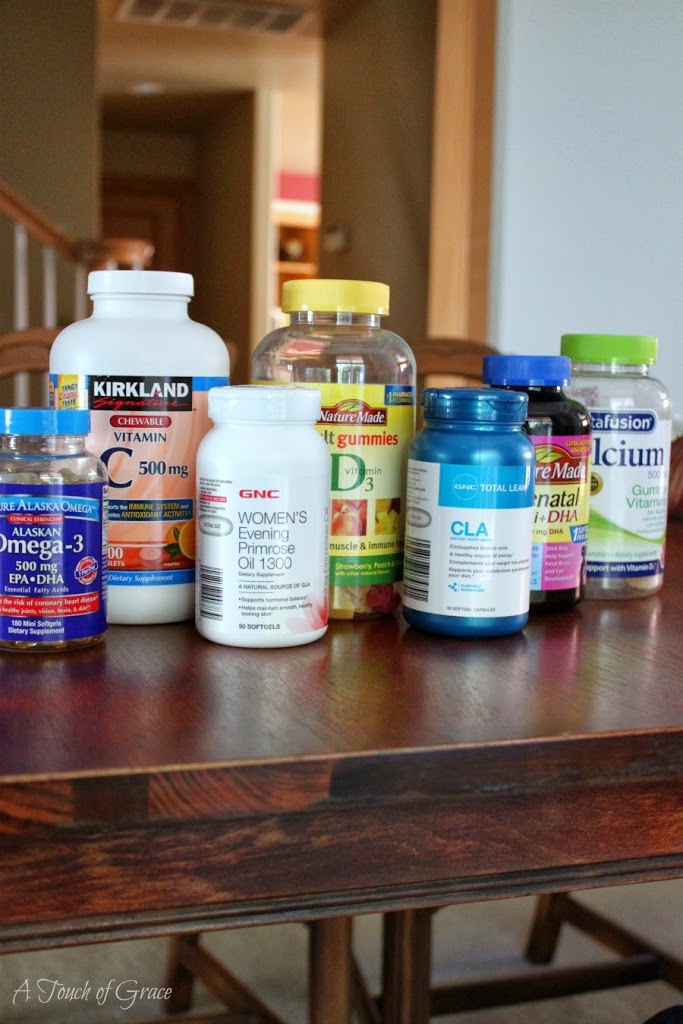 In my pursuit of a healthy lifestyle, I've added some vitamins and supplements to my diet over the last few years. I hadn't ever been consistent in taking vitamins when I was younger, mostly because it was confusing and I never took the time to research what my body needed. But as Huebie and I started training more, we learned what we needed to take not just for healthy living, but also to maintain our physical fitness. I've gradually modified what I take over the years and have narrowed it down to as few as possible (I really don't like taking pills).
This is what I take on a daily basis, at specific times during the day. Vitamins are important to your health, but the timing of when you take them can be just as important.
Breakfast
In the morning, I take my multivitamin, Vitamin B and C, and fish oil. This would also be a good time to take Vitamin E if you take that as well (I do not).
When choosing a multivitamin, try to find one that provides 100% of the daily value of the 12 essential vitamins and minerals. You only need 100% though; more is not always better and that includes vitamins.
I've had the prenatals for a while so I'm trying to use them up (no, I'm not trying to get pregnant). 🙂
B vitamins help convert your food into energy (which is why they are known as the energy vitamins), starting your day off on the right foot. Taking these vitamins in the morning gives your body the best chance to absorb them into your system throughout the day. Do not take them at night as they can interfere with your sleep.
I think fish oil is one of the best supplements you can take. It has many benefits including lowering bad cholesterol levels, helps your joints, skin, brain, vision and heart. It is also an anti-inflammatory.
Look for a fish oil that contains at least 600 mgs of DHA omega-3 fatty acids. If you take it in the morning with breakfast you can avoid those "fishy burps" that some people get when taking them on an empty stomach.
Fish oil is especially important to take if you're pregnant since it helps promote baby's brain development.
Evening Primrose Oil
I just recently started taking Evening Primrose Oil, but I'm very happy with it. It supports hormonal balance and helps maintain healthy looking skin. It's been shown to especially help people with eczema.
CLA
I started taking CLA (conjugated linoleic acid) when I started working out harder after I had Little A. It's a good source of energy, supports your metabolism and helps burn fat.
Lunch
Sometimes I completely forget to take my vitamins in the morning. On those days I take them at lunch. Taking them with food is important.
This is also usually when I take my D vitamins (when I'm not taking calcium that day). Vitamin D is a fat-soluble vitamin that absorbs better into your system when taken with a healthy fat (such as nuts or avocado).
If you take a multivitamin that has 1,000 IUs of vitamin D, then you don't need to take a separate D vitamin.
Evening/Calcium time
Around dinner time is the best time to take your calcium supplement. Try to find a calcium supplement that includes vitamin D and magnesium. The vitamin D helps aid absorption and the magnesium helps prevent any negative side effects of calcium (like an increased risk of heart attack if too high a dose is taken). If you can't find one with magnesium make sure it at a minimum includes vitamin D. Calcium supports strong and healthy muscles, bones and teeth. It's important to take it separate from the rest of your vitamins because it can keep your body from absorbing the other vitamins.
But still try to get as much calcium from other sources (such as dairy) as you can.
If you're looking to start taking vitamins consistently, I recommend starting with a multivitamin.
When looking for vitamins, check for bottles labeled 100% daily allowance.

Multivitamins can fulfill your nutritional needs for the day. They contain:
Vitamin A: Critical for healthy vision and skin
Vitamin B: Metabolism and energy booster
Vitamin C: Helps keep your immune system strong
Vitamin D: Promotes healthy bones and protects your immune system
Vitamin E: Aids healthy development of muscles and brain function
I'd also recommend calcium. Our bodies achieve peak bone mass around age 30, so taking a calcium supplement is very important to help slow bone loss. In women our bone loss accelerates around menopause.
I divide the vitamins I take during the day into my pill box (you can find them everywhere. Mine is from Target). I keep my Vitamin D chews and calcium separate. Yes, I know I look like an old person doing this, but it's handy for me to take to work and I better remember to take them when they're in the pill box.
I buy most of my vitamins and supplements at GNC, but Amazon has a wide variety of brands to choose from.
Protein
On the days I exercise there are a few additional supplements I take.
MusclePharm came out with this new Arnold Iron Whey Protein that we love.
We also use protein in our meal replacement smoothies a few days a week. A lot of good proteins taste terrible, but this one actually tastes pretty good! We get the vanilla so we can mix it with anything.
BCAAs
I also take BCAAs on days I exercise. Branched-chain amino acids are an essential amino acid, meaning our body does not produce them so we must get them in our diet. Amino acids are the building blocks of protein. When you exercise, BCAAs improve performance and reduce protein and muscle breakdown. They're also known to prevent fatigue and help concentration.
Your body obtains BCAAs from proteins found in food (especially dairy and meat), so a balanced diet rich in protein can provide you with enough BCAAs, even when exercising. I tend to not eat enough protein, so I take BCAAs as a supplement.
I store all of our vitamins in a corner of the pantry. I try to keep them all in the bin, but we have quite a few, so they don't always fit. My hubby takes a few of the same vitamins I do (fish oil, vitamin D, BCAAs), but he has a few different ones he takes as well.
I store all of our protein and BCAAs on the top shelf of the pantry. We have a pretty good collection of protein and other supplements that my hubby takes. We went through a phase of trying different proteins to see what we liked best for performance (and let's be honest, taste is a huge factor for me as well).
Do you take any vitamins or supplements? Has anyone found a favorite protein they love?
I'm hoping everyone has some spring-like weather this weekend!