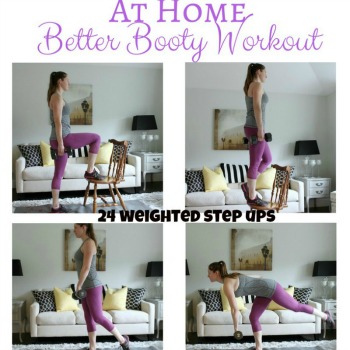 Yay! I'm finally sharing a new workout! It's only been…..well, a very long time. I don't know why it's been so long since I've posted a workout. Probably because I've been working on something behind the scenes and it's been zapping all my workout creativity, and I haven't had a chance to try any new workouts. But I've been wanting to share a good booty workout post with you for a while!
Because here's the truth. My booty is severely lacking. It is the area that I have to work the hardest to make any changes. I blame it on genetics (thanks Mom). And when I was pregnant with EJ, it became almost non-existent. Kellen makes fun of me for my small booty all the time.
So for the last few months I've been incorporating more glute exercises into my workout routine. But with summer just around the corner, I know I need to step it up a notch and really get my butt in gear (pun totally intended 😉 ).

This workout doesn't take a lot of time, but if you're doing it right, you'll definitely be feeling it the next day.
Here's the thing about building a good rear end: You need to add weight to your exercises. Weight is what is going to help build more muscle in your glutes and legs. You could do hundreds of squats, but until you start adding more weight in, you aren't going to get that perky round booty so many of us are trying to achieve.
For these exercises, add as much weight as you can handle. I usually do 10-35 pounds, depending on the exercises I'm doing (sometimes more for things like Romanian deadlifts). Just do as much as you can, while still maintaining good form. If your form is breaking, go down a few pounds. You'll be able to work yourself up pretty quickly if you do these exercises consistently.
Add this circuit to the end of your regular workout routine for a good booty burn.
And now for the special challenge!
Because growing my glute muscles is one of my fitness goals for this year, I've created the 30 Days To A Better Booty Challenge!
This 30 day challenge will get your booty in shape in time for bathing suit season! The challenge incorporates exercises we are all fairly familiar with (think donkey kicks, squats, glute bridges, and more), and kicks it up a notch with added weight and repetition. Done consistently for 30 days, you'll see your booty looking better and better each week.
Each workout consists of 18 minutes of exercise, so it's easily doable at home or at the gym! Minimal equipment is required, which is another bonus.
So are you ready to take the better booty challenge?! You can sign up below and get the challenge sent right to your email!