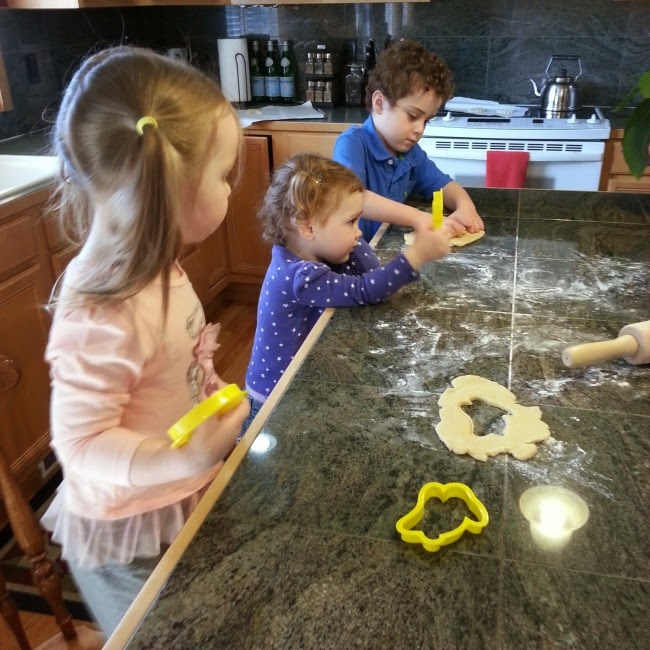 Y'all have no idea how happy I am that it's Thursday. I have had a very trying week and am so thankful I don't have to go back to work until Monday.
Here's what was going on around these parts this week.
Day 93: My bestie came over with her two sweeties to play. They live across the state from us, so we don't get to see them nearly enough. I made cookie dough for the kids to cut out some spring and Easter shapes.
Day 94: It was fancy day at Target. Little A wanted to wear my new statement necklace to go with her pretty dress. It looks much better on her than me I think. And that face. Such a silly girl.
Day 95: We celebrated my sweet friend Laura's baby shower on Saturday. She's having her second baby girl. She has got to be one of the cutest pregnant ladies I've ever seen.
Day 96: Our family went to Huebie & I's favorite Brazillian steak house Sunday evening. Little A made almost everyone go for a walk with her around the restaurant at some point during dinner. Lovin' on her great-grandma in this picture.
Day 97: We hit the 70s! It was a beautiful day on Monday so we spent some time outside when I got home from work. Then went and had dinner with my bestie and her mama. Huebie was out of town so it was nice to have some girl time.
Day 98: I made my Morning Glory muffins again on Tuesday night. This time I used apple chunks instead of shredded apple and I think they taste even better.
Day 99: I had a really rough day at work yesterday. It was all made better when this little face greeted me at the door. She always knows just how to make me feel better. I love her more than anything.
I'm not sure if I'll post tomorrow or not, so if I don't have a lovely weekend friends!