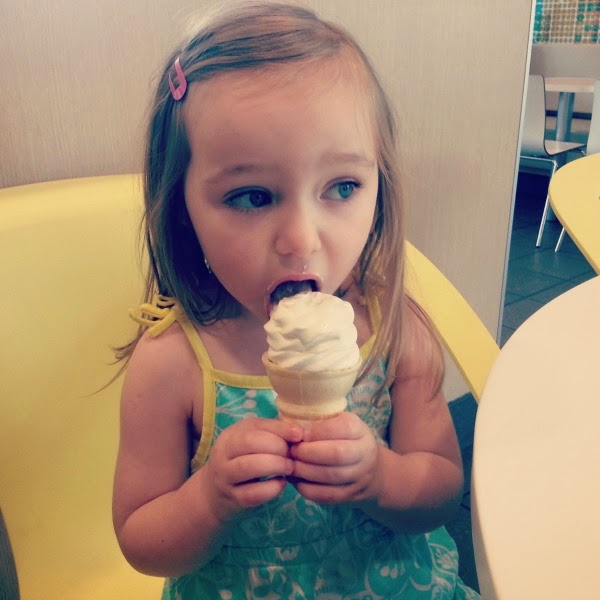 Another week in the books! What a year it's been already. I can't believe it's June and we're almost half way through the year! I know I say it a lot, but this year just needs to slow down a bit. Please and thank you.
Here's what's been happening around these parts this week.
Day 149: Thursday's are always hard for us during nap time. Monday-Wednesday her nanny puts her down for nap, then Thursday-Sunday I put her down. She always has a hard time going down on Thursdays. So I decided to go for a run with her. The reward for her at the end of the run was ice cream. She's all in when it comes to ice cream.
Day 150: Another rough afternoon for sissy. Luckily we visited our friends for a BBQ that evening and she got to play with the dogs. So she was in heaven.
Day 151: The lack of sleep finally caught up to her and she feel asleep in the car on the way home from Little Gym. At 10:30.
Day 152: We set her playhouse up for the summer! She played in it all afternoon, inviting us over for dinner, playing with her babies, building a rock garden. It was a good day.
Day 153: We haven't had desks at work for about a month. They've been upgrading our area (new carpet, desks, etc.). Monday was our first day back in our new area. Our new desks are super tiny (they're more like a table). So they tried to buy our love for our new smaller space. And it definitely worked. 🙂 And to be honest I actually like our new desks! They are definitely small, but I can raise and lower my desk so I can stand and work, which is pretty awesome.
Day 154: She seemed skeptical of her pizza. Probably because it wasn't made with a cauliflower crust. 🙂
Side note: After having the cauliflower pizza crust, then regular crust the other night, I could totally tell the difference. I felt so…ugh after eating the regular crust. Definitely going to try to stick with the cauliflower crust more often.
Day 155: Beautiful weather for playing in the sandbox! If only she could keep more sand in the box instead of on the ground.
We postponed our trip to Phoenix this weekend. 🙁 I'm a little bummed, but it's for the best. Huebie is taking Little A to his parent's house to do some work, so I have a few days to myself. I haven't had this much time to myself since Little A was born. Oh what is a girl to do. 🙂
Have a great weekend!