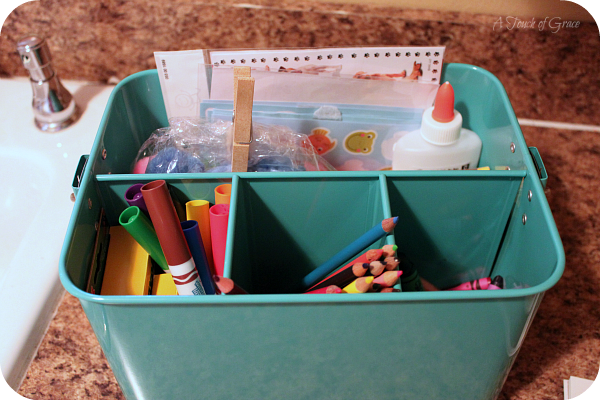 Before I thought to put this little project tote together for Baby A, we had art supplies scattered all over the place. Most if it resided in the kitchen, which is where she does most of her projects. The clutter was driving me crazy so we ventured to Target to see what we could find to contain all the madness.
Thanks to Summer they had a nice selection of utensil holders and I immediately grabbed this blue one. I wanted something visual so Baby A could easily pick out what she wanted to use.
We divided up all her coloring "utensils" into their own section.
She can choose what she wants to use: crayons, markers, colored pencils or chalk.
I originally tried to keep the crayons in their respective box, but that just wasn't working. So now they reside in the bottom of the pail. Easier for her to pick what colors she wants.
The large part of the tote houses her glue, stickers, coloring books/paper and other misc art supplies (like those little fuzzy puff balls).
She can just grab it off the counter and carry it out to her table to color and draw. Much better than having crayons and paper scattered on the countertops.
Do you have any great tips for organizing your little one's art supplies? I'd love to hear about them!