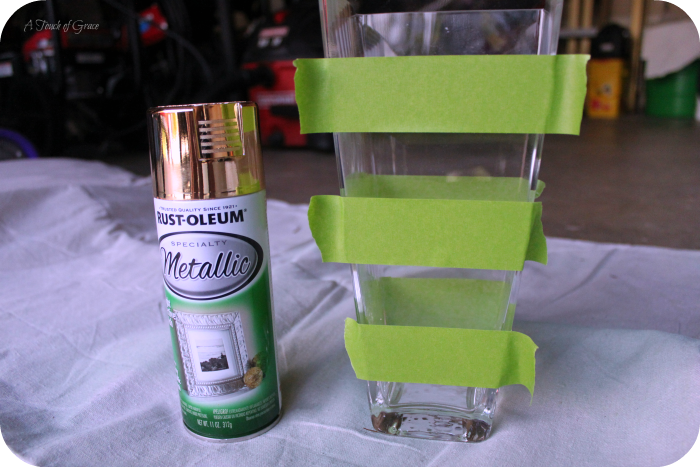 I did this project weeks ago and am finally getting around to showing you all the finished product. I'd seen gold painted vases before and really liked the look of them. I found this vase for a great deal at Home Goods and it worked perfectly for my project.
I first taped off the areas I wanted to paint gold. In order to get straight lines, I had to tape off each side separately; I couldn't just wrap the tape around the vase or it would end up crooked. I'm sure on a square vase it would work fine, but with any vase that tapers down like this you'll have to do each side individually.
I then used my trusty Rust-Oleum Metallic gold spray paint. It covered pretty well with one coat, but I ended up doing 2 coats just to be sure it was completely covered and you couldn't see through it. It actually dried pretty quickly on the glass. And in typical me fashion I totally forgot to take pictures of the painting process, sorry.
The vase was originally going to live in the living room, but it just wasn't fitting in there very well.

So it got moved to the master bedroom. That room needed a little gold.
And I actually don't mind it sitting next to the silver framed wedding picture. I'm sure I'll move it again at some point, but it will live here for a while.