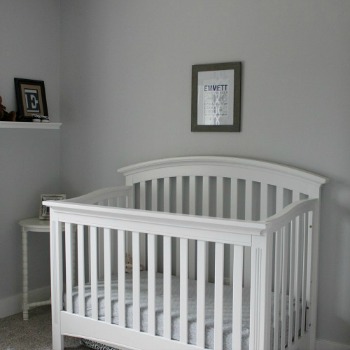 This simple white, gray and navy baby boy nursery is full of classic colors that will grow with baby for years to come.
*This post contains affiliate links for your convenience. For more information see my disclosure page.
When I first started planning my son's nursery, I knew I didn't want a theme. As I mentioned in my baby boy nursery inspiration post, I want a room that will grow with him as he grows. And I couldn't be happier with how his nursery turned out.
His white, gray and navy nursery is calming and peaceful, and I love going in to sit with him and rock in the most comfortable glider ever.
There's a resource list at the end with details on almost all the pieces in his room, but for starters, the rug in the photo above is from Lorena Canals. Y'all, it's washable! And it's super soft! I was so excited when they wanted to send me a rug for his nursery. It washes so well and the gray goes perfectly in his room.
When I started thinking about what I wanted his nursery to look like, I knew I wanted it to be somewhat neutral. And I didn't want the space to feel cluttered. I wanted plenty of room for him to play and us to walk around.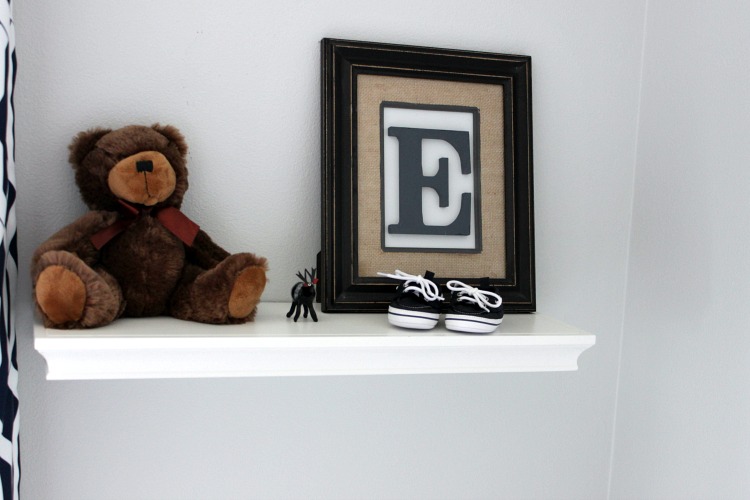 This little corner makes me so happy. My aunt made the framed "E," and used it as part of my baby shower decor. It fits perfectly into his room. The shoes were his first baby shoes (that fit him for about half a second). And the bear was given to us by another family member.
The little reindeer guy has a story behind him. He's actually from my bachelorette party. We found him at a winery, and took him around every where we went. We named him Manson (after the town by Lake Chelan that our condo is in), and he's been with me ever since. I thought he made the perfect addition to this little shelf.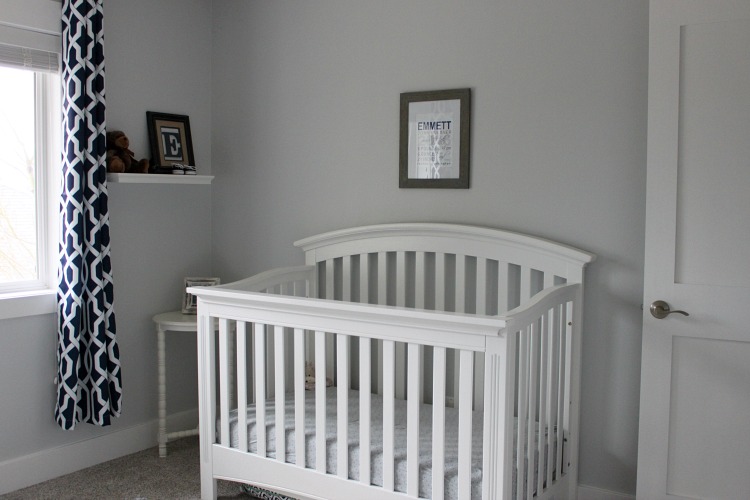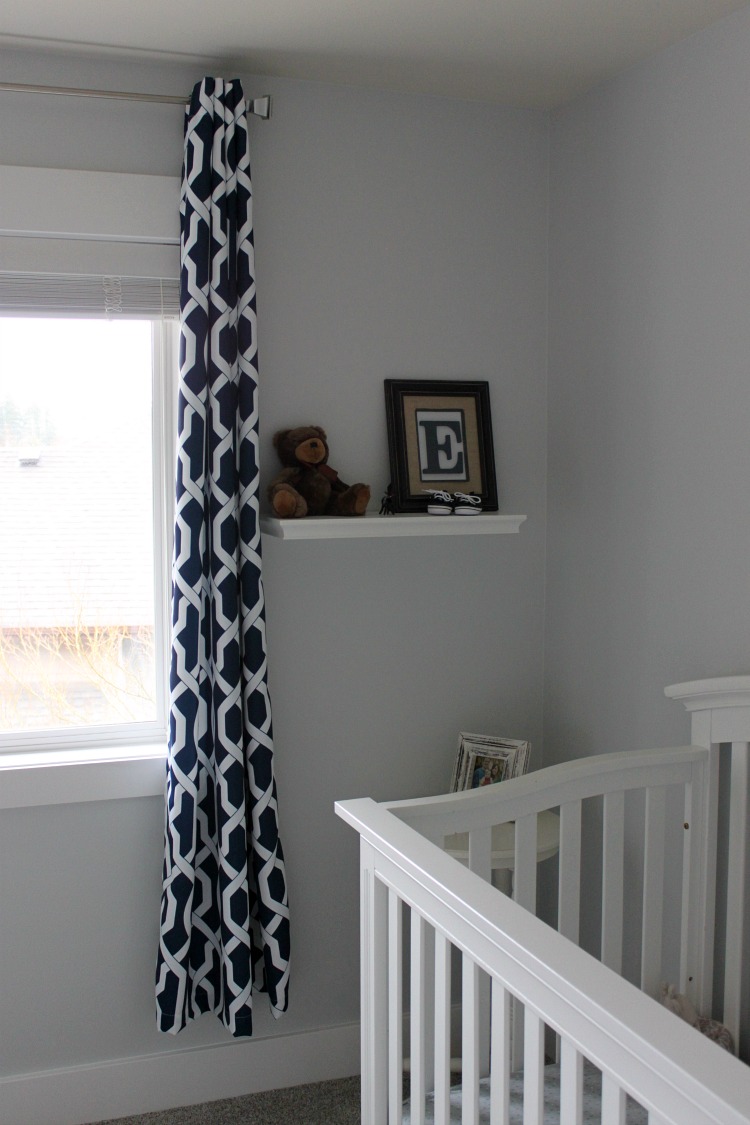 As you can see from these last two photos the curtains are no longer long enough. We had to hang them higher when we remodeled our house, due to the larger trim work. Instead of ordering new ones I'm going to add white fabric to the bottom. I think that will give them a nice finished look.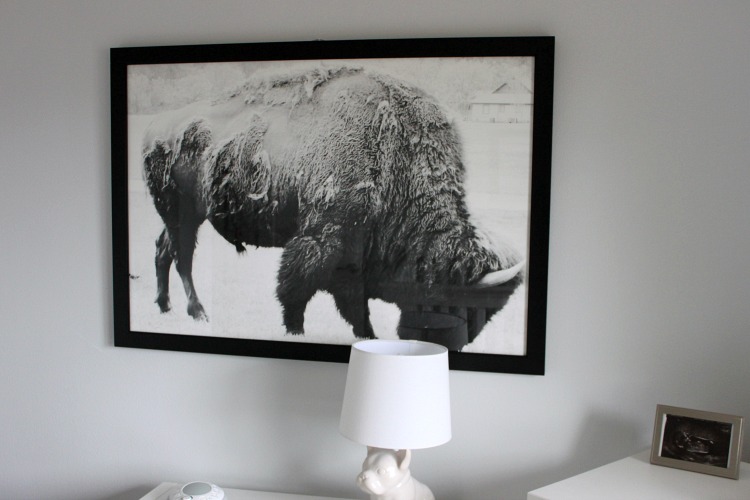 The reason it took so long for me to share his nursery was because of this guy right here. I had the hardest time finding the perfect print for this wall. It's really long and what you see when you first walk into his room. I wanted something that would be a show piece, and would grow with him as he got older. I was able to work with Minted, who provided me with this awesome 30″ x 40″ buffalo print. Finding a frame that large also proved challenging, but I love how it turned out! We haven't named him yet, but I'm sure EJ will come up with a name as soon as he can talk. 🙂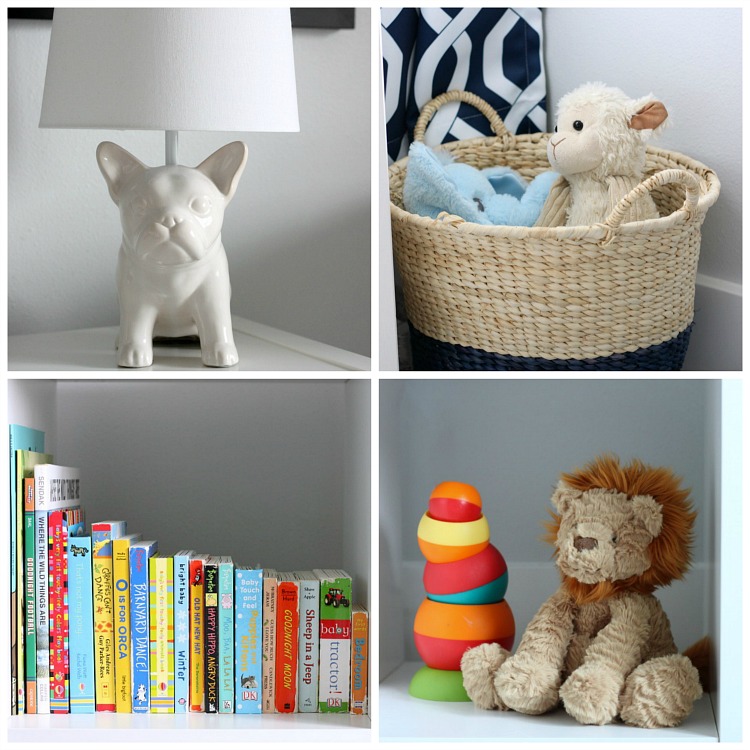 I love all the little details in his room, including the bottom shelf of his cube. It gives the room a fun pop of color; perfect for a little boy.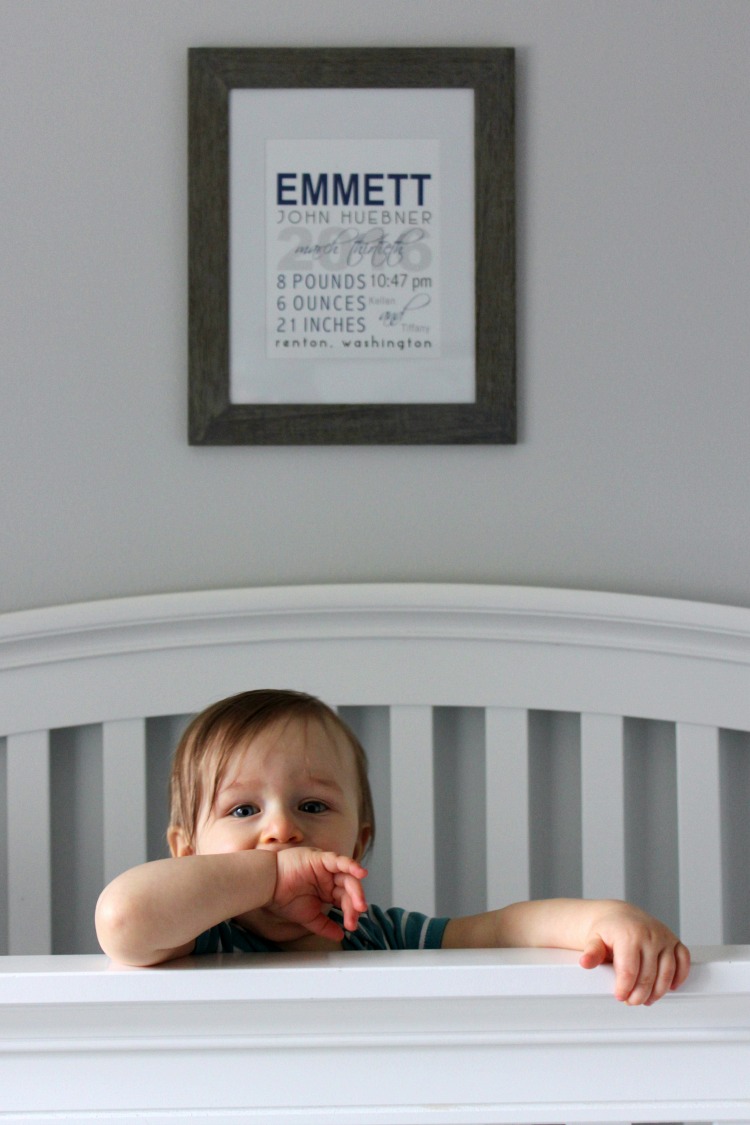 He may be about to turn one, but he's still my baby. And he loves his room so much already.
Resources: I linked to the items in his room that are still in stock, or to similar ones if they are old pieces.
-Crib: Old (Similar at Target is the Delta Sutton 4-in-1 convertible crib)
-Glider & Ottoman: Baby's R Us, Sutton Upholstered Swivel Glider (we did custom fabric in gray)
-Dresser: IKEA (similar 3-drawer dresser or 4-drawer more modern looking dresser both from Target)
-Cube System: IKEA (similar 4-cube organizer at Target or Walmart)
-Curtains: Amazon
-White decorative shelf: Target
-Ombre gray rug: Lorena Canals
-Bulldog Table Lamp: Target (it is seriously the cutest lamp ever!)
-Baby Stats: My cousin's Etsy shop (she did the stats in A's room as well)
-Toy basket: Home Goods (similar one on Amazon (so cute!) and Target (love the color of this one!)
-Wall color: North Beach by Glidden