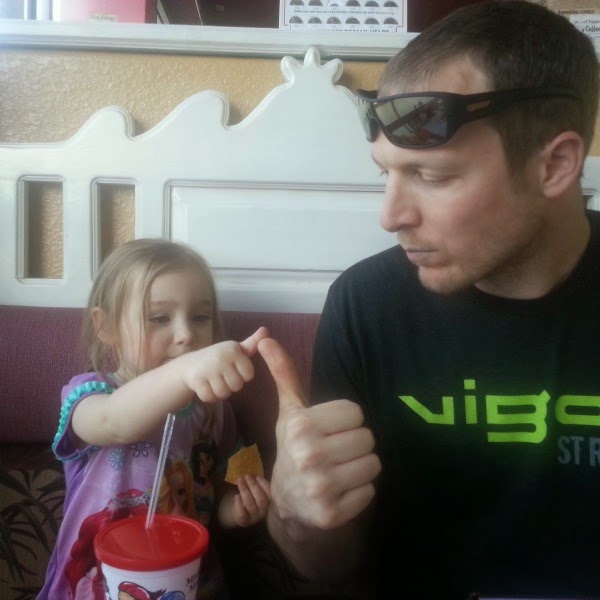 I'm pretty excited that it's June. The weather is gorgeous, we have the windows and doors open in the house, my garden is doing well. It's a good month so far!
Here's what we've been up to this past week!
Day 156: Since Huebie & Little A were going to his parents house the next day, we went to dinner at one of our favorite Mexican restaurants. And yes, she's still in her pajama shirt. Don't judge. I choose my battles these days.
Day 157: My first afternoon on my own (!) I headed to the motherland of home furnishings. It felt so good to take my time walking the aisles of Home Goods. I probably could have spent around $975 that day, but I did not. I deserve a gold star! 🙂
Day 158: They're home! They got back into town in the late afternoon. I missed that face so much. And yes, once again, she was in a pajama shirt. But that one was not my doing. 🙂
Day 159: We went to see The Lego Movie Sunday afternoon. It was pretty good, and even Little A liked it! Love those baby blues of hers.
Day 160: Huebie fell asleep on the couch cuddling with baby girl. Those 2 are my whole world. But I have GOT to figure out how to stop the thumb sucking. Ugh.
Day 161: Have I ever told you guys my father-in-law roasts his own coffee? No? Hey guys, my father-in-law roasts his own coffee! And it's really good! I brought some into work for us to do a coffee tasting. Yes, it's ok for me to bring outside coffee into work. Everyone really enjoyed it. And after they found out where it was from they were even more impressed.
Day 162: While I was baking Little A decided to make her own "cookies" with her "ingredients." These included water, shampoo, toothpaste and allergy medicine. Just a typical evening baking cookies. Don't you just love her amazing outfit too? #donthate
It's been a good week. Once again lots going on for us this weekend. I'm hoping to be back tomorrow with a five on Friday post, but if I'm not have a fantastic weekend!