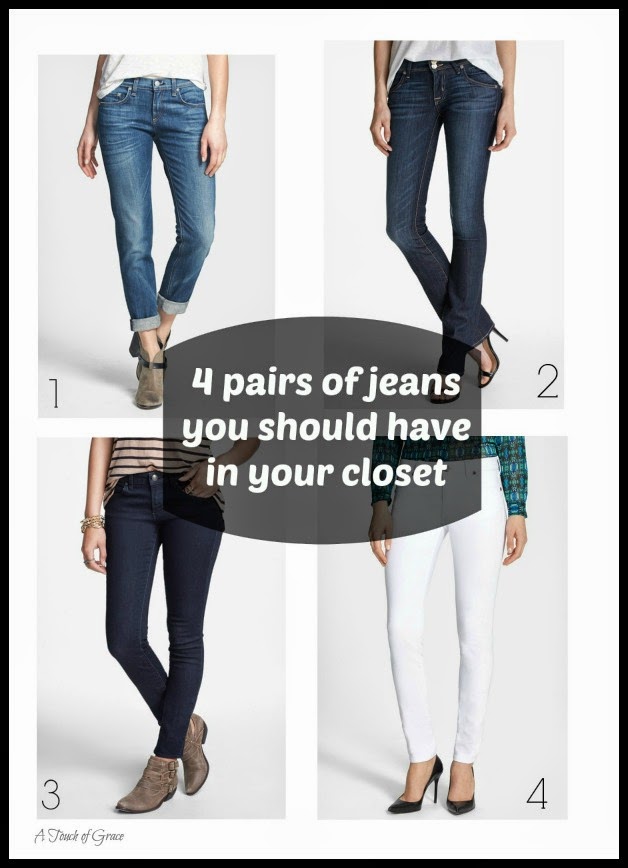 I don't know about you guys, but I pretty much live in jeans. In the winter I'll sport some leggings, but about 97% of the time you'll find me in jeans (except when I'm working. And that's a whole other post.).
So I thought I would share 4 pairs of jeans I think every woman should have in their closet.
Honestly, you don't need 15 pairs of jeans to have a good wardrobe. Just a few key styles and you can rock any outfit! I tend to build my day's outfit around what jeans I feel like wearing that day. So for me having options is always important.
I know it's summer, but I tend to wear jeans year round (especially living in Seattle).
Here is my list of basic jeans for your wardrobe.
1. Boyfriend jeans – I'd say about 50% of the time you'll find me wearing my boyfriend jeans. I always cuff the bottom because I really like the look. I like a boyfriend jean that is a little slimmer through the leg and more fitted in the behind. (Pictured in the collage is THIS pair).
I have THIS pair from Kut from the Kloth and love them.
They also have a darker wash you can find HERE. And I love that you can dress them up and look so cute! I've seen so many women wear them with heels and a pretty blouse for a night out (I wear them a lot with my wedges). I think they are flattering on any woman and hide a lot of imperfections (amen!).
2. Dark skinny jeans – Dark skinny jeans are a must have in your closet. They are slimming on everyone and go with multiple styles of tops (tees, blouses, sweaters, etc.). And they can be work with almost any style of shoe. I love to cuff them too! If I'm not wearing my boyfriend jeans, you'll most likely find me wearing my skinny jeans. I have THIS pair pictured in the collage and right now they're under $30! That is just crazy! I had to go about 2 sizes down on them because they are pretty stretchy, but they maintain they're shape really well.
THIS pair from rag & bone are fabulous. I'm really digging rag & bone jeans lately.
3. Colored jeans – I have only recently gotten into colored denim, and only white so far, but I'm loving it! Color is a fun way to change up your outfit a bit. You can find jeans in almost any color these days, but I have to say I'd stick with white, mint or possibly pale/pastel pink. White can go with almost anything, and mint or pink pair perfect with neutrals. I love the look of skinny white jeans and a boyfriend cardigan. That is definitely a go to outfit for me. I have THIS pair of white jeans (honestly, pay no attention to how Nordstrom styles their jeans. Sometimes I don't know what they're thinking.) and am contemplating THIS pair of mint jeans.
You know I love my Vigoss jeans and you seriously cannot beat the price.
4. Straight leg jeans – I love a good pair of straight leg jeans with heels or wedges. They look classy and really dress up an outfit. They have been my go to jeans for some time, and the pair I always choose when going out for dinner or drinks (because I'll usually wear heels). They just pair so well with heels. I have THIS pair of Hudson jeans and also really like THIS pair.
Citizens were my go to jeans for years so I can attest to the quality. Love this wash as well. THIS pair is now under $100!
There are definitely other jean styles out there that folks may consider "must have." I know a lot of women have jumped on the camo bandwagon, but to me those are a trend and not something I'd necessarily consider a closet staple.
I hope you found this post helpful, or at least informative. Do you have any must have jeans you wear all the time?
Have a great Wednesday!