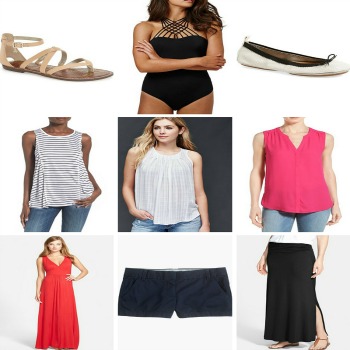 You don't see a lot of fashion or wish list posts on this ol' blog, but here's the deal folks: I have not bought myself anything new in over a year. For obvious reasons, like being pregnant for 10 months, clothing was just never top of my list of things to get. I think I ended up getting 4 or 5 maternity tops total, and 2 pairs of jeans, which I don't count since they aren't something I can wear now. I made due with what I had for most of my pregnancy. I didn't even get new shoes!
But it's time. My wardrobe could use some serious updating; plus a lot of my tops look weird on me right now because my boobs are SO BIG! Like I really need some loose fitting tops to hide those puppies; they are out of control. I don't even know what is in the stores these days since I never shop anymore, but since it's almost summer and the weather in Seattle has been so great already this spring, I am in desperate need of some summer digs.
I'm not an overly frilly girl. I'm not big on accessories and really like simple clothes. I'm also not big on trends and prefer clothes I can wear for more than one season. That being said, I also need some clothes that are easy to wear while nursing. True story: When Little A was 2 months old we went to a friend's wedding. I wore my favorite dress and didn't even think twice about it. Well, of course at some point during the reception she was hungry….and I had no way to feed her without taking off the whole dress. So there I am, in a random room in the reception hall, naked and feeding my baby, while K keeps watch. Good times!
So here's what is on my new mommy wish list.
**Affiliate links included. A small portion of purchases made go to support A Touch of Grace, at no extra cost to you.
Tops are a priority folks. Like I mentioned, I need to cover these mommy boobs up! This swing tank is perfect for days out on the boat and I love the stripes. I also really love how light weight this top is. You can never go wrong with a sheer white tank in summer.
If you didn't already know, black is my favorite color. As my daughter tells me black can't be a favorite color but alas, it is mine. Over the last few years, though, I've really been trying to add color to my wardrobe. This bright pink top is perfect for spring and summer and can be dressed up and worn to church or a nice dinner as well.
Shoes are also high on the list. I mostly wear flats these days and in summer I prefer flat sandals, although I do still love my wedges every so often. It's been years since I picked up a new pair of ballet flats but it is time. I've considered Tieks, but am struggling to justify the cost to my budget conscious hubby (and myself honestly). I heard these flats are very similar and just as comfortable. If you have either Tieks or the Yoshi Samra's tell me what you think of them! I'd love to hear!
I'd also love another pair of cute sandals. I'm severely lacking in this area. These gladiator sandals aren't over the top and the neutral color goes with everything. I'd also love to pick up another pair of my favorite leopard flats. I've had mine for 4 or 5 years and they are worn through.
Fact: I only have one maxi dress and one maxi skirt. I love them both so much and really want to add a few to my wardrobe. I actually have this maxi skirt in royal blue and love it so much! It's nice and long for us tall gals and the fabric is so soft. And this maxi dress can be dressed up or down for summer. I can see myself wearing it out on date night and to the beach. My favorite J. Crew shorts are on sale right now which rarely happens, so I will be picking up a navy pair this year.
And a bathing suit. I'm venturing into the realm of one piece swim suits this year. I have yet to find a one piece that I really liked, but this one looks promising. I love the lattice neck and sexy back on it. If you have any recommendations on where to shop for cute one piece swim suits I'm all ears.
Of course I still need some new running shoes and workout shorts (I told you about all my favorites in this post) but those are a separate budget. Right babe?! 🙂
Nothing overly fancy, but some nice comfortable clothes that should hopefully last me more than one season.
What is one item you're wanting to add to your summer wardrobe?