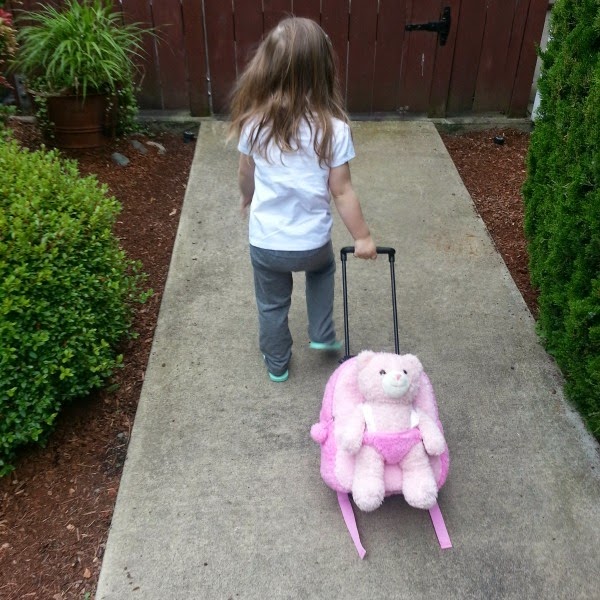 It is June 19th. June 19th! When the heck did it become late June?! My gosh you guys. I just can't even handle it anymore. There are so many things I want to do and none of it's happening right now. But I'm trying to just let things go and realize that not everything on my to do list is going to happen. And that's ok!
Here's what we did this week.
Day 163: We went to my grandma's (Little A's great-grandma's) house last Thursday. Even though Grandma has lots of toys to play with, she still wanted to bring her own. In her rolly bag. Love this photo.
Day 164: Target day! It was raining so we threw on our rain boots and headed to Starbucks and Target. I love our girl's days!
Day 165: Going away party for Uncle Seany and Auntie Mel. They officially leave this weekend for Bend. We're sad to see them go, but are so excited for them. Little A loves her God parents (and Zeus).
Day 166: Happy Father's Day Daddy! We had a relaxing day cuddling and celebrating this guy. Love these two!
Day 167: Grandma came to watch baby girl this week! Our nanny is on vacation. Little A loves her some Grandma Zel.
Day 168: Play Doh time! They were making jewelry. And yes, pajamas. I have no words. The fight has gone out of me.
Day 169: Working on the sleds to get ready for this winter. I know it's only June, but we have 200 sleds to build and now is the time to start marketing for the season. Lots to do!
I also wanted to let you guys know that I think I was finally able to transfer my blog over to my addingatouchofgrace email address. So, if you comment, I will hopefully be replying from that email address. HUGE shout out to Kelli for helping me yesterday. I think we spent at least few hours yesterday morning texting back and forth about blogging. 🙂
And remember to follow me on Instagram (@tiffanyatouchofgrace)!