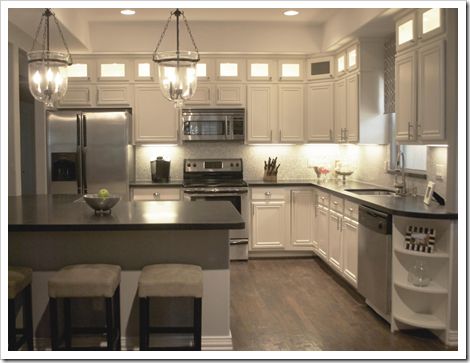 Hey y'all! Do I have something fabulous for you today! A few months ago (ok, so maybe like 5 or so) I blogged about updating our kitchen. You can find that post HERE. I showed you a few of my inspirational kitchens and talked about all the wonderful things I wanted to get done in our house this Summer.
Enter August 8th. And what have we gotten done? Well, we painted the powder bathroom (which was a must, it was terrible) and we're working on refinishing the deck (I'll be blogging about that soon!). And that's about it. No really. That's all. I swear. I purchased the hardware for the kitchen cabinets, but that's been sitting in the laundry room waiting to be installed for oh….about 2 months or so. We move a little slow around here sometimes.
And then of course there's the dreaded BUDGET. Huebie informed me that all my dreams were, well, not in our budget for this Summer (enter sad face here).
When I found out one of my favorite bloggers, Chelsea, over at Two Twenty One, had been contacted by Home Depot to participate in their Replace, Reface, Renew kitchen cabinet program, I was #1: completely jealous! And then #2: super happy for her because I know the finished product is going to be fantastic! Read her Revamping Our Kitchen post to see what their kitchen looks like right now.
It was then I realized they were doing a sweepstakes to win a $1000 Home Depot gift card! I about died! We could do SO MUCH with $1000 at Home Depot (I'm sure I'm not alone here right?!)
And guess what? YOU can enter too! Click HERE to read Chelsea's post about her kitchen and the sweepstakes, or you can go HERE to read the official rules on BlogHer.
The sweepstakes runs 8/5/13-11/30/13 so you have plenty of time to enter. Just don't wait too long or you may forget!
And here's my #1 inspirational photo for our kitchen: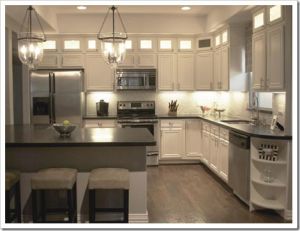 This is the same layout as our kitchen (just in reverse) so I know it's doable! I'm totally crushing on the white cabinets and dark counters. And those light fixtures over the island. Swoon!
*I am receiving a sweepstakes entry for writing this post.