This post has been compensated by Collective Bias, Inc. and its advertiser. All opinions are always mine alone. #SmallBizSalute #CollectiveBias
Did y'all know that this week is National Small Business Week? As a small business owner, I really enjoy seeing all the activities taking place around the country to celebrate what I consider the cornerstone and heart of America. Small businesses play such a key role in our country's history, and continue to play an important role in American economics.
Every small business out there has a mission. As a family, our mission at Molson Runner Sleds is to bring family and friends together year after year to enjoy the pleasure of one of the best winter sports known to man: sledding. What started out as a small side business for my in-laws back in the 80s and 90s, has grown into a blooming start up for my husband, and I couldn't be more proud of how far he's taken Molson Runner Sleds. If you aren't familiar with what it takes to run a business, I'll give you a little insight. It takes a lot of work. Time away from family. Evenings are spent on the computer working on websites and commerce, or in the garage (in our case) building products. Your days are spent getting your supply chain lined up and even networking. Add a full time job to that and you are tapped out by the time 11:00 PM rolls around and you crash. It takes a lot of dedication on the part of the business owner and their family to make it successful. And it's not for the faint at heart. You have to be resilient. But for as much hard work as there is, it is awesome to see your hard work pay off when families send in photos of their kids on the sleds, or leave you a voicemail telling you how amazing your product is and you need to be in their area marketing because they know a dozen people who would buy your product in a heart beat. That makes it all worthwhile.
In our launch year we sold 50 sleds and have had some amazing feedback, not only from those who purchased the sleds, but also from people who have seen them in store windows in small towns around the Northwest. I feel so privileged to be part of this growing opportunity, and look forward to bringing winter fun to more families throughout the world.
[Tweet "Celebrate small business week! #SmallBizSalute"]
In honor of Small Business Week, The UPS Store launched a salute to small business campaign to recognize and celebrate small business owners throughout the country, and all they do for local communities. The UPS Store is a huge supporter of small businesses. They offer an array of small business solutions to help business owners run their business including printing, direct mail and small business tool kits. They even have 3D printing!
Now that I know they do 3D printing I will be heading there to get our sleds printed to help with product enhancements and really just to have a mini 3D model of the sled. How cool are those little guys, and that hand?! It's amazing what 3D printers can do! The UPS Store is where we do a lot of shipping of sleds and printing of business materials for Molson Runner Sleds.
Did you know The UPS Stores are franchised? All 4,400 nationwide stores are locally owned and operated (by small business owners), and are there to help and support local start ups, entrepreneurs and small business owners launch and grow their business.
K and I had the opportunity to attend a small business networking event Monday evening, hosted by The UPS Store. It was an amazing event that really showed the support of small business owners in the Seattle area. We met some wonderful people and made great connections with other entrepreneurs and small business owners.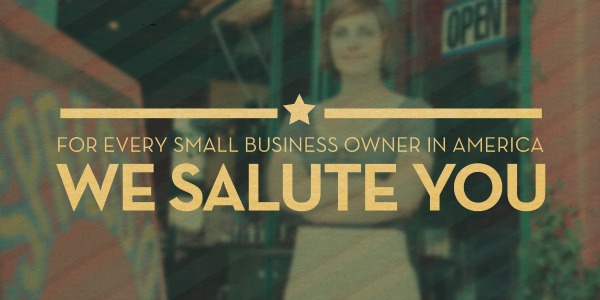 You can help spread the word of National Small Business Week by showing your support on social media of small businesses in your area. Use the hashtag #SmallBizSalute in your posts to show appreciate and support of small businesses in your community. This simple action will help small business owners understand how valuable they are to you, and to all of us. To check out more about the small business salute campaign and for an event near you (hello Austin and Atlanta friends!), visit The UPS Store's website.
The UPS Store is also offering two readers a $50 gift card to The UPS Store! Enter in the Rafflecopter widget below!
a Rafflecopter giveaway
*Open to US residents only (sorry Canadian & European friends!).
Do you know any small business owners? What are a few your favorite small businesses?