Did y'all have a great weekend before Christmas?! We went east of the mountains and spent Christmas with the Huebner side of the family. It was great to see everyone and spend some time with my brother-in-law and sister-in-law, and Baby V of course.
Lots to do over the next few days, so I won't be back until after Christmas.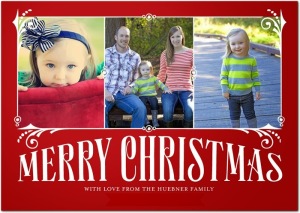 Had to update to include or Christmas card from this year 🙂
I hope you and your family have a wonderful and joyus Christmas. I know I'm looking forward to spending time with all of my family and taking a few days off to unwind.
Oh! And I can't forget! The winner of the Dermagist giveaway is Elizabeth L! Congratulations Elizabeth. I'll email you to claim your prize!