Can y'all believe Christmas is in 5 days! It's craziness! But I think I'm ready. My shopping is done, gifts are wrapped, house decorated. All that's left is grocery shopping for Christmas breakfast and dinner. We start our Christmas celebration this weekend with Huebie's family. Little A is so excited to see Baby V again.
Today's Fabulous Friday is a little bit of randomness as I get prepared for Christmas.
We'll do a fun craft on Christmas Eve: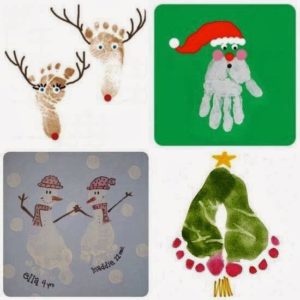 Source Unknown
I really like the mistletoes or snowmen. I can already picture Little A's feet on a canvas hanging on the wall. Adorable!
And of course open one gift from under the tree. I'm hoping for these:
So cute right?! I can't remember the last time I've had actual pajamas. It's been probably 7 or 8 years. I usually just wear an old t-shirt and some sweats. But these flannel PJs look so cozy. And let's be honest, they may be pajamas, but they are way sexier than an oversized t-shirt and sweats 🙂
We'll watch one of my all time favorite Christmas movies:
I love Miracle on 34th Street. It is so cute and that little girl is adorable.
I really adore the original:
But I don't think Little A would be as into the black and white version as I am. Maybe someday.
After our movie we'll head to Christmas Eve mass at our church. We always go to the candlelight mass. We sing lots of songs and when we sing Silent Night they turn all the lights off and we light candles to sing the song. It gives me goose bumps every time.
This is the first year we're heading to my aunt's house on Christmas Eve as well. My whole family hasn't been together on Christmas in years, but we'll all be together on Christmas Eve this year! I'm super excited to see everyone!
For breakfast on Christmas morning we'll be having Monkey Bread. Probably this recipe from Shay.
Christmas dinner really isn't my thing, so I'm really trying to figure out what to make. Probably a ham and some other things. Who knows.
Then on Christmas evening we'll let Little A play with her toys, maybe watch Elf or A Christmas Story, and go look at lights once more.
Some old traditions, some new ones. Little A is still young enough that we can continue to develop new traditions over the coming years, and I love that.
Have a fabulous weekend!