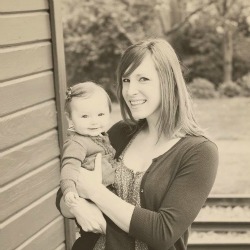 Well helloooo weekend! I am so glad it's the weekend. For some reason this week seemed to drag on and on. The only thing on the agenda for tomorrow is shopping for maternity pants and I am super excited about that. I'm really not a fan of my belly band (it doesn't hold my pants up very well) so it will be nice to hopefully get a pair of pants that fits. Then Sunday is football so we'll be tailgating as usual and cheering on our Hawks.
It's been 2 months now that I've been home with Little A full time. And I'm not going to lie, it feels like 6. I think partly because of the phase she's been in with the whining and crying, but also because the days just feel so long. Like I look at the clock and think, "Are you kidding me?! It's only 12:30!" That happened yesterday when I thought it was 2:30. I about cried.
So I thought I'd share a few things I've learned since becoming a stay at home mom.
1 // I am sooooo much more tired in the evenings. I mean seriously, I am way more tired now than I ever was coming home from my corporate job. I'd come home from work, throw my workout clothes on and either head for a run or into the garage to do a workout with baby girl. Now by the time K gets home I just want to lie on the floor in the fetal position and do NOTHING.
2 // There is a major adjustment period. Not just for me, but for the kiddo too. Little A was used to her nanny and the routine they had. Throw me in the mix and now all of a sudden I have my own routine I want to create and she isn't having it and just wants to cuddle and suck her thumb on my lap and I'm over here all "No thanks, time to do some reading or at least for you to get off my lap for 10 seconds so I can pee." And did I mention the attachment? She is so worried that I'm going to go back to work that she doesn't want to be without me for 5 seconds. It's exhausting (hence point #1 above).
3 // I'm not a creative person. I mean, I'm creative when it comes to adult things, but I'm not very crafty, I'm a horrendous artist (I mean, it's real bad you guys) and I've come to learn that I don't have the best imagination. Little A comes up with these elaborate stories and scenes and wants to play baby or pretend to be an animal and I just….don't. I mean I'll do it, but after 5 minutes I'm like "Let's move onto the next activity." The one thing I am good at is coloring, so we color and do stickers and activity books a lot. And go on walks and scavenger hunts. And read a lot of books. She's already through the first 2 books of her reading series and reads them all by herself!
4 // I have less time that I did when I was working. Being home full time does not allow me the freedom to be on the computer when I want to or take 10 minutes to read a few blogs or finish that post I have drafted like I would do at work. I feel guilty when Little A is trying to engage with me and the computer is on my lap. So I just don't have it on much. Therefore my online life (this blog in particular) has been a bit neglected. I'm trying to get into a better morning routine, but she's also been waking up early and coming into bed with me so if I get up early that just means she gets up early and is getting less sleep. So I've been sleeping in. I'm hoping that we can get her back on track with her sleep and I'll be able to get up a bit earlier to work on the blog and other things I need to do on the computer before she wakes up.
The one plus is that I do have a little more time to clean. And Little A enjoys doing it with me so that's a bonus.
5 // Staying at home is way harder than I thought it would be. I knew it would be hard, but it is way harder than going to work. I'm sorry but it just is. I think it may have been easier if I'd been able to stay home with Little A right from the beginning. But having to start this stay at home mom gig now is tough. I still wouldn't change anything and I do feel so lucky that I get to be home with her, but it ain't easy. And I think that I am fully qualified to say that since I've been both a working mom and a now a full time mom. Being a SAHM is definitely harder.
But seeing her learn and grow and being the one to hear the funny things she says and does just reiterates our decision for me to be home with her.
[Tweet "5 things I've learned since becoming a stay at home mom."]
And that's honestly all I have energy for right now; 5 things. I could probably go on and on about other learnings I've had but right now I just want to lay on the couch and not think for a few minutes before I crawl into bed and do it all over again tomorrow.
Have a great weekend friends!