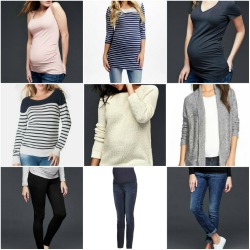 Good Tuesday morning! I hope everyone is getting back into the swing of things from the weekend. We have a busy week on tap then we head out of town this weekend so lots to cram in.
Okay so here's the deal. When I was pregnant with Little A, my maternity style was…..less than stylish. I was of the mindset that I'm only going to be wearing these clothes for a few months, why the heck would I spend a ton of money on something that won't fit me post baby? And when I look back at the (very few) photos I have from that time, I cannot believe that's me. I mean, I'm not winning any awards for best dressed over here, but I have a pretty good sense of style and who I am. And I'm honestly just appalled that I would actually go out in public in some of the clothes I chose. #whatwasIthinking
This time around I have a different outlook. I still don't want to be spending a ton of money on maternity clothes. This is my last pregnancy so there's no wearing these items another time around and Lord knows my hubby isn't all about me spending thousands of dollars on a maternity wardrobe. BUT, he understands some of my struggles.
I'm a tall, slim girl who has a boyish figure and little to no hips to speak of. I've always struggled with finding pants that are 1) long enough and 2) don't get baggy on my small behind. So I should suppose that finding maternity pants would be no different. And I was right. I spent a good chunk of Saturday looking around and of the 10-12 pairs of maternity jeans I found, 3 were long enough. 2 of those pairs were over $200 a piece! When I told K that those were the only pants long enough for me he about lost his ever loving mind. I don't spend that on pants I wear year after year, why would I spend that on pants I'll wear for 4 months?! That's like $50 a month to wear pants. Needless to say he wasn't sold. BUT! I was able to find a pair that will work, and for $35! Thanks to H&M, this pair came home with me. Now, they are almost too short. I say almost because they just graze my ankles, but since it's winter and I'm going to be wearing boots and booties pretty much all the time they will work. And if I want to wear flats I can just cuff them and we're good to go. I got them in the dark wash, but they have other colors as well.
One of my girlfriends did say she's in love with the Resolution pull-on jean leggings at Gap, but they didn't have them in the store so I will need to order them online. I'll say, though, that if they are anything like the jeans I tried on in the store, they'll be too short as well.
Enough of my struggles. Let's focus on what I'm going to do right this time around!
Here's what I'm thinking my staples will be:
Sweaters: The temps don't get above 55 or so in the winter here in Seattle, so sweaters are a must. My goal is to make my current wardrobe last as long as I can, but at some point I'll probably have to get a few larger sweaters. I also worry about stretching my clothes out so much that they won't be wearable again, so we'll see how long I choose to wear certain pieces. I love this scoopneck sweater for when my bump gets a bit larger. I also want to try to stick to more form fitting tops. That was part of my issue last time around. I wore everything way too big and looked ridiculous. This striped navy and white striped top is cute, and I love the crochet accent. This sweater from Nordstrom is right up my alley. And the slub cardigan is another favorite I'd like to add to my closet for my growing bump (and it's non maternity).
Long tees and tanks: I love cardigans and open front sweaters, so a few long tees and tanks are a must for me. The Pure Body tees and tanks Gap are perfect to wear underneath sweaters. They also look cute on their own I think.
Skinny jeans and leggings: Let's be honest here, I'm not trying to get into the whole wide leg trend again at this moment. My top half will be large enough, I don't need my bottom half to match. So I plan to stick with skinny jeans and leggings for most of this pregnancy. Like I said, I brought this pair of skinny jeans home with me over the weekend and I'm sure I will get lots of use out of them. I also live in leggings in the winter. I just really like being comfortable and leggings are that for me. I found this Ingrid & Isabel pair at Nordstrom, but the reviews were pretty bad. I'm hoping this pair at Gap will work. They come in a demi panel as well and got pretty good reviews. This pair at A Pea In The Pod look great too but the reviews seem to say they run big so that could be a no go for me. I also really liked these jeans from Gap. If I can keep them cuffed then I'll probably be able to wear them.
And that's what I'm starting with. I've found Gap, H&M and Old Navy to have a pretty decent selection of maternity items. I may visit A Pea In The Pod again as well. I also found Pink Blush Maternity online and I really like that their items are feminine and stylish. Their prices are good and they are always having sales so that's another option. If anyone has experience ordering from them I'd love to hear!
What are/were some of your go to items for your maternity wardrobe? What are your favorite places to shop for maternity clothing?