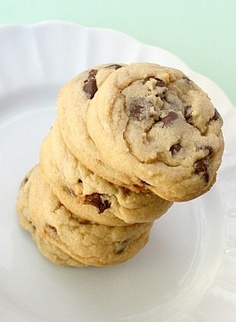 Welcome to my Tiff's Favorites series! Here I will delve into a few of my favorite things (channeling Julie Andrews) that will give you a bit more insight into what makes me, ME.
First and foremost, I had to roundup a few of my favorite Pinterest pins for y'all. Has Pinterest changed anyone else's life besides mine? I mean, how did we ever dress, take cute family photos, cook or decorate our house without the help of the rest of the world prior to Pinterest?! I get so much of my inspiration from Pinterest these days.
Here are a few of my favorites (in no specific order):
I cannot get enough chocolate chip cookie recipes, but This Pin takes the cake for me.
I originally blogged about Kelsey's chocolate chip cookie recipe HERE, as well as a few other fan favorites. And I will say it again, these are THE BEST cookies I've ever had. EVER. Hands down.
We are doing Elf on the Shelf for the first time this Christmas! I cannot WAIT! THIS list is really good, but THIS one is by far my favorite. Hilarious! Never would have thought to have a poker playing elf or put him in the dryer. Clever.
I'm always playing around with pictures in front of the Christmas tree. And every year I seem to forget what mode to put my camera in.
This pin is what I go to after I've taken a few bad shots and remember I need to put my camera in AV mode and set it to the smallest number with no flash.
But before we get to Christmas, we have to go through Fall, my very favorite season. When I think of Fall I think pumpkin spice lattes, pumpkin patches, leaves falling, and cookin' in the crockpot.

This White Chicken Chili recipe is one of my all time favorites. Huebie and I adapted it last year to make it our own, so I'm sure I'll post about that sometime this Fall. It is the perfect white chili and has lots of flavor.
I think my favorite part of Pinterest is the food. So we can't forget about food for the little people. I can sometimes get in a food rut with Baby A; always feeding her the same thing.
But THIS list of toddler food ideas is fabulous. Just easy, simple things that you can feed your toddler. She breaks it out into snacks, breakfast meals, lunch and dinner. There are plenty of options for the picky eater as well.
Staying with the toddlers, I'm always looking for new, fun things to do with Baby A.
101 Things To Do With Your Toddler is a go to resource of mine for fun, easy activities.
I love all things clean and organized (I mean, who doesn't really?!)
What are some of your favorite things on Pinterest? We're heading out on vacation today so I'll try to get at least one more post out this week, but no guarantees. 🙂