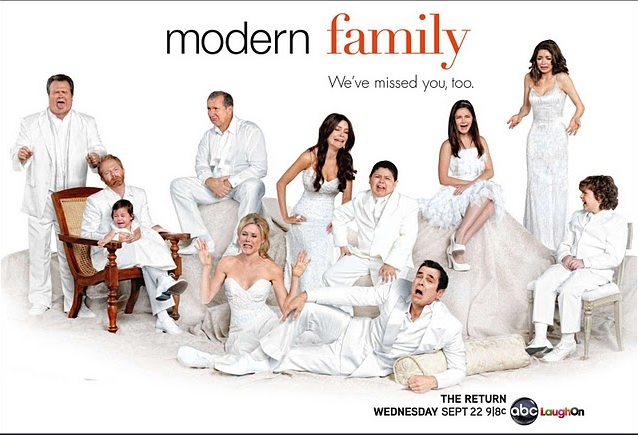 Last week I talked about my favorite Movies, so this week I thought I'd talk about my favorite television shows.
Now here's the thing about TV in our house. We don't really watch a lot of TV. At least not when it's on. We DVR EVERYTHING. I mean everything. The ONLY thing we watch live is Seahawks football. I can't even remember the last time I saw a commercial. We just go right on by them. What did we do before DVR?!
So in no particular order we begin with:
I don't know a soul who doesn't love Modern Family. It's funny, at times heartwarming, and the eclectic cast makes it a must watch. I'm so glad one of my bff's told me I needed to be watching this show a few years back.
I hope I'm not the only person who still watches Grey's Anatomy. I love this show. I've loved it since 2005 when it started. I will be with Grey's until the end.
A new show last season that I really got into is:
I love Connie Britton and Hayden Panettiere. They make a great combination and actually sing pretty well! I really like the music and the storyline is pretty good too. I'm hoping for some great things this coming season from those 2 ladies.
Now, I know I'm not alone when I say I am soooo excited to see this show make a comeback:
Who hasn't missed the Bluth family and all their antics? So glad people caused an uproar and brought this show back!
I heart Dexter. Do you know how bummed I was when we moved and no longer got Showtime? Let's be honest here, he does what some of us wish we could sometimes do to all those bad guys out there (maybe not quite as planned and thought out as he is though). Am I right? I love his quirkiness and unassuming personality in this show. Michael C. Hall does a fantastic job with this character and I'm not sure I'll ever look at him the same again after this show he's done such a great job.
Another new show that came out earlier this year that I got into is:
I mean how creepy is James Purefoy in this show? It has great suspense and drama. For some it could be a little gruesome, so if you're squeamish you may want to avoid this show, but I love the storyline. And who doesn't love Kevin Bacon?!
Ok, so these next few shows are definitely my guilty pleasure:
Um hello?! All I have to say is Ian Somerhalder.
And Alexander Skarsgard. I love me a good vampire story and both Vampire Diaries and True Blood deliver. Plus I like the comic relief that True Blood sometimes has. This show was another victim to our move (no more HBO) but I catch up on Netflix or Amazon Prime.
The hubby and I both really like:
It's one of those shows you either love or hate. And we love it. I think Jim Parsons is hilarious as Sheldon and adding Amy to the show just solidified my love for it. And did you know that Jim Parsons actually sounds like that in real life?! That's his voice! I would have totally thought he used an accent, but no. I was shocked to hear him on the radio a few years back. It's like a stoic Sheldon was talking to my radio DJs.
We also really like:
Sons of Anarchy. I was a HUGE skeptic of this show for the longest time. A motorcycle gang really? It has to be boring. But after we watched the first 2 episodes we were hooked. And I love me some Charlie Hunnam (Jax Teller). Did you hear that he's going to play Christian Grey in the 50 Shades movie? If I wasn't looking forward to that movie before I sure am now!
And last, but certainly not least, I really enjoy watching:
The Voice is about 1000 times better than American Idol (which I only watched the first season of back in high school) and I love the fact that they can't see the person behind the voice until they turn their chairs. I thought last season Usher and Shakira brought a great new dynamic to the show so I'm a little bummed they aren't going to be back this season, but I'm still looking forward to some great musical talent. And did anyone else fall in love with Michelle Chamuel as much as I did last season? She was my girl. I may have had a mini girl crush on her. 🙂
Now I must add 1 miniseries in here because it is fantastic. I've seen it at least twice and would watch it again in a heartbeat.
If you haven't seen Hatfields & McCoys, go find it. Find it however you can. It is fantastic. No, I'm not biased because I'm a Hatfield. Ok, maybe I am. Just a little bit. But really truly it's a great miniseries with a wonderful cast and tells a strory of a great American feud that most people have heard about, but don't really know much about. Find it. Watch it. Thank me later.
And there you have my favorite TV shows! And yes, our DVR is ALWAYS full. These shows will usually last me through the early part of Summer.
Have a great Wednesday!