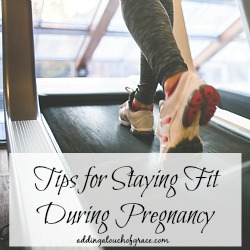 A few simple tips to help you stay fit during pregnancy.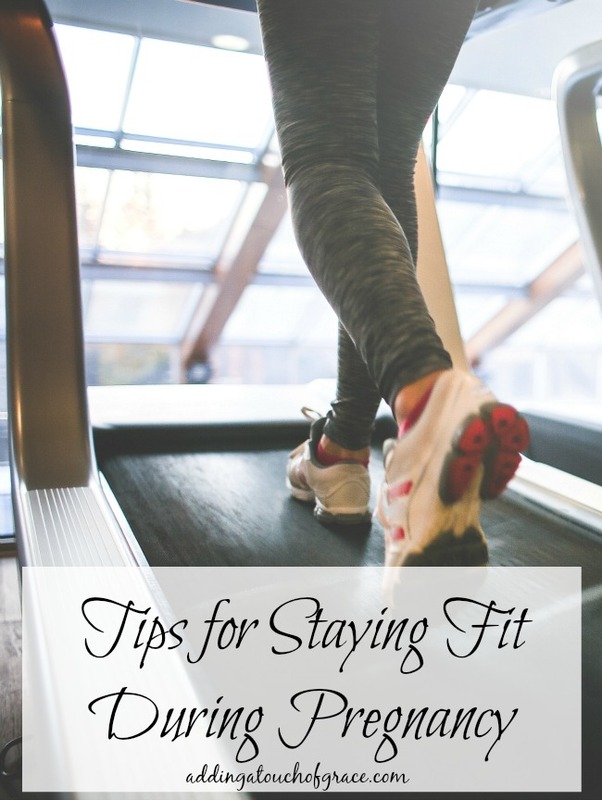 Happy Monday! I hope everyone had a fantastic weekend! We trick-or-treated in a down pour, so we were only out for about 10 minutes or so. But Little A just enjoyed getting dressed up so she was fine with it. And we still had a ton of trick-or-treaters, which is always so much fun.
It's no secret that staying healthy and active during pregnancy can pay off 10 fold postpartum. So many women use pregnancy as an excuse to eat everything in sight and sit around doing nothing all day. I am the complete opposite of that. I despise gaining weight and hate feeling sluggish. But it's not just how much you eat, it's what you eat. Choosing healthy foods that benefit you and the baby is one of the best choices you can make.
Staying fit during pregnancy also has many benefits. If you don't have an established workout routine, I highly recommend the books "How to Exercise When You're Pregnant" by Lindsay Brin and "Exercising Through Your Pregnancy" by Clapp and Cram. Both books are great resources for sharing the benefits of exercise, dos and don'ts of exercise during pregnancy and how fitness can affect labor and your body postpartum.
Some of the benefits of exercising during pregnancy:
– Boosts your energy levels
– Promotes an easier labor
– Promotes quicker healing and recovery time
– Helps you get back your pre-baby body quicker
– Helps ease aches and pains associated with pregnancy
During my first pregnancy, I did boot camp until I was about 24 weeks pregnant, then switched to lower impact exercises. But I continued to exercise until the day I went into labor (including lifting heavy moving boxes, which sent me into labor). And I was lucky enough to lose the baby weight within a few weeks. 6 months post postpartum I was in the best shape I'd been in since high school sports. Staying active throughout my pregnancy provided me with so many benefits: minimal weight gain, an easy delivery and a quick recovery. The benefits of an active pregnancy go far beyond just those I've listed.
Here are a few tips for exercising during pregnancy. Of course, check with your doctor before you start any exercise routine.
Do something! // Even if it's just walking, do it! Getting your body moving will benefit you in so many ways during and after your pregnancy. Even though I had terrible morning sickness with Little A, I continued to at least walk to keep myself active for those first weeks. Shoot for 4-5 days a week of physical activity. Yesterday I still wasn't feeling well but we took a family walk around the block. Half an hour of walking and I felt tenfold better. You will never regret getting some fresh air and walking with your family.
Keep your upper body elevated after the 1st trimester // Your uterus is much larger in the 2nd trimester and can compress a major blood vessel that runs to your heart, potentially reducing blood flow and making you feel dizzy or nauseous.
Wear a heart rate monitor // Keeping your heart rate in check is very important when exercising during pregnancy. My doctor insisted I wear one, especially when I was doing boot camp. Try to keep your heart rate below 80% of your maximum heart rate, or ask your doctor what your range should be, depending on your fitness level.
Be realistic // If you've never worked out before, now is not the time to try high intensity interval training, or hit the weights hard. Start slow, light weights and walking.
Listen to your body // If you're really out of breath, take a break. If something is hurting, stop. Don't try to push through the pain and fatigue like you may normally do. Our bodies go through tremendous changes during pregnancy and pain could be the sign of something more serious than just a sore muscle.
Talk to your doctor // Like I said above, whether you're already active or want to be active during pregnancy, talk to your doctor. He/she can help personalize a game plan for you, including calorie intake and exercises that should be avoided.
Check out these simple tips for staying fit during pregnancy
Click To Tweet
If you aren't an active person but are considering or trying to get pregnant, now is a great time to start your fitness journey. And if you are pregnant but currently not active, I would strongly advise you talk to your doctor about ways you can incorporate fitness into your daily routine. I can't imagine any doctor would advise against walking, unless you are a high risk pregnancy and on bed rest. Just getting out and stretching my muscles a bit makes me feel so much better and I know will be of great benefit later on.