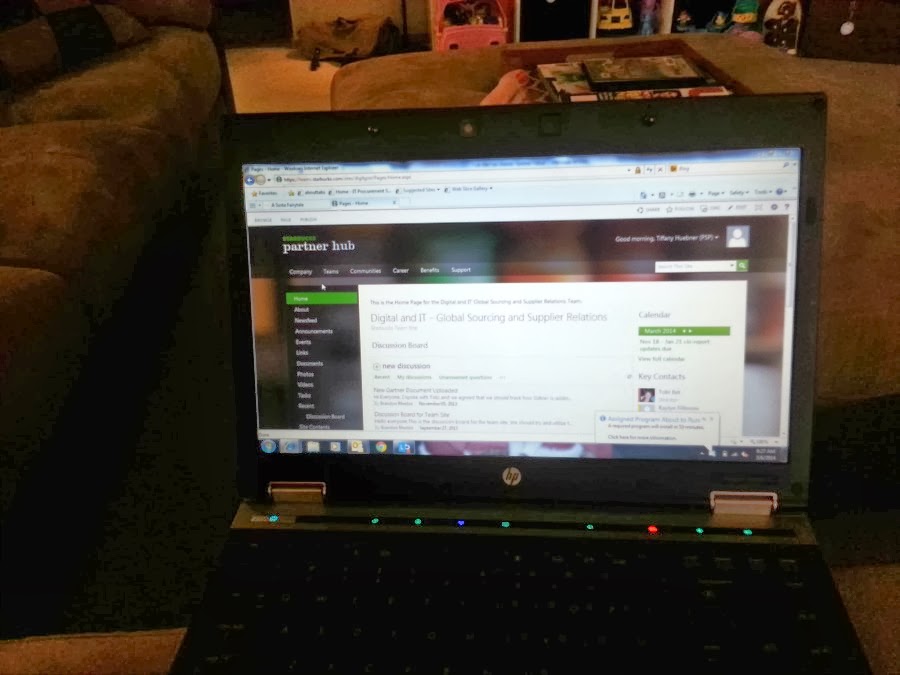 I told you last Friday that I was working on a "Day in the life" post. I love reading people's day in the life of posts. I'm always intrigued to see how people spend their time. Maybe I'm weird or something, but I always think "Maybe I can learn a few things to help me organize my day better," or "I wonder if they do anything fun with their kids Little A and I could do." Just to name a few things. But mostly I just like to read about other people's lives.
I feel like I'm always so busy and on the go, and I sometimes think I don't get much accomplished. But once I actually took the time to pay attention to what I do throughout the day, I actually do quite a bit! Yeah, it may not be the most exciting stuff, but I love some of the little things we do. The little things make me smile.
I chose a Thursday because, well, I work Monday-Wednesday and if I chose one of these days my post would go something like this:
6:25-7:15 – Commute into work
7:15-12:00 – Meetings and email
1200-12:30 – Lunch and more email
12:30-3:45 – Email and probably another meeting or two
3:45-4:30 – Commute home
The end.
Boring right? You'd get lots of photos of my email inbox and a few coffee photos. And that's about it.
So I chose a Thursday because I thought it would make for a more interesting post. It could still be boring. You be the judge of that I guess.
6:30: Wake up and get ready for the day: hair, makeup, clothes (I have yet to try to get up earlier than this on my days off. That would require me going to bed earlier which hasn't happened in quite a while). Our nanny has the day off (she usually comes in the morning until around 10:00 so I can work) so I have to get as much done as I can before Little A wakes up.
Fire up my computer and get to work. Respond to emails is most of what I do on these days. Play catch up. And read a few blog posts. 🙂


7:15: Little A wakes up a bit earlier today (of course!). I go get her out of bed and get her warm milk ready.
We watch a little PBS kids while I work. (Usually I'm up in the office working when her nanny is there.)
Play time! We play while I try to monitor my email.
9:00: I take Little A upstairs to get ready. This can be a long task since she hates getting out of her "gown dress." She gives a bit of a fuss but I eventually win.
I love picking out her clothes though. Girls clothes are so much fun! I try to give her a few options so she has a bit of a say in what she wears. She's really establishing her own style. And I'm okay with that.
Cheese face!
Then I finish getting ready (aka, put my jeans and shoes on).
I usually dress pretty comfortable on my days off. Nothing too fancy. I decided at the last minute to throw on my Hunters before we headed out the door. It was raining and I liked them much better with this outfit anyways. Little A was wearing hers as well.
Around 9:45 we head to Starbucks for our weekly date. Vanilla steamer for her, non fat vanilla latte for me. And we share a chocolate croissant. I usually let her choose a treat.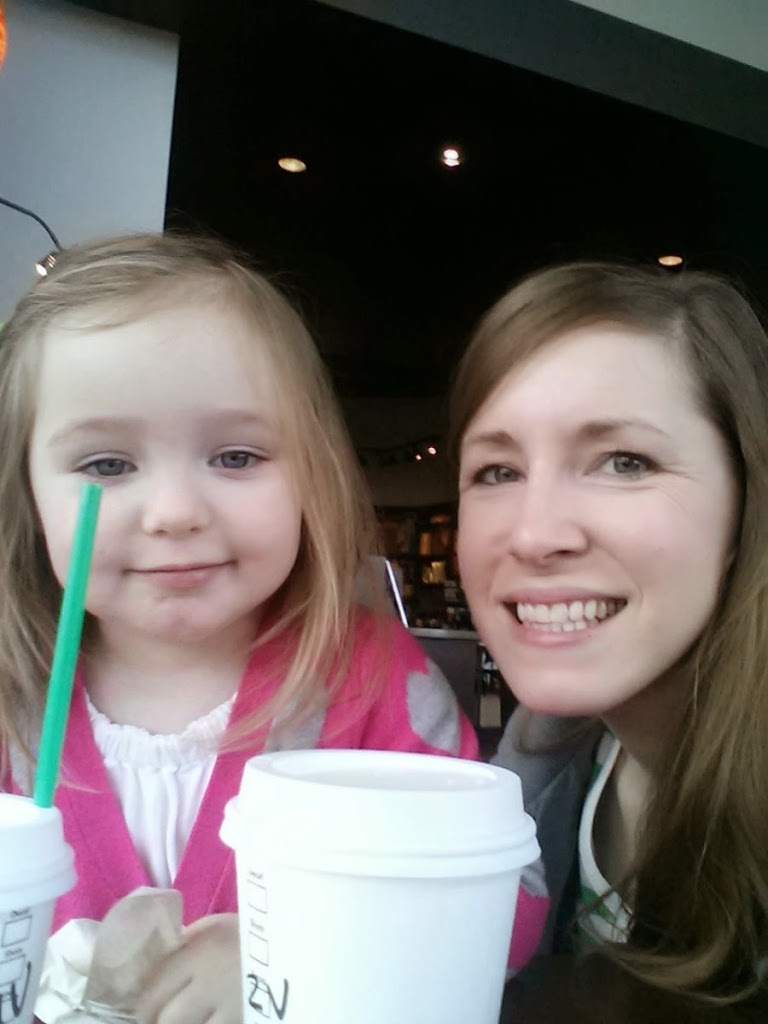 She looks like such a big girl in this photo!
After Starbucks, we head over to Target for some browsing. This is also part of our weekly date. We love Target. The first place we usually go is beauty, but this time I decided to check out their women's clothes. Glad I did because I found a super cute top (in green) and boyfriend cardigan (that I showed you on Friday). I grab another long tank for layering and we head to the outdoor section.
Lots of great poofs I'm considering for the play room/bonus room update. I'm thinking blue and red, but then I'll see something cute in pink/teal/yellow and wonder if I like that color combo better. We also find some great fire pits that would be perfect for our yard. I'm hoping I can talk the hubby into one of them.
I sometimes get her a little something while we're there. She was being really good (we were there for a while) so I got her a little doddle thing (what are those called?).
11:45: We head home for snack and a little play time before nap.
12:30: I finally get baby girl down for her nap. Potty, PJs, story, song, and kisses. It's an involved process, especially now that she insists on wearing her PJs for nap time.
12:30: Respond to emails that came in while we were out, and blog time.
1:30: I have a telecon with a supplier. I usually try not to work in the afternoons too much, but I scheduled this one for when I knew Little A would be napping. It worked out great. Just a quick 20 minute call.
I do some laundry and catch up on Nashville on the DVR while folding.
2:30: I break out my new Jillian Michael's 30 Day Shred video for the first time. That lady is no joke! She can give you a darn good workout in 20 minutes. Best $9.00 I've ever spent. (Sorry, no photos of this. You don't want to see what I looked like when I was done anyways. Promise.)
3:00: Little A wakes up from her nap.
She requests mac and cheeses for lunch, so we have some Annie's. She really likes to help with cooking these days, so I let her stir the pasta a bit. That cheese face kills me.
3:30: She was being such a good girl that I let her have a movie.
And of course she didn't want to get out of her "gown dress" again. She asks for some popcorn and sleeping bags during the movie. How could I resist that?! While she watched Monsters I read the new Clean Eating magazine. Some really great recipes in there I'm going to try.
5:00: Daddy comes home! (Sorry, no pictures of that either. I was losing steam around this time.) More play time with Daddy while we get dinner ready.
Shrimp and steamed veggies for dinner. We've started our clean eating again. Shrimp and veggies are a go to for me. Quick and easy and on the table in 20 minutes or less.
We have some snuggle time on the couch while Huebie and I talk about or days and tickle baby. And play dolls (which consists of Little A telling me to make the dolls talk. Repeatedly. I have run out of things for those dolls to say by this point!).
She is the best snuggler!
7:00: Time to get ready for bed! Bath time, PJs, brush our teeth and stories. I also proceeded to sing her approximately 257 songs before I can get out the door. I literally sing my way to the door. "Rock a Bye Baby", "Skina-ma-rink" and "You Are My Sunshine" are a few favorites, along with every Frozen song 2 times through. The girl knows how to work bed time. I proceed to tell myself once more that I have to get her down to 2 songs before bed.
Pick up the scattered toys around the house, then finish up my blog post for Friday, while we watch a few shows on the DVR. Huebie does some work as well.
9:00: Pick up the house, finish folding laundry, load the dishwasher. I always have to have a clean house before I head up to bed. We talk about starting our taxes. And that's about as far as we get.
9:30: Shower and get ready for bed. I read a bit of The Antelope in the Living Room before my eyes start to shut.
10:15: Lights out!
And that's my typical Thursday. Nothing too exciting, but lots of time with my girl, which is my favorite thing.
Happy Wednesday!