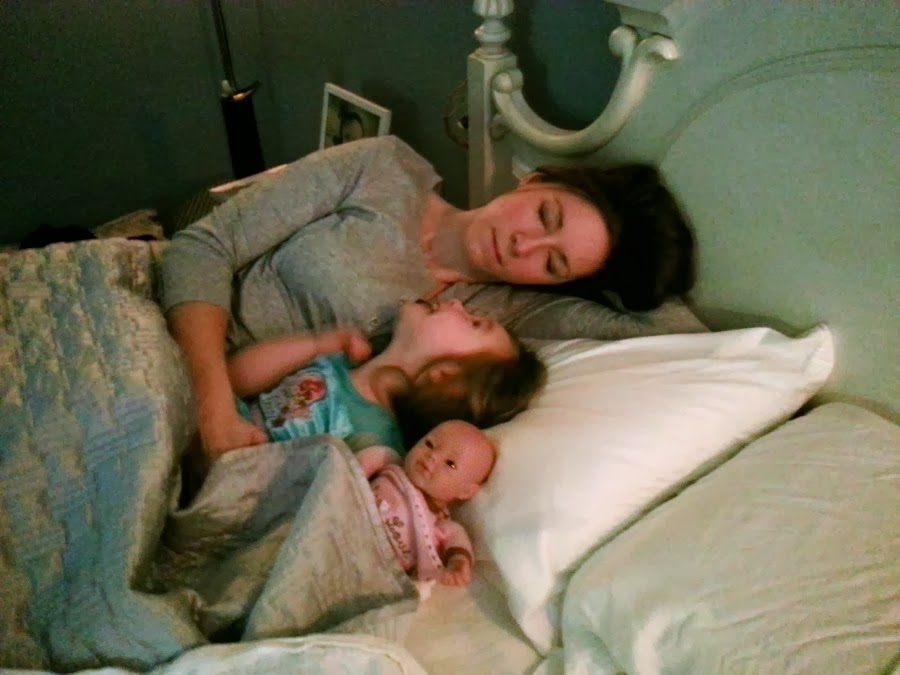 I can't believe I'm saying this, but I am glad it's Monday. We had a LONG weekend here at the Huebner house. We did had some fun though, doing a little shopping on Saturday, and then lots of yard work on Sunday. We've had flood warnings for the past few days, so I'm hoping the rain will let up this week so we can dry out.
It was a difficult weekend though. Little A is in the middle of the terrible 2s, and they are no joke. She can be the sweetest thing one minute and a screaming banshee the next; crying, screaming, swatting at your face. I know she's just trying to communicate her feelings, but it is SO frustrating!
They say patience is a virtue. I would like to think I am a patient person, but admittedly (and most people do) I have a small list of exceptions: people driving 50 in the left lane, people that turn without signaling, people that litter their cigarette butts, people whose dogs pee in my yard…or poop anywhere and the owners don't pick it up, destructive behavior, general stupidity and a lack of common sense, hoarding, mediocrity, red lights, semis on the pass (by pass I mean mountain pass), slow checkout lines at the grocery store (or any line that my husband picks for that matter), erratic walkers, television commercials…..and the newest addition to the list……..2 year old tantrums and general defiance of authority.
Little A is a very, very smart little girl. I try not to say that too much because I don't ever want to come across as bragging about my child, or be off putting. But she really is (I'm trying to embrace this more and be ok with saying that my child is smart. I'm proud of all she knows and how fast she learns at such a young age). She's been speaking in full sentences since before she was 18 months old and has a memory like I've never seen. She can identify all the letters of the alphabet (not just by saying her ABCs, she can actually see a random letter and know what it is) and she can count to 100. She can spell her name and is writing letters. The girl knows a lot.
That is part of the reason why I lose patience with her so fast. Because she is so smart I expect her to understand and be calm and collected. I expect her to act like an older child than she is. I have to remind myself that although she may be smart, she is still only 2 years old. And she is still going to do a lot of things that 2 year old's do. And that includes throwing fits, fussing, crying for no reason. The list goes on and on. She has gotten pretty good at understanding sadness and fear, but she hasn't quite grasped the more complicated emotions, nor has she learned how to express them in what we consider an acceptable manner.
She may look sweet in this photo, but right after this she was a screaming monster because I wanted to get out of bed.
Her nanny gets these learning boxes from the library that have different themes to them. Numbers, pets, seasons, transportation, etc. There is a box on emotions that we had recently, but I think I'll have her request it again so we can really take our time with the more difficult emotions. Like I said, she understands sadness. She is so sweet when she knows I'm upset or sees me crying. She rubs my cheeks and says, "Mommy, why are you sad? Please don't cry." (Which usually makes me cry more because it's so adorable.) And she'll tell me to take a deep breath (because that's what we tell her to do when she's getting upset.) It's funny how she can identify emotions in other people, but has a hard time grasping them in herself. She's going to be an empathetic and compassionate person. I can already see that.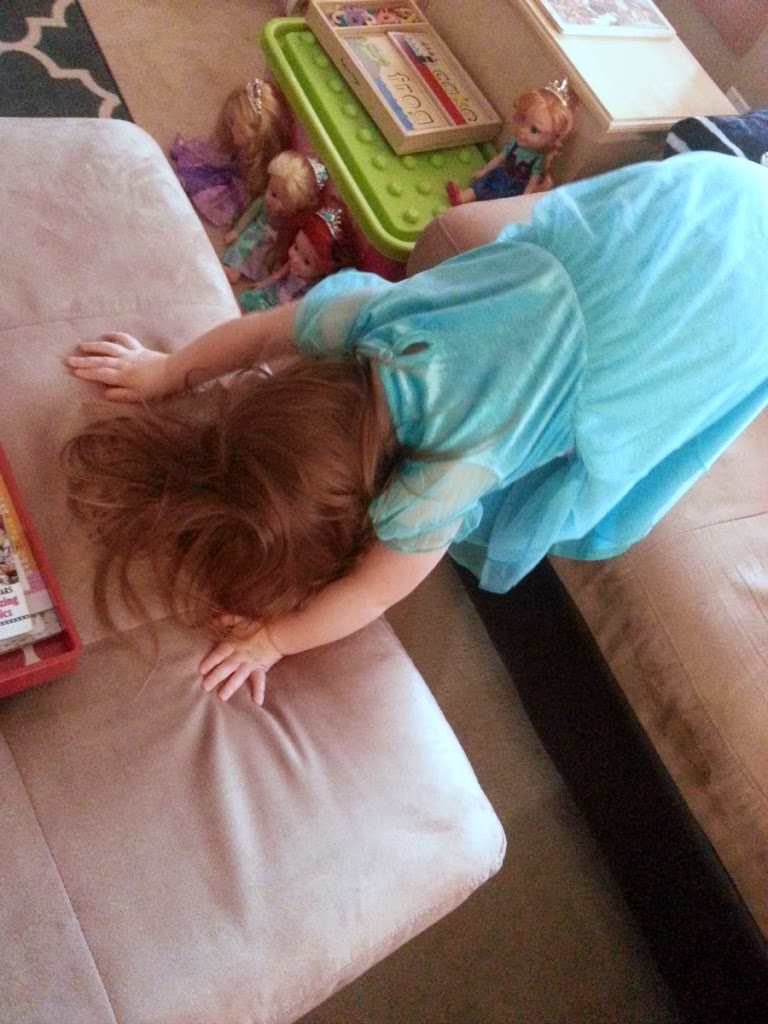 She's getting very good at her yoga poses.
So I'm writing this post for myself. As a way to hold myself accountable to level-setting my expectations with her. To learn that 2 year olds will act out, but it's how we respond to that behavior that can influence their future behavior. If we constantly yell, she'll grow immune to it and may grow up to yell at her own children one day. I do not want that. I want her to grow up in a calm and respectful environment. I want her to know it's ok to express her feelings, but I want to help her learn the right ways to express those feelings. I want her to know it's ok to be upset about something, but it's not ok to scream and hit. I want her to know she is always free to express herself, to talk to us, to really tell us how she's feeling. But I want to teach her the best way to do that. I want her to really understand her feelings and be able to calmly identify them.
I need to learn myself. I need to learn to be calm and patient with her. Not get frustrated when she doesn't listen, or when she is trying to express herself. I need to love her through those times. I need to make it a teaching moment. I'm vowing to be a better mother to my daughter by doing this. I hope one day I can look back and be proud that she did grow up to be that compassionate and empathetic person I see in her already.