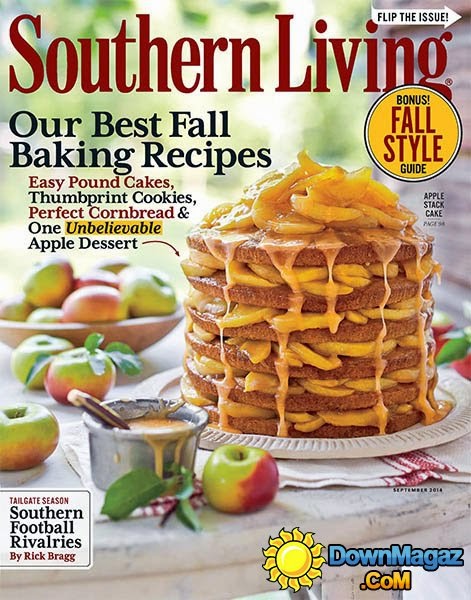 Today we are on our way down to Phoenix! I can't say that I'm super excited for the heat again, since we just got back from St. Louis where it was a little dreadful with the humidity, but I am looking forward to meeting one of my blog friends for the first time, Jessica from Pig & Dac! I hope she likes me (I feel like a high school girl again, meeting friends for the first time, ha!). And I'm excited to just hang by the pool and spend time with some good friends.
Here are a few of my favorite things from August:
The September issue of Southern Living came out last month! It is my favorite issue of the year because it ushers in fall. I love all the yummy apple recipes they have in this year's fall issue. They all look amazing!
I needed a new night cream, so I picked this Boots one up a few weeks ago. I already use the day cream and really like it. So far I'm pretty happy with it. It's pretty light weight and my face doesn't feel greasy like it did with my last night cream.
I told you guys about these booties on Friday, but I had to highlight them again because they are AWESOME!
They are definitely a true black in person and so comfortable! I cannot wait to wear them about 135 times this fall and winter!
I ordered 2 new oils last week and they came 2 days later!
Both Copaiba and Idaho Blue Spruce are key ingredients in some pain killers I want to make for my dad. I'm really excited to get my veggie capsules now so I can get started on my pill making adventures (that just doesn't sound right does it?).
I've been so happy with all my oils. I used peppermint for a headache yesterday (for both Huebie and I), Frankincense for a mounting zit on Huebie's nose the other day (and it never showed up!) and Peace and Calming with Lavender to calm Little A down at night before bed. And she's been sleeping so well! I can't say enough good things about essential oils!
My hydrangeas have started turning colors again! It's my favorite thing to see them change and they just started turning to the darker purple last month. Excited to see what they do in September!
Linking up with Kelli and Mia today!
Happy Wednesday friends!