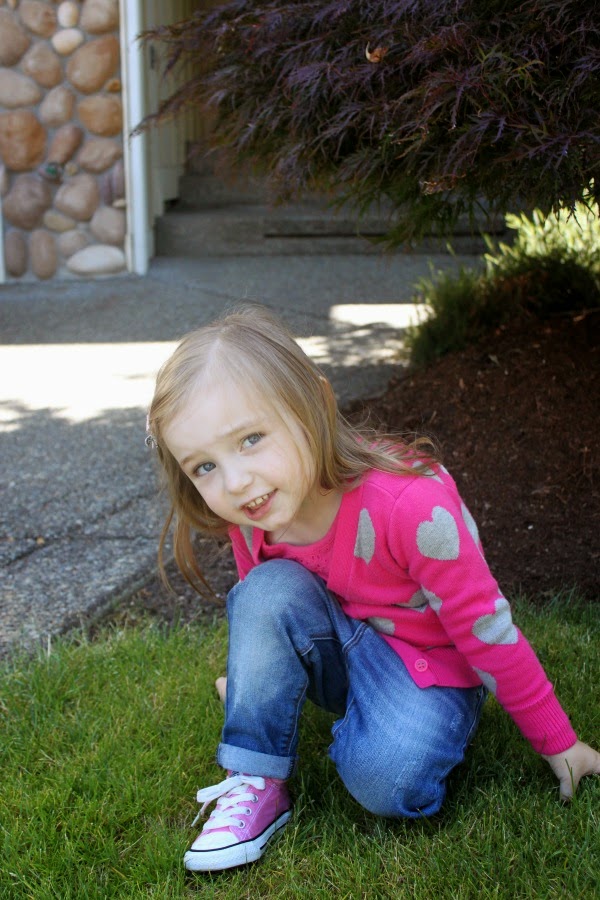 Happy Friday friends! It's been a good week, but a long week. I'm looking forward to Saturday. Not so much Sunday since the hubs leaves for yet another business trip (I think #15 this year maybe?), and doesn't get back until late Friday night. It's always hard to have him gone all week.
I wanted to share another what Little A wore post with you, since she's really been getting into dressing herself more and more. She has quite the sense of style.
If you're bored of seeing my kid (which I don't know how you could be…she's adorable), scroll down to the bottom for some great fashion finds.
She is so digging this modeling thing.
And then the tude comes out.
Sweater: Gap, last season (cute option HERE)
Tank: Target (long sleeve option HERE)
Jeans: Hudson
Shoes: Converse
Leopard bow: Carters, 3 years ago
I have to say, I'm OBSESSED with her Hudson jeans. They are a 3T, but still pretty big on her, so she'll be able to wear them for a while. And no, I most definitely did not pay full price for them. I got them during the Anniversary sale.
Ok, enough about Little A and her fabulous fashion. Onto the ladies!
I first have to mention that Old Navy is having a sale, as usual! Love their sales!
Through Saturday at midnight, save 25% off your online purchase. Baby and toddler is also up to 50% off. Click HERE for all baby and toddler items that are part of the sale.
AND, almost all of their knit tees and tops are on sale. You can see them all HERE.
The Pixie pants I mentioned a few weeks ago are $25 right now! $25 people. For cute business casual pants. My co-worker has a few pairs and wears them all the time. If I'm going to have to stay in the corporate world, I'm going to need some new pants. Sorry hubs but you know it's true. I have not got myself a new pair of work pants in probably 5+ years. I'm due.
I found this scarf at Old Navy as well. It's extra long for lots of draping.
I'm such a sucker for stripes, and this top is no exception.
And I don't think I'm a fur girl, but this faux fur vest is fab. And the price is right. I also found a similar looking one for little girls at Old Navy. You can see it HERE. Could you even imagine Little A and I in our faux fur vests, boyfriend jeans and black pumps (well, me in the pumps, her in the cute little patent ballet flats). Ha!
If you're still looking for the perfect pair of boots for fall, I found some great options for you.
If you've been around here a while, you know I love me some leopard. I may have counted at least 3 leopard scarves in my closet the other day….
So, if you haven't gotten a pair of leopard flats for yourself yet (and I don't know why you wouldn't have) these are a good option. And a good price.
The booties I showed you last week sold out quick. These are a great option as well if you want just a little cut out detail..
I'm really liking the sandy color of these Toms booties. Super cute with cuffed jeans.
And that's all I have in me today. Honestly, I've felt totally off my game this week you guys. You may have noticed. I'm hoping to have some time this weekend to focus and find some inspiration. There's just a lot going on right now and it's all consuming. So apologies to my faithful readers for my lackluster posts this week.
I hope y'all have a great weekend.