Hello friends! So glad it's Friday! We're heading to our lake house for the first time this summer (yikes!) with some friends. I'm ready for some s'mores, bonfires and wakeboarding.
I get a lot of questions about Little A's wardrobe. I do have to say, the girl is much better dressed than myself. And she knows it. She loves to pick out her outfits and shop and is such a girly girl. I love it!
I shop for Little A at primarily 2 stores: Gap and Old Navy. I also do shop a little for her at Target and Nordstrom as well. Nordstrom mostly for shoes and when things are on sale.
I thought I'd start a little "What Little A Wore" series to show you her outfit choices and give you an idea of what she likes to wear. She really is the most fashionable one in the house.
I honestly tried to get her to choose a few outfits for this post, but she only wanted to wear this one. So here you go.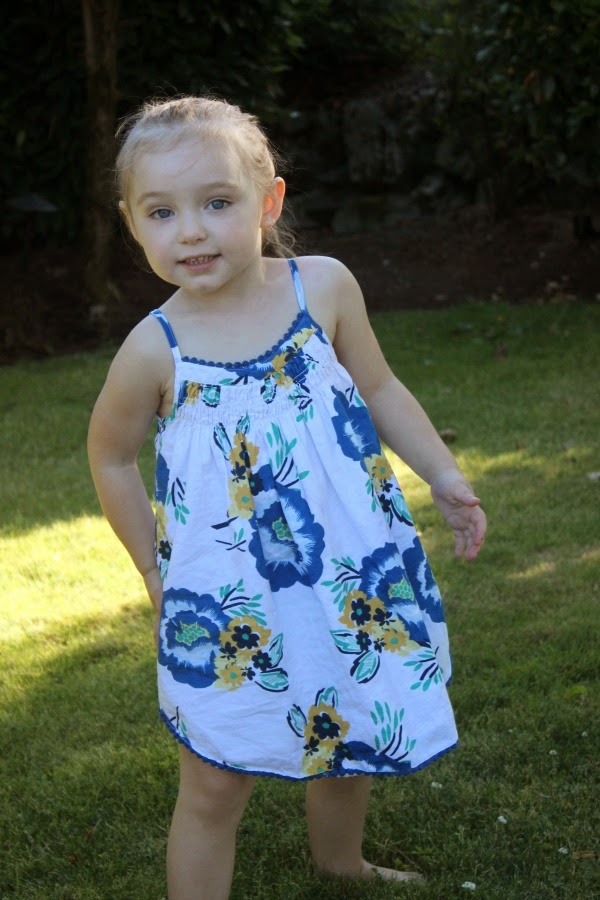 Sundress from Old Navy. It's on sale right now and a great price. It's super breezy and has a bit of a vintage feel to it. Little A is super girly like I said, and 4 out of 7 days will wear a dress. I've had so many people compliment this dress and even had a lady come up and ask to measure the straps because she wanted to make a dress like this for her granddaughter.
And she said I had to take a picture of the back as well. I kid you not.
Old Navy really had a great selection of clothes for kids this summer.
I love Little A in this romper. I think rompers are definitely kid appropriate. I'm not sold on them for adults just yet.
She also loves this dress. She wears it at least once a week on super hot days.
Old Navy has some really great summer dresses for girls on sale right now if you're looking to pick some up for next season.
And if you're looking for yourself, I'm loving these pants right now.
This patterned pair is great, but also the plain black would be super cute for the office.
This chiffon top is a great transition piece for fall. Light weight and airy.
Question of the day: Where do you like to shop for your kiddos (if you have them)?
I hope y'all have a great weekend and are soak up these last few weekends of summer!