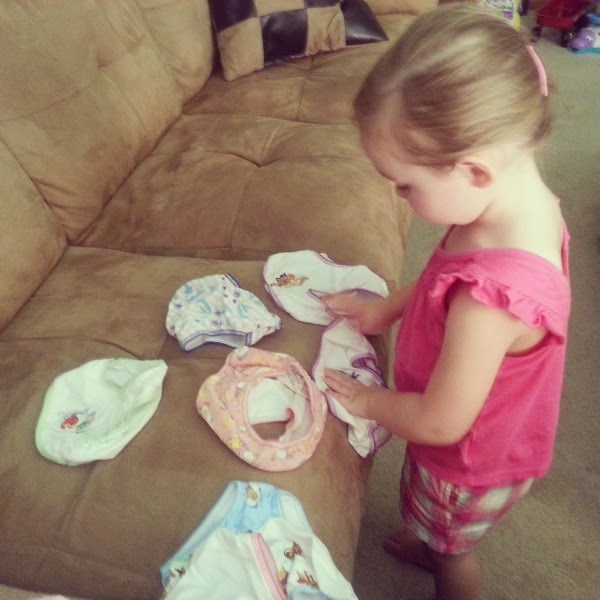 We had a great week here in Seattle. The weather has been gorgeous (if not a bit hot for us at times. We don't have AC.), and we've spent a lot of time outside. If you think it rains all the time in Seattle, you need to come visit in the summer. There's nothing better.
This week you get photos of more than just Little A! But because she's so cute, we'll start off with her anyways. 🙂
Day 212: Little A has been obsessed with organizing her panties. For like a month. She wants to play with them all the time and lines them up to compare the similarities. That's actually what she said. "Let's look at the similarities." What 2 year old says that?! #ocdmuch?
Day 213: We took Little A bowling for the first time last Friday! She loved it! And I'll be honest here, she beat me. I'm a terrible bowler and with that little rack thing she kicked my behind!
Day 214: My sweet friend Kara has one of the best bakeries in Seattle. She makes amazing wedding cakes and has been featured in multiple bridal magazines and voted Best of Western Washington. Saturday was the grand opening of her storefront for her shop! So proud of her (and if you can't tell in the photo she's got a baby on board)! If you're in the Seattle area, definitely pay a visit to The Sweet Side, on 45th between I-5 and Hwy 99 in Wallingford. And try the carrot cake. It's amazing.
Day 215: Zoo day! We went to one of our local zoos on Sunday. Little A's god parents (and 2 of our besties) were up visiting and came with us. We had a great time. The polar bears were amazing! Like holy cow they really are enormous! Paws the size of dinner plates!
Day 216: Sushi day! That's twice in a week for us. It was close to 85 degrees in our house, so we wanted to get the heck out of there. Sushi usually always wins. And Little A's face is awesome. She was saying cheese. Ha!

Day 217: Did y'all know that my hubby and I carpool to work a few days a week? We try to 3 times a week (the days that I go into the office) and it works out so well for us. Cuts our drive time by 5-10 minutes since we get to use the carpool lane.
Day 218: We finally put hardware on the kitchen cabinets last night! Woohoo! We've only had it for over a year. No biggie. It looks so good. Check that one off the to do list!
You can find me on Instagram (@tiffanyatouchofgrace). We'll be doing a lot of other projects around the house in the coming weeks.
Happy Thursday my friends!