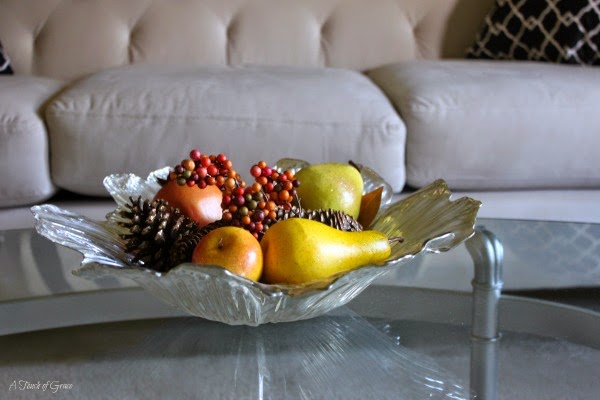 How was everyone's weekend? We got a few things done around the house, which were much needed, and did a bit of prepping for Little A's birthday party in a few weeks! And I got a very overdue haircut. Don't worry, it's nothing revolutionary, much to the chagrin of my girlfriend who cuts my hair. I only took a few inches off to clean it up. Maybe next time I'll do something drastic. #yeahright
A few weeks ago it was really feeling like fall around here, so I decided it was time to grab a pumpkin spice latte, break out my marshmallow pumpkin Scentsy bar, and add a little bit of fall to our home. I just love fall weather, and get so excited when the leaves start falling and the mornings are crisp. Sunglasses on, cup of coffee in my hand and a scarf around my neck. Oh and boots on of course. Ahhh. That sounds like perfection to me.
For our fall decor this year I wanted to go with simple, natural elements and a neutral palate. I wanted our house to feel cozy and inviting. I wanted it to feel like home. And I didn't want to spend a lot of money.
I was able to reuse much of the decor I had last year. Because let's be honest here folks….I don't have the time, nor the money, to go decking my home out in new seasonal decor every year. So I try to re-purpose as much as possible.
A bowl of fruit, pine cones and berries adds just a touch of fall to our formal living room.
To make it feel cozy, I added some layers with warm blankets. Nothing like wrapping up in a blanket by the fire, sipping hot cocoa on a chilly fall evening.
I also wanted to keep our dining room table simple for every day use.
The pears and tray are both from Hobby Lobby. The pears look so real!
My daughter plays in the family room, so I wanted to keep things very very simple. I love my new green pumpkin! Also from Hobby Lobby.
The faux wheat I wrapped with rubber bands to keep it together then just stuck them in some flower jars. Standing back you can't even tell thee stalks are wrapped in rubber bands. (And btw…how did I not even notice that rogue piece jutting out to the left? #bloggerfail)
And my favorite ceramic pumpkin I got at Hobby Lobby last year.
And that's our fall decor. Nothing fancy just simple elements to add a bit of a fall touch. Once our porch is finished I'll share that with you as well.
Here are a few ways to incorporate cozy, neutral fall accents to your home.
Target's Threshold white and gold fall home decor collection is fabulous this year. Some great items you can use year after year. Click HERE to see the collection.
Have a great Monday friends!