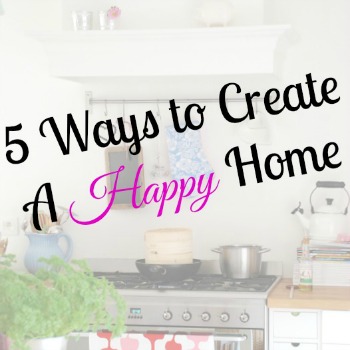 Simple tips to create a happy and inviting home.
With our constantly busy schedules, I try to keep things real in our home. Being organized and having a plan for each day keeps things easy and makes for a happy home. Our house is large, but it's not stuffy. I think that's why when people walk in they always comment that as big as our house is, it really feels home-y. To me that is the ultimate complement. To have people walk in and instantly feel comfortable; having them feel at home makes entertaining that much more fun and makes us love our house even more.
Here are 5 easy ways to create a happy home.
Keep things simple. Our house is a home. It's not overly stuffy and we don't have a lot of fragile things out, so I'm not constantly worrying about Little A or other kids breaking something. I'm very much a minimalist when it comes to decorating and don't mind having empty space (my mother cringes at the thought of an empty corner). Less to dust and clean means more time for us as a family.
Have a few investment pieces. While we don't have fine china just yet (I would like to inherit my grandmother's) we have a few nice pieces of serve ware and crystal glasses. When we do host holidays or more formal gatherings, it feels good to be able to serve food and drinks using our nicer pieces. The rest of the time we use our Fiesta Ware (still love it 5 years later) for easy cleaning and durability.
Always have wine on hand. We are big wine drinkers so having wine on hand is a no brainer for us, but it's always good to have a least 1 bottle of red and 1 bottle of white on hand. Should unexpected company come over you can easily offer them a drink. Or at the end of a long day it's nice to have a glass of wine while you share the happenings of your day.
Have a plan. Having a weekly plan and scheduling activities all the way down to what workouts we're doing on what days keeps us happy and organized. If I forget something it's almost always written down in my planner or on our fridge calendar for easy reference. Being organized and having a plan keeps things simple and makes us all feel less stressed.
Appreciate don't criticize. For us, our home is the happiest when K and I are in alignment and really just loving each other. When we encourage, support and show our appreciation for one another is when we are truly happy.
What advice do you have for creating a happy home?