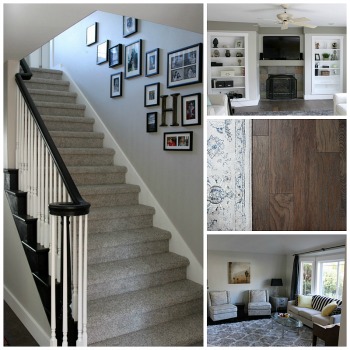 You guys, this was seriously the LONGEST SUMMER EVER. And it's all because of the home renovation we did. I never in a million years thought that when we planned for a renovation in July, expecting it to take 3 weeks, that it wouldn't be complete until November, and take over 3 months. But I couldn't be happier with the results! I LOVE our home!
Before I share the after photos, I thought I'd give a little back story. We bought our house 5 years ago, and moved in the day before Little A was born. When we bought it, I really liked it. The colors were custom, it had hardwood floors and it was well kept.
And then we moved our furniture into the house, and after about 6 months the colors began to wear on me. There was just SO.MUCH.BEIGE! And brown! Brown trim, brown doors, brown blinds, brown cabinets. And the beige walls and ceilings did not help. It was all just varying shades of vomit. We also noticed that the dog the previous owns had, had done a number on the trim. It was so badly damaged in places that it wasn't even salvageable.
So an update had been on my wish list for forever. But we never did anything because we planned on moving eventually. But then we decided I'd stay home with the kids, and the Seattle market continues to skyrocket. So we decided to stay put. We had previously done a small kitchen renovation 2 years before, and had the ceilings in the entire house painted last summer, so next on the list was to get rid of the rest of the brown (walls, trim, blinds, etc).
Here's our family room before:
That red. My God was it ugly. The whole house was just dark most of the time.
I had known for a while what I wanted to do, so it was easy to create my wish list:
White trim
White doors
Light gray walls
New hardwoods
New carpet
I've wanted gray walls for a long time. We had previously painted our dining room, living room and bonus room a very light gray, so we knew we'd want to stay in that family for the rest of the house.
Kellen and I did all the demo ourselves. Holy cow there is a lot of trim in a 3,000 square foot house! We also took out all the old hardwoods, downstairs carpet (ew) and doors. It took us a good chunk of time just for the demo. And then we proceeded to live with plywood floors for about a month. Oh and no doors, except on 2 of the bathrooms and kids rooms. Seriously, for a month.
But the after is so worth it!
Gah! You guys I am sooooo in love with how it all turned out! The white just brightens the entire house up! Kellen and I did all the painting throughout the house, which was no small feat, let me tell you. We wanted a true gray; nothing that was too beige or blue. We chose Repose Gray by Sherwin Williams for the wall color (which looks nothing like it does on the website), and Pavestone, also by Sherwin Williams, for the dark accent color. We plan to eventually paint our kitchen cabinets white, and use Pavestone as the island color.
I'm still working on styling the built ins, and plan to remove one shelf from both sides. 12 shelves is just too much for me to style. I'd also like to eventually add cabinet doors to the bottoms of the built ins, to hide things like our DVD player.
The hallway leading into the house from the front door was so dark!
The white trim lightens it up so much! We went with High Reflective White by Sherwin Williams for the trim color. I seriously had no idea that picking out a white would be so hard! There are dozens of variations of "white."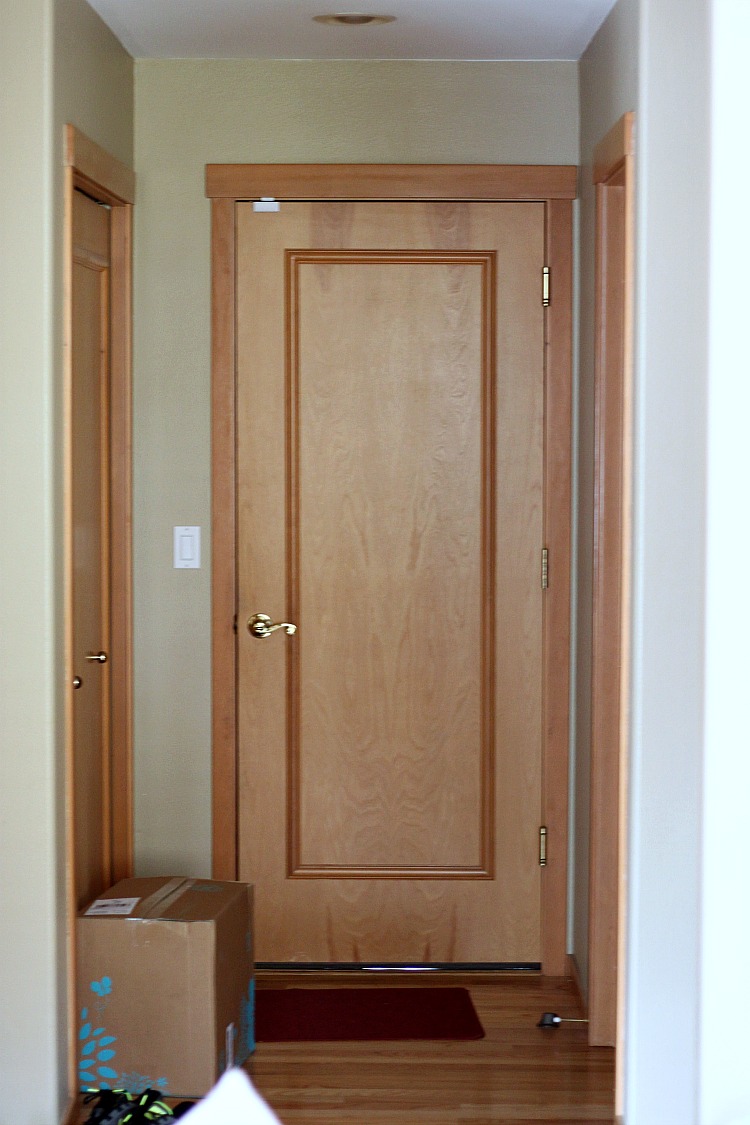 Our doors. Oh how I love the new doors. We got asked quite often why we didn't just paint the existing doors. And there were many reasons. First of which being that I hated the style. They were basically just flat doors with trim on them. And they were hollow core doors, and I much prefer solid core. I just felt like they really dated the house. Our new two-panel doors definitely give the house more of a modern feel. We also replaced all the bi-fold closet and pantry doors with sliding doors.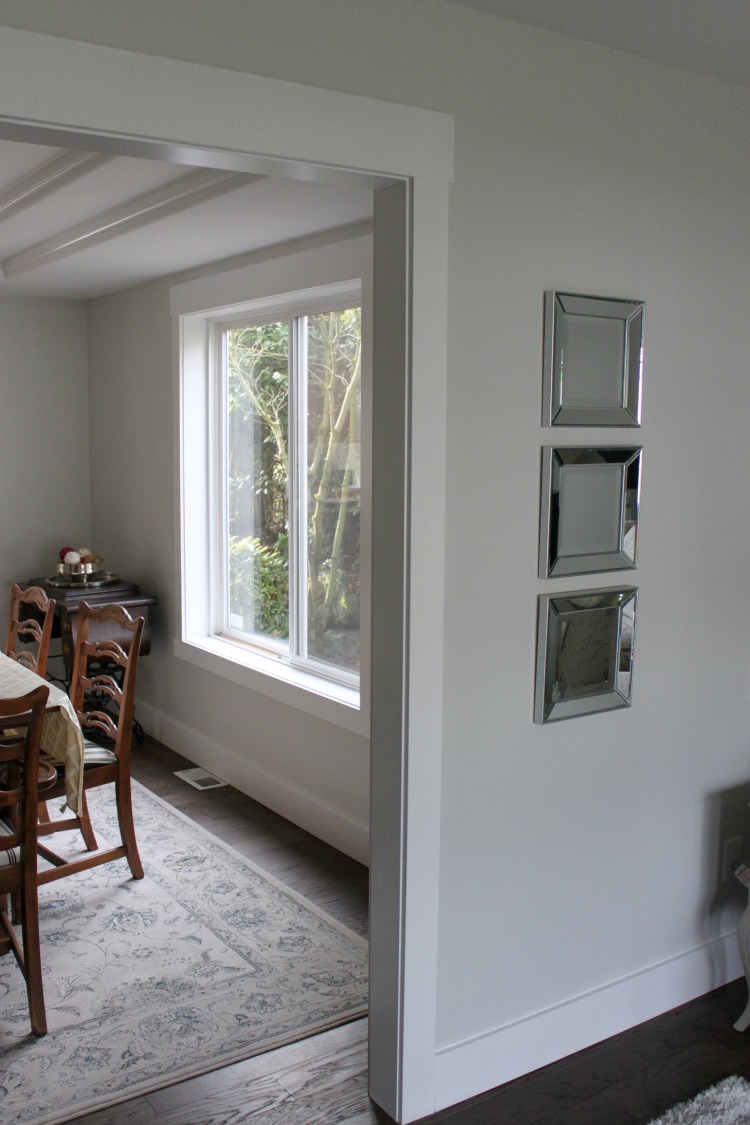 I love the look of a thick baseboard, so we did a 6 inch baseboard, 6 inch top trim on the doors and cased openings, and 4 inch trim for the sides and under the windows. I love a substantial baseboard and it looks so good.
One issue we ran into with the thicker trim (the previous trim was 2 1/2 inches), was that the house was built with 2 1/2 inch trim in mind. You can see in the picture of the door above that we had to rip the trim in a few places (that's contractor speak for shaving off some of the trim to make it more narrow. I heard that a lot during this renovation.). Why they didn't put that door in the center of that wall I have no idea. But we ran into this with light switches in a few places, as well. But really you'd never notice that the trim is a 1/4″ smaller in a few places.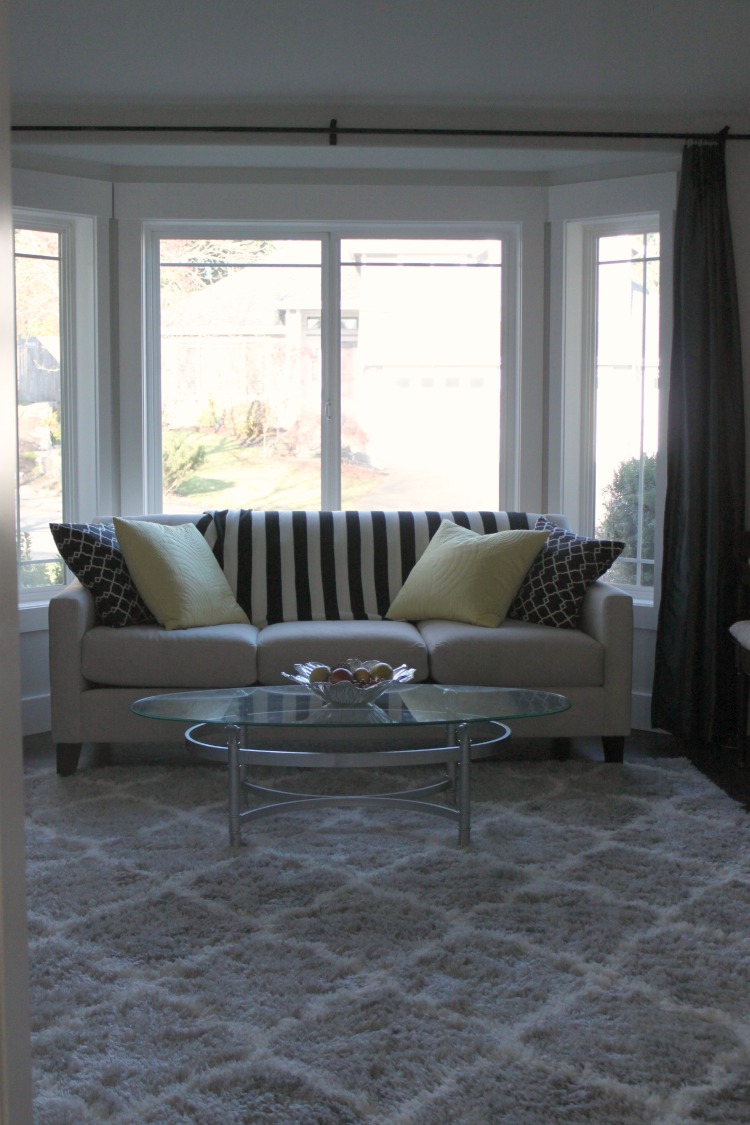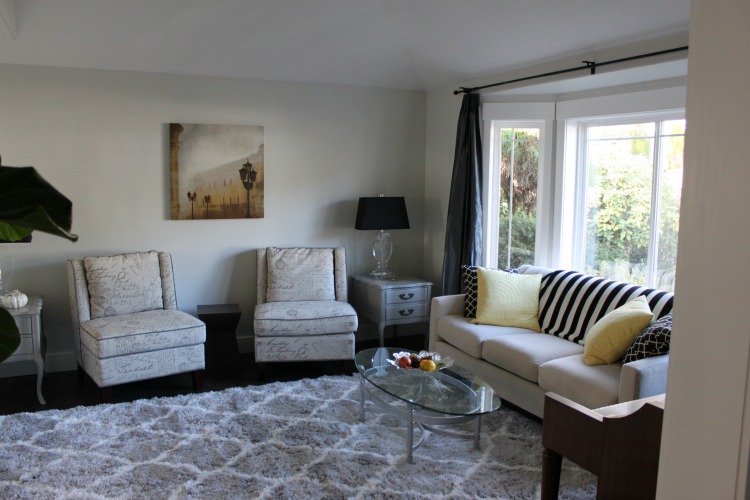 Flooring
The thing I get asked about the most is our hardwoods. I cannot say enough how much I love them. They are Wire-brushed Plateau Hickory engineered hardwood, by Villa Collection Hardwood. We decided to go with engineered hardwood for a few reasons. Engineered hardwood costs a considerable amount less than real hardwood, and it's more durable. With two kids we knew we needed something durable. Our old hardwood floors were so beat up and looked terrible. It was going to cost us twice as much to refinish the old hardwoods vs putting new engineered hardwood in throughout the downstairs. Plus you don't have to worry about scuffs and damage nearly as much with engineered hardwood.
If you aren't familiar with engineered hardwood, it is a core of hardwood, with a hardwood top affixed to the surface. It's more tolerant to moisture and heat than solid hardwood and is a more stable product. It really was a no brainer for us. I love the thicker boards too; our old hardwoods were 1 1/2 inch wide boards and the new floor has 5 inch wide boards. They are so beautiful and are the prefect contrast to the white trim and gray walls.
Our old carpet was original to the house; so it was almost 20 years old. And I hated it. Plus it was in almost every room in the house, except the kitchen and hallways downstairs. I knew I wanted hardwoods throughout the downstairs, but we decided to keep carpet upstairs. We looked at hundreds of carpet samples. There are just way too many options out there and it took me quite a while to narrow it down. We ended up going with Shaw Zepher Cove II carpet, in Snowcap. It is so soft, and has a little gray and beige in it, so it's not too much gray with the walls.
This home renovation is one for the books!
Click To Tweet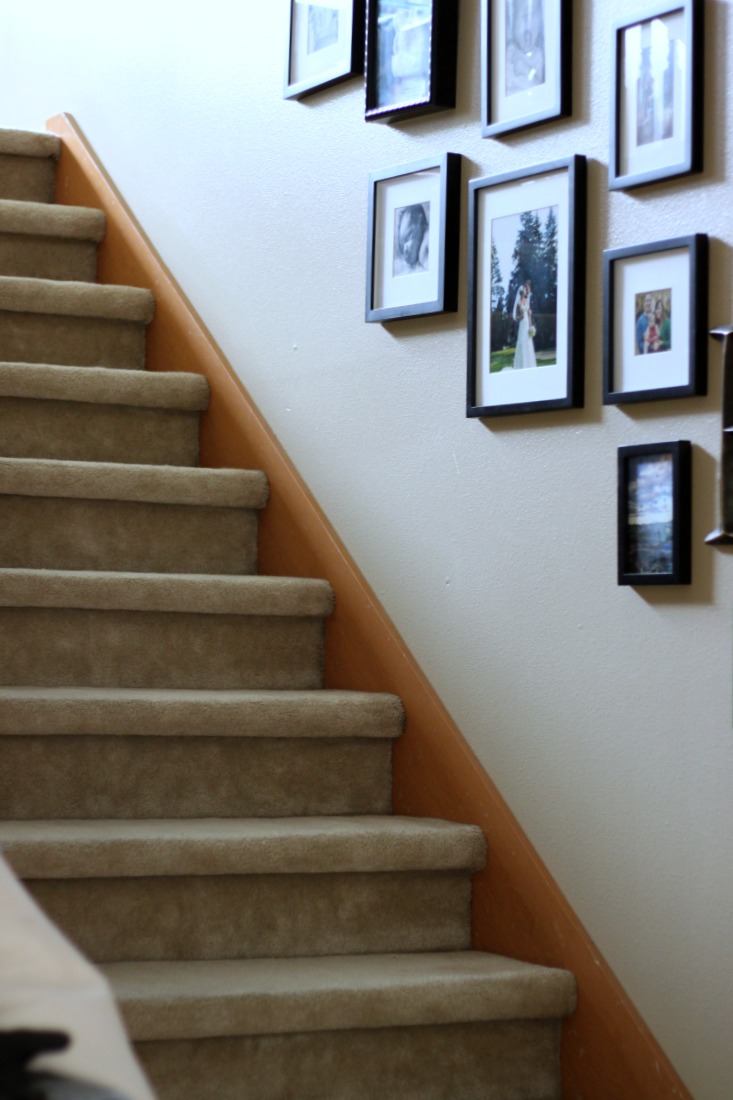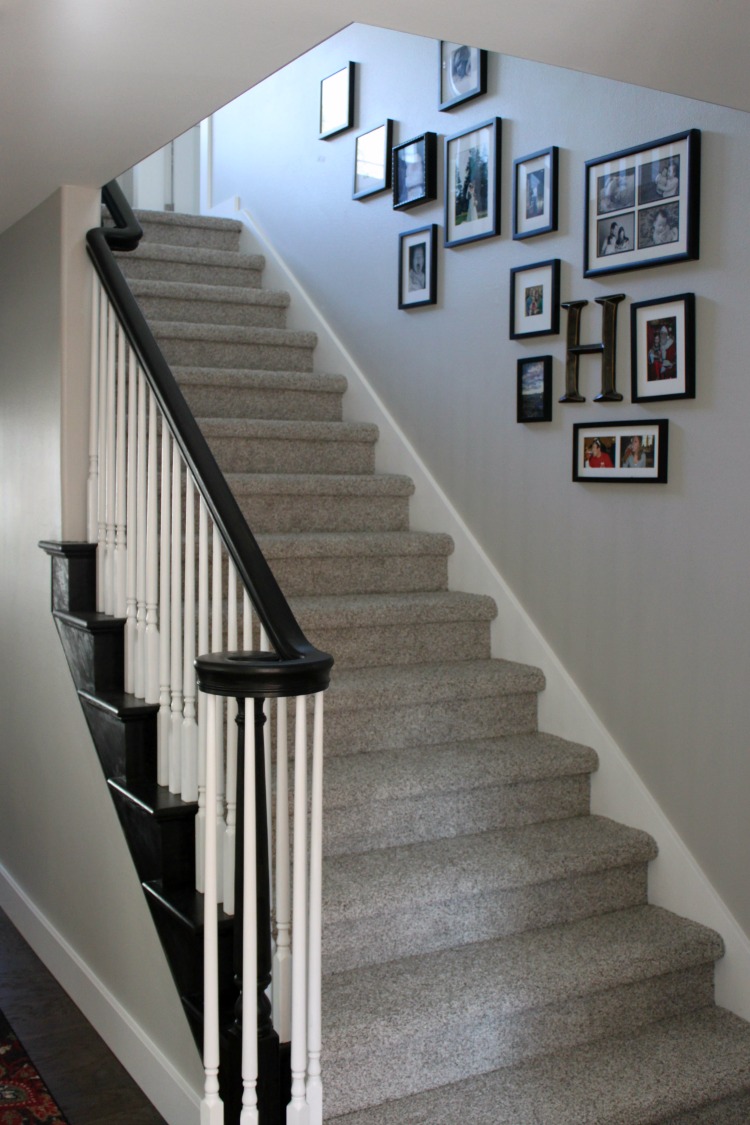 We stained the railing Ebony by Minwax. I love how it contrasts with the white spindles. (I really need to finish our gallery wall.)
Rugs
With all that hardwood comes the need for some rugs. Kellen was a big no on the rugs at first. His reasoning: why put in hardwoods just to cover them up. And while I understand where he's coming from, a rug can really bring a room together.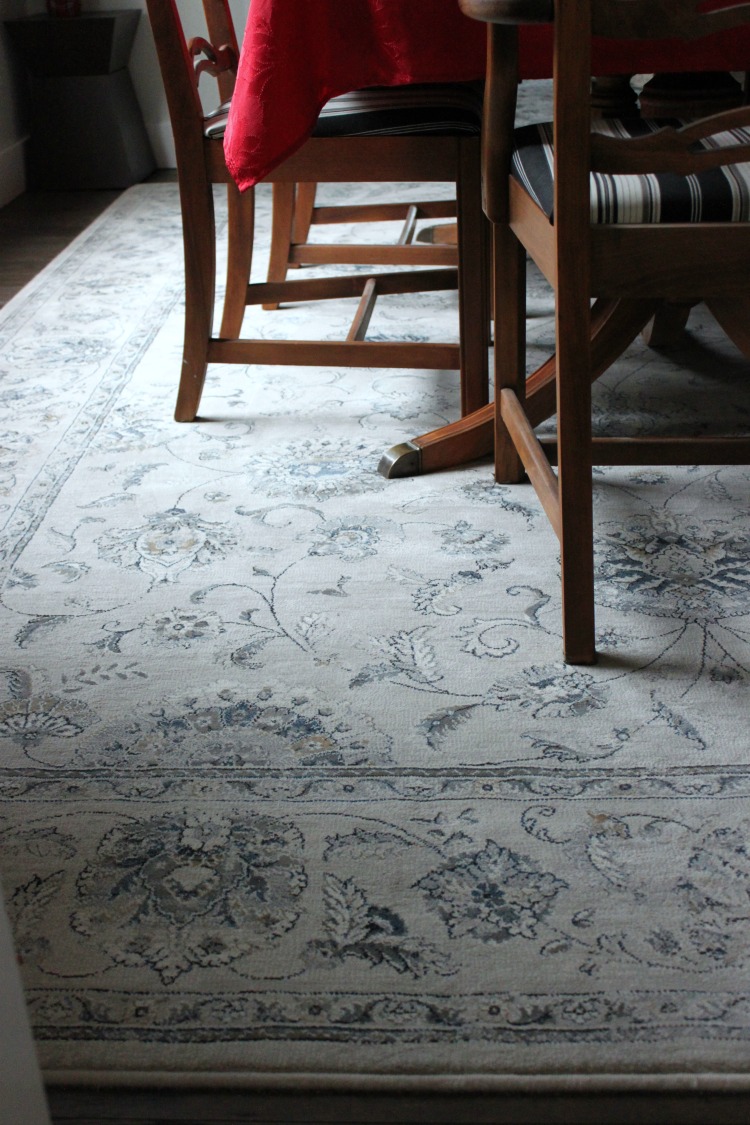 Our dining room rug is probably my favorite. I use a lot of blue in our home, and this rug really ties that in.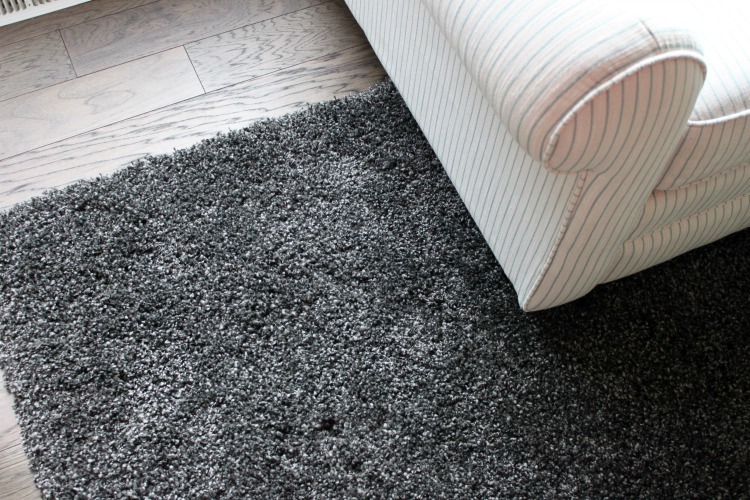 I wanted something soft and cozy for our family room. It's where we spend most of our time and EJ plays on the floor. I love this black rug; it doesn't show anything, which is a blessing and a curse really. Try figuring out where the baby puked when you see it on his face. But it also hides any potential stains and really grounds the room.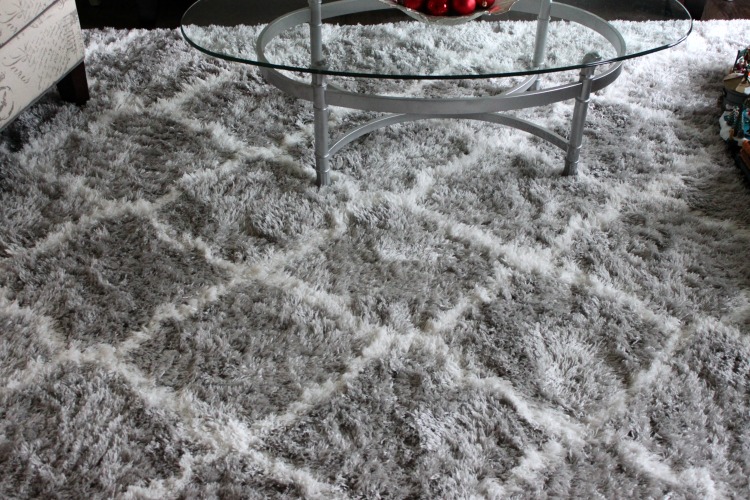 The rug in our formal living room, you guys, is so dang soft! It's not a very thick rug, but it is like butter. All the rugs are from Home Goods.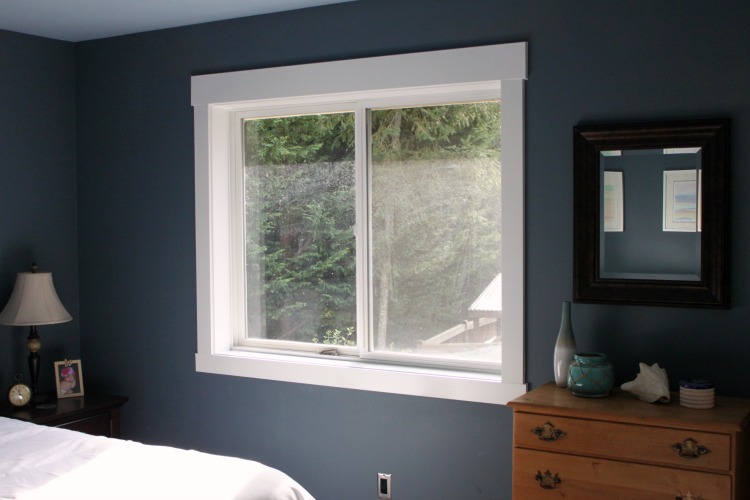 Another change we made was to have the upstairs windows wrapped. All the windows downstairs were wrapped, but none of the upstairs windows were. It was a small additional cost for a big impact.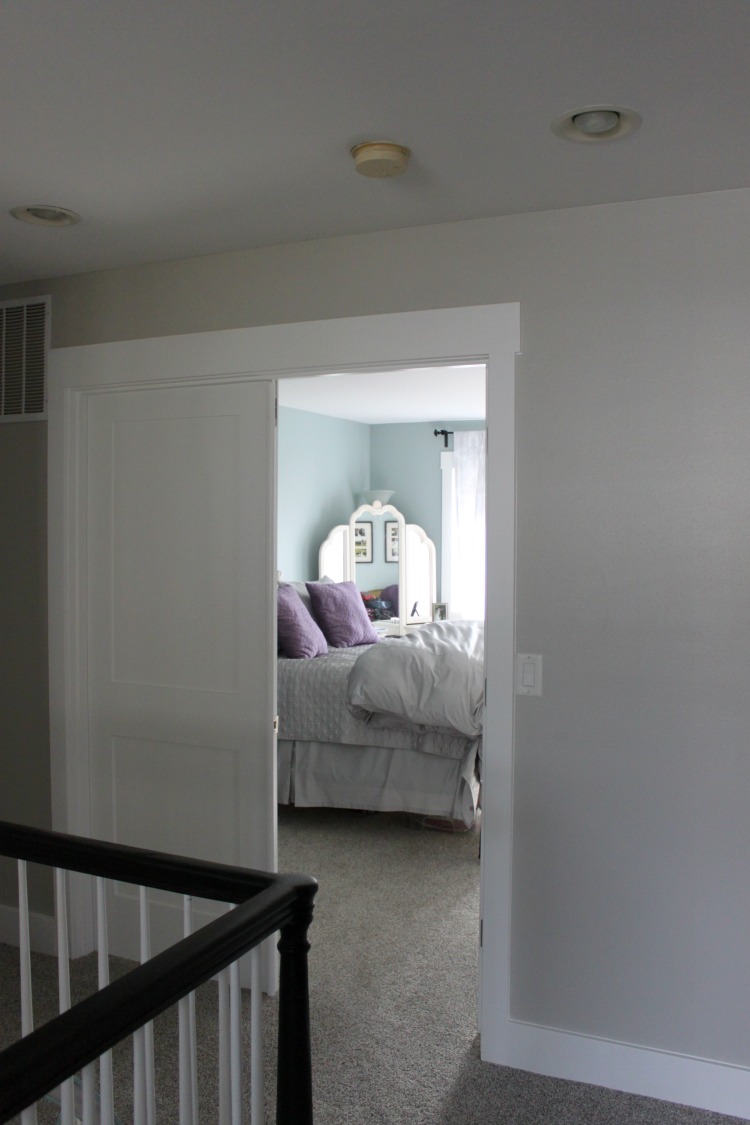 There are still some things we need to do, like replace all the smoke detectors and recessed lighting housings with white ones. We also ended up replacing the toilet and pedestal sink in the downstairs powder room. The new pedestal isn't as tall as the previous one, so we need to do some sanding, texturing and painting behind the sink before we install it.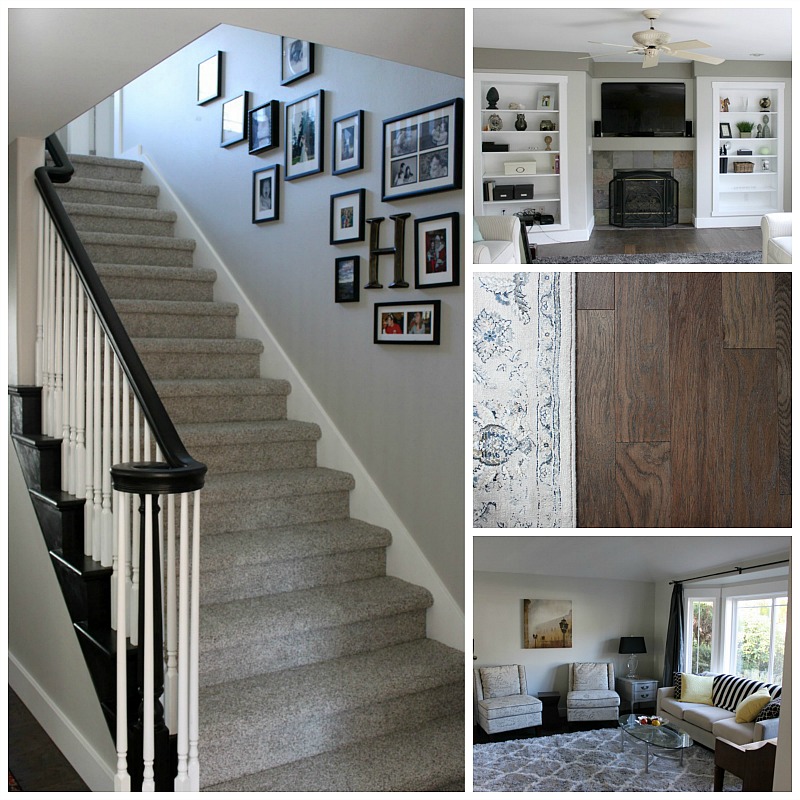 It may have taken twice as long as we expected, but I am so glad we bit the bullet and did it. It feels more like us now, and every time I walk in our house I just get so happy.
Now all that's left in the house is to replace the bathroom vanities, put new flooring in the guest bathroom and possibly replace the glass shower in the master. Oh and paint the kitchen cabinets. Other than that our house is darn near complete!
Thanks to everyone who followed along on social media with this renovation. It was a labor of love for us, but we couldn't be happier.
What's one area of your home you want to update?