Have you ever heard of Joss & Main? Well if you have you know exactly why it is my favorite online home goods store right now. And if you haven't, well, be prepared to change your decorating life.
Joss & Main is a members only online retailer that offers limited-time only sales events on some of the world's best brands for home and life. Each event is 3 days only, and each sale is created around a distinct design asthetic (Summer Luxe, Tree House Escape, The Lake Cabin, etc.). They offer up to 70% off on some pieces. Yep, you heard it right. 70%! You must be thinking, "Say wha? That's crazy talk!" But I kid you not. You do not find discounts like this very often. But you do every day on Joss & Main!
Here are a few of their upcoming events.
Shades of Summer: Event opens Friday the 21st. That's in 2 days people! 2 days! I can't wait to see what fun colored furniture and accessories they will have. I'm already in love with the green lamp in the picture. How fun would that be in a guest bedroom?!

Delightful Duos: Event opens Saturday the 22nd. I don't know about you, but I'm always in search of cute throw pillows for the house. And starting at $29.95 for 2? I will definitely be stopping by for some bright pops of color.

I ordered this fabulous tray a week or so ago.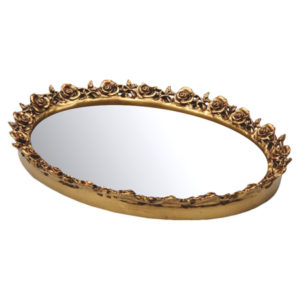 I thought it would be perfect to display perfume or jewelery on my dresser. I love the gold! The event I found this beauty in is closed (sorry), but I've noticed that some pieces do come back in other events, so if you miss something you love, you can always check other events for that piece.
And I think this rug would look fab in our kitchen.
I love the colors and it would really brighten things up. The rug is available
Here
. The event ends in less than 2 days so if you are in search of new rugs for your house you better head over ASAP. The variety is fantastic!
Not only do I love their furniture and accessories, the rooms they put together are inspiring. I've gotten tons of ideas for our own home from their site. You can't beat free decorating ideas from the pros! If I had the $$ I would be redoing our house completely via Joss & Main. They are that good!
If you haven't signed up to be a memeber you need to head over there right now after you finishing reading this and sign up. You will get daily emails with the new events as they open. And if you refer a friend you get $15 toward your next purchase. Who doesn't like free money!
Ok so now you can head on over there. Do it! I promise you won't be disappointed.
(All thoughts and comments are of my own opinion and not those of Joss & Main.)