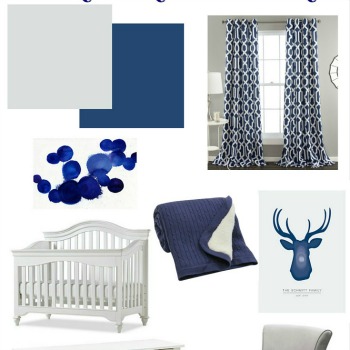 Inspiration for a baby boy nursery.
We finally started work on baby's nursery last weekend and it is all painted! I am breathing a sigh of relief over here, trust me. I felt like we have been so behind from the beginning but now that paint is on the walls I can start decorating. Thank you to my hubby for doing all the painting. Even though I offered to help he did all the work. I was there for moral support though, don't worry.
Here's my inspiration for Baby E's nursery.
I'm going for white and gray, with pops of navy to add some color. I like things clean and simple and am not into themes. Sorry if you are, they've just never been my thing (even Little A's big girl room doesn't have a theme, just a color palette). I think I've said it before, but our house faces north, so we don't get as much natural light as I'd like. Because of that, I wanted the walls of his room to have some color, but nothing too dark. We chose North Beach by Glidden, and had it mixed at Sherwin Williams with their low VOC paint.
Luckily we still had Little A's white crib that will be his crib now, so I'm keeping the rest of the furniture light with a white dresser and gray glider. I think the blue curtains (I found these on Amazon) and art will bring in the pops of navy I'm going for. And of course any blankets and other decor we get. Minted's line of art is awesome! The deer head print will be perfect for his room.
I haven't fully decided on a rug yet, but I'm leaning toward this one (although I wouldn't mind it for our room either). Even though we have carpet in the bedrooms, I like having a rug to add texture and a soft place for baby to play.
I found this dresser on Wayfair, but am no 100% in love with it; although I haven't found anything else I really love. We will use the dresser as a changing table as well so it needs to be big enough to accommodate a changing pad. I also want to find an ottoman to go with the glider that doesn't break the bank. Those things can be so pricey! If you have any recommendations I'm all ears.
I'm hoping to get the crib up this week then go from there. I may make a trip to Ikea to check their latest dressers; they just came out with new furniture on Feb. 1st so a trip is warranted.